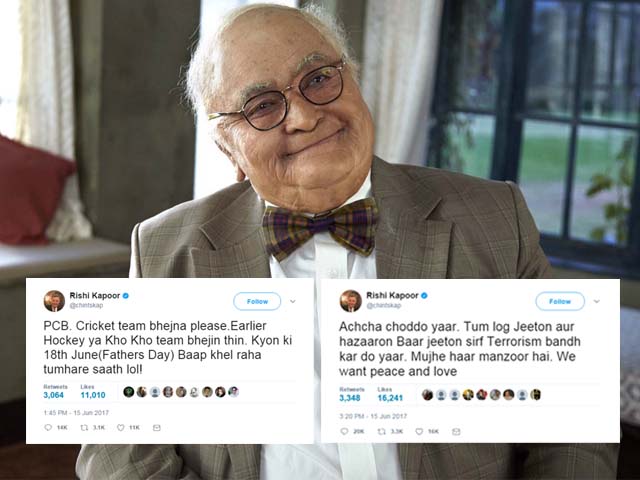 ---
Dear Rishi Kapoor, before pointing the "terrorism" finger at Pakistan, please take a look at your prime minister, army and country
One million people from both sides have died and two wars have been fought. It's time to make amends, not burn...
---
Dear Rishi Kapoor,

As a Pakistani, I am not ashamed to admit that I have grown up watching Bollywood movies, I have been entertained, and I have also questioned the integrity of the industry where ageing actors such as yourself would still get lead roles as heroes. Maybe it reflects the Indian mindset, maybe not. However, do you see how such a small detail can have such a lasting impression? 

One of my favourite songs is 'Dil lene Ki Rut Aye', with you and Madhuri Dixit (an amazing actress and definitely one of a kind).


Moving on, this is not about your career or acting abilities, rather it's about your anti-Pakistan rants on social media. Since you are an artist, I am sure the following quote from Superman will be appreciated.

"With great power comes great responsibility."

As a public figure, you have acquired a massive fan following, and a person of your stature would be well aware of the sensitivity of the Indo-Pak relations. You should have used this power to reach out to people and bridge the gap. All you have done is show Pakistanis the bias that you hold and made a contribution towards moulding the vulnerable Indian mindset against Pakistan. Independence has happened, it is done and dusted with. One million people collectively from both sides have died and two wars have been fought, therefore I think it's time to make amends, not burn more bridges.

You very conveniently stated:




Terrorism, that's an interesting point, especially when someone from India uses that word so loosely. Currently, your sitting Prime Minister Narendra Modi is nothing short of a terrorist himself. When he was the chief minister of Gujarat, he incited the massacre against the Muslim community in his home province. Even the commission to probe into the the Godhra Train incident is tainted with conspiracy and corruption. The incident itself reeks of dirty games played by the government to marginalise the Muslim community in Gujarat. This is even more evident as the Modi government promotes a rigid and radical version of Hinduism across India with complete autonomy.

Now moving forward, what about state-sponsored terrorism carried out by your army? And no, I am not talking about Kashmir; I will get to that shortly. The name Thangjam Manorama probably rings a bell. A young woman was victimised at the hands of the Indian army under the Armed Force Special Power Act (AFSPA), 1958. She was extra-judicially executed by the Indian paramilitary unit, 17th Assam Rifles on July 11, 2004. She was only 34-years-old at the time. Manorama was tortured, raped, shot dead and her mutilated body was dumped near her village the very next day. Is this how the law works in your India? Did you protest? In 2004, the following protest took place in Manipur.




Now let's move on to Indian export; Kulbhushan Jadhav, the Indian spy sent to Pakistan. Jadhav, in a video confession admitted that the Indian intelligence agency Research and Analysis Wing (RAW) was involved in destabilising Pakistan. He also confirmed his active service as an officer in the Indian Navy and that he was working in Pakistan at the behest of RAW. Is it fair to say that the unrest in Balochistan is the direct result of India meddling in the region? Again, that would be state-sponsored terrorism, wouldn't it?


Now, how many embassies or consulates should a country have on foreign land? This is India's list:

US: 5

England: 2

Russia: 3

Pakistan 2

China: 4

Australia: 4

German: 3

Mexico: 1

UAE: 2

Afghanistan: 8

Canada: 4

Interesting, Afghanistan has eight embassies/consulates. Countries that can provide substantial economic advantages to India do not even come close.




Mr Kapoor, meet Farooq Ahmed Dar, the gentleman who was strapped to the front of an army Jeep by Major Nitin Leetul Gogoi and then paraded around multiple villages across Kashmir. Proud moment for the Indian army, especially since the army chief applauded him for this disgraceful act that violates even the most basic human rights.

I, as a Pakistani, a human rights advocate and a normal human being, salute and stand by Dar.

By the way, this isn't an uncommon practice in Indian-occupied Kashmir. Indian police and army officers have often stripped Kashmiris and paraded them across villages naked. If they try to cover their nakedness, they are abused and physically assaulted.

The Indian army has a lust for rape, let's not forget the mass rape they conducted in February 1991 in the twin village of Kunan and Poshpora. There, in the middle of the night, four units of the army carried out a systematic operation, gathered all the men, tortured, emasculated and sexually assaulted them. Age was not an issue, men as young as 18 and as old as 68 have given their accounts of that tormented night. A police report to end the investigation is still pending to date.

While these men were being assaulted, their mothers, sisters, wives and daughters were being raped by your glorious army.

More than 1,500 villages have been razed to the ground in Kashmir. Can you justify that? Why is India blocking the United Nations (UN) from visiting Kashmir? Why is India blocking a plebiscite in Kashmir? Is it because the real truth will come out?

India's rape culture can be attributed to its army. Bravo! Even Indian politicians are okay with it.

"Rape is a social crime which depends on the man and the woman. It is sometimes right and sometimes wrong." – Bharatiya Janata Party (BJP) politician Babulal Gaur.

"Earlier, if men and women would hold hands, they would get caught by parents and reprimanded, but now everything is so open. It's like an open market with open options. Rapes happen because men and women interact freely." – Mamata Banerjee, Trinamool Congress leader and West Bengal chief minister

"Child marriage is a solution to rape and other atrocities against women." – Former Haryana CM. The Lok Dal's Om Prakash Chautala. (He's currently in jail for rank corruption.)

"The rate of crimes against women depended on how completely dressed they are and how regularly they visited temples. Rapes in the state of Chennai are comparatively less as their women are always completely clad and visited temples regularly." – Babulal Gaur, a BJP leader from Madhya Pradesh

"You are safe, why are you bothered?" – Uttar Pradesh's Samawaji Party (SP) chief minister, Akhilesh Yadav in response to a reporter who asked about rapes increasing in the state.

Courtesy: Times of India

I can continue to go on and on, however, that is not my intention. What I wanted to spell out to you is, India is not perfect and neither is Pakistan. While you may feel we export terrorists, we from our land have sent some of the best talent to India. Your father himself was born in Peshawar, your grandfather served in Peshawar as a police officer and Salma Agha is a distant relative and a Pakistani. Amitabh Bachchan as a kid would play with my mother's uncles when they used to live in Allahabad. Small world.

As Indians and Pakistanis, our bonds are interlinked. We almost speak the same language, our cultures are the same, our cuisine is divine, and both sides are filled with over-emotional people taking jazbat to a whole new level. Our boundaries are set with a border; however, our identities beyond nationalities are still the same. Why is it that Pakistani and Indians abroad label themselves as desis? It's the commonality.

Mr Kapoor, your jazbat are appreciated, however, it cannot come at the cost of Pakistani integrity and vice versa. Neither you, nor I, are perfect, but it's time we start bridging the gaps.

Before ending this, I will say, power to the Indian people, they have shown resilience and they have stood up for their rights, please do not tarnish that with your jazbati tweets. Hindu, Muslim, Christian, Sikh, Jew, Budhist, Farsi, we are all South Asian brothers and sisters, lets tweet that. Pakistan Zindabad!

I hope you have a wonderful day.

Love from Pakistan and from an ordinary Pakistani,

T

This post originally appeared here.