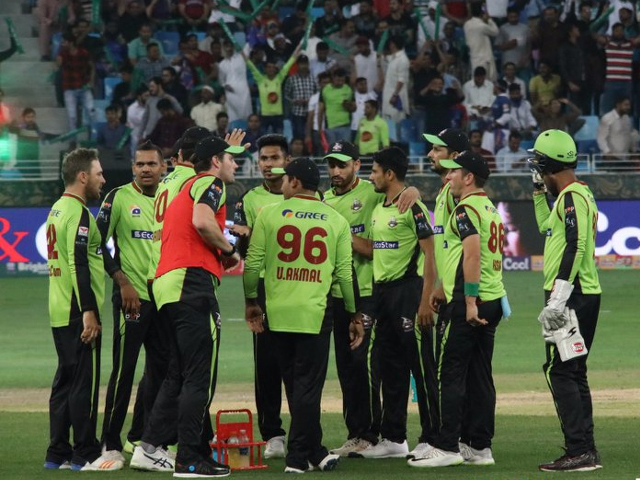 ---
Four focal factors that led to the fall of the Qalandar empire
Qalandars have given aggression a new whole meaning, as having nothing but fire power has proved disastrous for them.
---
Pakistan Super League (PSL) is in full swing these days. From great catches to scintillating finishes, PSL fans have experienced it all. So far, we have seen two extremes of consistency in the tournament. On one hand, Quetta Gladiators have shown their rising graph of good performances, while on the flip side, we are seeing consistent dismal performance from Lahore Qalandars.

From the best captain to a strong support staff, the Qalandars have got all the ingredients required to get better results, but somehow things have not been going well for them right from season one.


Lahore Qalandars in every season of PSL. pic.twitter.com/pyyHg5xuJu

— Waleed Nasir (@waleednasir00) February 26, 2018


Here are four apparent factors which are proving as hurdles for the team representing the second largest city of Pakistan:

1. Ultra-aggressive attitude

It is a known fact that T20 requires aggression without which survival is impossible. But for the Qalandars, it seems aggression found a whole new level. With Brendon McCullum and Fakhar Zaman at the top and Umar Akmal at the fourth position, they have nothing but fire power, which is somehow proving disastrous for them.




A lot of people have been criticising Qalandars for their unnecessary aggression during the game.


Quetta doing a Lahore Qalandars, trying to hit every ball when they don't really need to.

— Osama. (@ashaqeens) February 28, 2018
I think someone has told Lahore Qalandars that you get a bonus point if you chase down a total in 10 overs #PSL2018

— Saj Sadiq (@Saj_PakPassion) February 26, 2018


Even though this format requires a fast-paced game generally, it does allow you to settle for a bit during the middle overs. When a team is off to a flying start during the power play, it is better to slow down a bit and consolidate the innings till at least the 15th over. This just helps the batsmen settle down on the pitch and take fewer risks. It also proves advantageous for the subsequent innings, when the firepower is needed again. If the team continues with the same pace throughout the game, then chances are they'd run out of batsmen before the match is even over.

Qalandars seem to be having trouble toning it down, which is unfortunately costing them games in this tournament. This is why they say, having the best player is not as important as having a proper game strategy in place.

2. Imbalance in the batting order

Currently, Qalandars have three proper openers in their squad in the likes of Fakhar, McCullum and Cameron Delport and one make-shift opener, Sunil Narine. They keep shuffling the batting order of Fakhar and McCullum, which shows their lopsided batting combination. This uneven strategy is proving costly for them.

Another aspect is that they are seriously lacking a batsman who can play an anchor role. With Akmal, Sohail Akhtar and Delport in their ranks, no one has the capability to guide the ship to the sea shore. Other teams have accumulators like Shoaib Malik for Multan Sultans, Kevin Pietersen for Gladiators, Ravi Bopara for Karachi Kings, JP Duminy for Islamabad United and Mohammad Hafeez or Haris Sohail for Peshawar Zalmi.

In the previous seasons, Qalandars were consistent with their openers (Chris Gayle-Azhar Ali and Jason Roy-McCullum), but this time around, they have changed their openers twice in three games. It seems the only thing they changed this time is the rigorous shuffle in the opening slot, which to be honest, is not working for them so far. Therefore, they have to fix their top two in the line-up so they can try to open the account in the PSL points table.

3. Decision Review System (DRS) dilemma

PSL has created history by introducing DRS technology for the whole tournament. No other T20 league has ever done this. But it seems like Qalandars have found this very hard to digest. In their second game against Gladiators, Akmal, God knows why, took a review for a ball that was clearly hitting the stumps and had been declared as an out by the umpire. The third umpire endorsed the on-field decision and this led to Qalandars wasting a review.




Similarly, in their third outing against arch rivals Kings, McCullum did the same thing by challenging the on field call by umpire which was again wasted and proved costly for the team. By wasting reviews, batsmen in the late order are the ones that suffer a lot and which is clearly seen in the games Qalandars have played.




4. Fawad Rana and his management:

Since the first season of PSL, one man who always had faith in Qalandars and has enjoyed every bit of his team's performance is their owner, Fawad Rana. He has always stood behind and supported his support staff, which includes Aaqib Javed, Atiq uz Zaman and Inzamamul Haq as batting consultants, two foreign trainers, former Test player Kabir Khan as bowling coach, and former speedster Shoaib Akhtar as their ambassador.

https://twitter.com/beingabidkhan/status/968198079244627968

Rana's optimism is heartening but it is important to recognise the problems of the team. The sudden inclusion and less time spent with individual players by Haq, Akhtar, Khan and Atiq perhaps is the reason behind the ineffectiveness of the staff.




Qalandars need to find another batsman or entrust Akmal to stay at the wicket. Since he is the closest they have got to a middle over batsman for now, they should play him like the team's anchor. He should replicate they way he played at the inaugural of the PSL, when he played a slow-paced game in the middle innings and exploded in the last. He became the highest run scorer of the competition then.

Moreover, it is time for Fakhar to take up his responsibility as vice captain and bat through the innings. He has had enough international exposure to be able to handle the pressure on field and the team needs his longer presence at the crease.

Qalandars' abysmal performance has been a disappointment to watch. The team really needs to rethink their strategies so that they can avoid haphazard transitions. There needs to be a full stop somewhere in their aggressive attitude.

Since Qalandars are all set to play United tonight, they should consider the aforementioned points and try to improve their game and strategy. United will not be easy to defeat, but if Qalandars put their head in the game, they can defeat them. It is a do-or-die situation for them; they need to win against United or else they will be the only team to not make it to the semi-finals in all the editions of the PSL.

It is too soon to write off a team. Haven't we learned from our own national team? They came back and won the Champions Trophy when no one expected it. Qalandars can make a comeback; all they have to do is unite as a team and rethink their game plan. It's time that they give Lahoris a reason to celebrate as well!

All photos: Facebook/ Lahore Qalandars