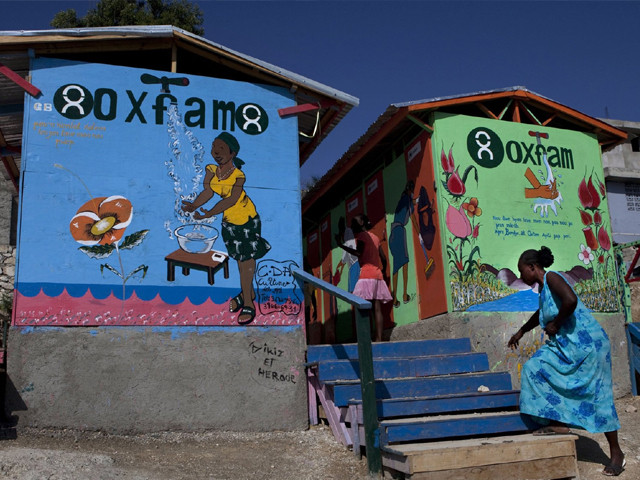 ---
When charitable organisations don't believe in only giving anymore and barter sex for food
Oxfam admitted it knew about the cases and was working on solving it, but the measures taken were "insufficient".
---
This year is definitely a year for women. At the start of 2018, the careers of Harvey Weinstein, Roger Ailes (now deceased), Bill O'Reilly, Bill Cosby and Kevin Spacey (although the allegations were from men) decimated due to sexual assault allegations. It seems the propensity for women to come forward and report indecent behaviour by powerful men is now on the rise. 
Now it seems every faucet of life, from sporting events and Larry Nassar's incarceration, to Hollywood and now the world of charities and NGOs, is slowly turning on. Recently, atrocious allegations were revealed by news outlets of the use of prostitutes by directors of charitable organisations, in particular Oxfam.
The allegations centre on the use of prostitutes after the devastating Haitian earthquake in 2010. Scores of people were killed and buildings were razed to the ground in a matter of seconds. It would be natural to assume that many of those 'prostitutes' had turned to the profession as a way of feeding themselves in that crisis-stricken period. Some allegations were made that suggest Oxfam employees offered food in exchange for sex. The impact of the revelations has been shambolic for Oxfam, which saw a dip in its donations from members of the public, but also a severe warning from the British government. The latter have threatened to halt foreign aid until ample evidence is found of charities handling sexual assaults appropriately.
When imparting foreign aid, the government has to be assured that the taxpayer's money is being appropriately spent and not in any way being used to elicit immoral or questionable behaviour. The deputy head of Oxfam International resigned as a result of the allegations breaking out. The alleged perpetrator has already left and joined another charity in Bangladesh, which is another grave cause for concern. When allegations were reported, they were routinely ignored, adding to the odious nature of the revelations.
After the Oxfam scandal, Doctors Without Borders was revealed to have dealt with sexual assault and harassment cases of their own. Last year, they had received 40 allegations of sexual misconduct and had acted upon 29 of these cases by firing 19 of their employees. When there is an organisation in position of power, especially a foreign aid group that is supposed to provide for those who don't have the resources, it is likely that this power will be misused, and unfortunately, this is exactly what is happening.
These charities are supposed to be carrying out acts which restore faith in humanity but they, in turn, have clearly destroyed even the last shred of self-respect and dignity these women had.
These charities provide a source of vital aid and support to humans who are at the lowest ebb of society, hence absolute transparency is imperative. Real changes will need to be made before these charities are entrusted with government money. This will involve having rigorous background checking on each individual being hired within the charity, especially for high profile roles. 
More women need to be hired as well to change the gender imbalance in high profile roles. Lastly, clear accountability standards should be put in place and a disciplinary tribunal held immediately if allegations of misconduct are made.
Not only have allegations of sexual misconduct with women but also child abuse scandals have surfaced against Oxfam. According to a 2008 report by Save the Children, child sexual abuse cases were prevalent in Haiti, South Sudan and Ivory Coast. Even though they did not name a certain organisation, highlighting the location was enough for everyone to get the hint. Children were being forced into sex and slavery in return for basic necessities such as food. Oxfam admitted that it knew about the cases and claimed that they were working on tackling the issues, however, the measures installed for the purpose were "insufficient". It is absolutely shameful and disgusting to see even a reputed organisation like Oxfam being involved in such a heinous crime (ADDED).
The world is filled with predators. In most cases, the protectors are the ones who attack the victim. It is saddening to see that foreign aid organisations have stooped so low that they are now taking advantage of people who have lost everything and are willing to do anything to survive. For reputed organisations to be involved in such huge scandals require major negligence on their part. Are there no background checks done before recruiting and sending members to provide aid? How in the world did the problem get so out of hand that the vast number of victims is absolutely frightening?  
A detailed public inquiry into the nature of these allegations is warranted if Oxfam or other charities continue allowing behaviour like this to continue. It has become far too common to overlook allegations of sexual abuse, harassment and rape, but the #MeToo movement, coupled with high profile abuse cases, have made it far more difficult to turn a blind eye to them. Even the fashion world, which is known for being notoriously seedy, has faced a backlash with several women coming forward to blame Demarchelier, Diana's former photographer, of sexual abuse against models. It is high time the limelight is placed on these companies to improve internal standards and not just let this news be used as fodder for journalists. This is definitely the year for women, but standards need to improve otherwise the status quo will continue.
Facebook Conversations
COMMENTS (3)
Comments are moderated and generally will be posted if they are on-topic and not abusive.
For more information, please see our Comments FAQ