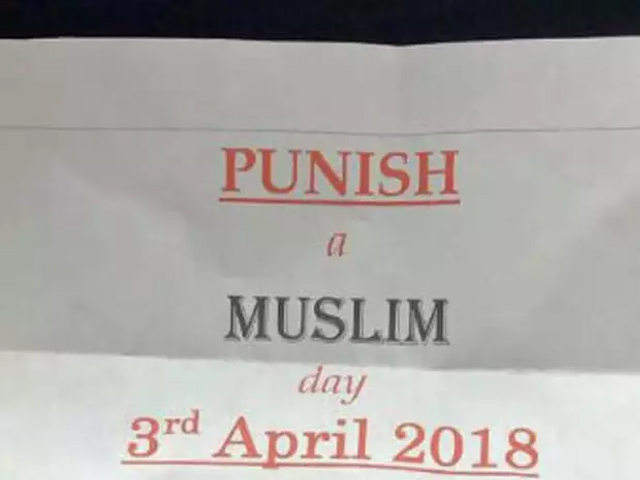 ---
With blatant hatemongering like 'Punish a Muslim Day', Brexit has changed Britain for the worse
This is eerily similar to the notices people received in Nazi Germany, just before they started killing Jewish people.
---
Ever since Britain's exasperated populace announced its wish to leave the European Union (EU), there seems to have been a blanket approval given to racists to harass, intimidate and scare Muslims and other ethnic minorities in an attempt to put 'Britain first'. A sizeable increase in attacks against Muslims was reported soon after Brexit occurred, and this increase seems to show no signs of abating anytime soon. 

The latest hate-fuelled incident involves a highly offensive and problematic letter put through the letterboxes of individuals in various communities of the country, calling for a "Punish a Muslim Day". The main ethos of the letter is to instil fear into the Muslim community and make them even more vulnerable to attack through blatant hatemongering.

The letter goes on to elaborate on the 'points' people will be awarded for particular actions, all of which are intended to harm Muslims. For instance, verbally abusing a Muslim will garner 10 points, removing a woman's hijab will achieve 25 points, while throwing acid on a Muslim's face will get 50 points. It goes on to get much worse, as it lists bombing a mosque as being equivalent to 1,000 points, and culminates in 2,500 points for 'nuking' Mecca.


"Punish A Muslim Day" letters are being sent to families in East London. The letter details a point system for each action & a reward. For example pulling a Muslim women's hijab is 25 points, throwing acid is 50 points and burning or bombing a mosque is a whole 1,000 points. pic.twitter.com/6kmCrDrXt0

— Rowaida Abdelaziz (@Rowaida_Abdel) March 9, 2018


This is eerily similar to the notices people received in Nazi Germany, just before they started killing Jewish people within ghettos and concentration camps.  If messages like these aren't taken seriously and stopped immediately, then more people will be buoyed by this, and will consider hating and harming Muslims to be perfectly acceptable.

In response to the growing hate against Muslims, a discussion took place in British Parliament to stem the flow of these attacks, and a push was made to actively define Islamophobia so legislation could be put in place in order to protect Muslims from attacks in the future.

Will these letters be a solitary incident? Absolutely not.

Will the British government actively do anything about this? Absolutely not.

Nothing will change, purely because the current administration has far more pressing issues to address, such as Brexit, and the rapidly failing economy.  Ever since terror attacks were carried out in London and Manchester, sympathy towards Muslims has waned considerably, while Brexit as well was fuelled by an anti-immigrant attitude towards the influx of Syrian refugees.

There is something very worrying about the blasé attitude the current British government has when it comes to Muslims and the growing hate against a certain community. If the letter had said 'Punish a Jew', it is undeniable that the consequences would be far more material.

Less than a week ago, a dog owner was found guilty of posting anti-Semitic videos, in which he taught his dog to do a Nazi salute. The response to this hate crime is justified; however, it is disconcerting to see that no prosecutions have been made over the highly insidious letters calling for punishing all Muslims.  This dichotomy shows that the British government, while rightly concerned about protecting Jewish people from discrimination, is content with looking the other way when it comes to hatemongering against Muslims.

Recently, the leaders of the far-right group known as Britain First were jailed for harassing an innocent Muslim family, and these arrests surely must have fuelled more anger against those who hold similar anti-Muslim views. Britain First is known for vociferous criticism against Muslims, and its leaders, Jayda Fransen and Paul Golding, even had their day in the sun when one of their pages was retweeted by Donald Trump himself. Although they have now been jailed for religiously aggravated harassment, they would often hide behind 'freedom of speech' during their vitriolic anti-Muslim speeches, and their disturbingly large fan following was a result of this. Now, freedom of speech is used as a green light for people to engage in hatemongering without bearing the negative repercussions, which is ultimately borne by innocent Muslims.

As a Muslim living in Britain, I feel the country has become a lot more divisive since Brexit, and the way things are going, it's only going to get worse as more immigrants come into the country. Although I haven't personally experienced discrimination directly, it has become more difficult to find paid employment at this time, creating the seed of doubt and worry that my name or faith may have more to do with this than my credentials. Overall, however, there have been too many reports of mosques being attacked, hate speech, and women's hijabs being ripped off, which is why seeing these letters now only adds more fuel to this conflagration of discrimination.
Facebook Conversations
COMMENTS (21)
Comments are moderated and generally will be posted if they are on-topic and not abusive.
For more information, please see our Comments FAQ