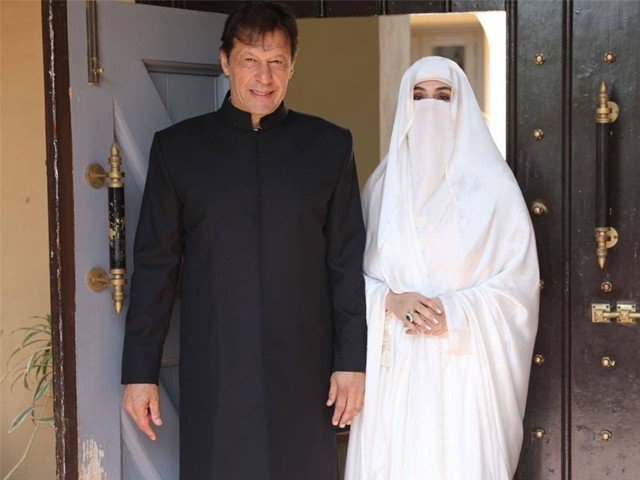 ---
The elusive and enigmatic First Lady of Pakistan
Maneka portrays a stereotypical housewife and a woman of religion, but what else is there?
---
Imran Khan's political gusto may have weathered several storms, but his penchant of collecting various wives over the years has been a constant source of amusement to his political opponents as well as voters in Pakistan. From his playboy days of yesteryear to his days of peddling a more Islamic demeanour, Imran's wives have adapted to his constantly evolving personas.

I was merely 12-years-old when I discovered Jemima Goldsmith was marrying Imran. I was in awe of a man who happened to snag a blushing, demure and outrageously beautiful daughter of a British billionaire. From watching their first interview together when they coyly evaded questions about 'love' and inter-religious marriage, I was convinced Imran had found the one. Goldsmith was besotted and Imran looked truly happy. But alas, it was not to be.

Despite giving birth to two strapping young lads, the marriage could not survive the political heat and various conspiracy theories of Goldsmith being an Israeli spy (which I still roll my eyes over). The heartbreak was clearly etched on his face as his party was at its lowest ebb and he lost his family in the ensuing struggle.

After a long hiatus, during which Imran concentrated on building support for his fledgling political party, he decided to get hitched again, once fervour for his politics reached fever point. In comes the suave, well-groomed and stunning Reham Khan. A former BBC news presenter, who was also divorced with children, suddenly splashed all across domestic and international TV screens. She was confident, cheerful and complemented him in almost every aspect.

Following their shotgun wedding, Khan donned a partial dupatta and started doing TV interviews with Imran, which involved more of the former talking and the latter listening. However, after a short, tumultuous 10 months, they both decided to part ways, resulting in a vengeful Khan tweeting and writing all kinds of salacious gossip about Imran, including allegations of rampant drug use, alcohol and affairs with other people's wives. In light of this, Khan has quickly been pushed to the backburner.

Bushra Maneka, the third wife, remains an enigma of sorts. She wafts into a room with silky white robes, covers her entire face, and never engages on social media to the lengths that Khan and Goldsmith do. However, she did agree to partake in a TV interview recently to quell the numerous rumours circulating around her mysterious appearance into Imran's life. Was she told to marry Imran by the Prophet Muhammad (pbuh) in a dream? Was she still married to her former husband when she agreed to marry Imran? Regardless of the matter, Maneka has remained an elusive presence in Imran's private life; a stark contrast from his days of rubbing shoulders with Bollywood actors, the upper class in British society and Pakistani elites.

Since she agreed to do the interview, the country was braced to finally hear her side of the story. There is no doubt she interviews very well, coming across as classy, elegant, morally sound, and a philanthropic ideal. Her constant praises for Imran were cringe-worthy but expected, considering she married him just in time for the commencement of his tenure as prime minister. She considers him to be an honest and trustworthy politician, which is something she reiterates on a number of occasions. Her praise for him is all-encompassing, without fault, and extremely one-sided. It's as if Imran has no flaws at all and is the saviour the whole country has been waiting for. The interview definitely painted Imran in a more positive light, especially in comparison to Reham's decimation of her former husband's character and moral integrity.

I felt the interview itself was very well executed, but Maneka seems to stick out as a sore thumb in the concept of Naya Pakistan. Imran talks about developing Pakistan and making it corruption free. However, he clearly has to pander to the whims of the hard-core clerics, and it feels like Maneka is an addendum to that desire. Her niqab is an awkward imposition for a leader who has global aspirations. She has also stated in her interview that she doesn't enjoy meeting people and spends most of her time praying or sleeping. This is hardly the kind of first lady a 'Naya Pakistan' should be aspiring towards, since it worsens the stereotypical image Pakistani wives have of being housebound and not interested in a career, or even a life.

When you look at Goldsmith and Khan, they come across as independent women who have an identity and achievements of their own, apart from being former wives of the current prime minister of Pakistan. Where is Maneka's own identity? She portrays a stereotypical housewife and a woman of religion, but what else is there? What are her likes and dislikes? What does she do in her spare time, when she's not devoting her time to religious rituals or her husband? What are her opinions on matters other than how great her husband is? Sadly, her interview only raised more questions regarding the enigma that is Maneka.

Maneka may be the ideal partner for Imran; quiet, demure, someone who refuses to steal the limelight from him, but can this religious façade survive a country which is struggling to provide water to the masses, where corruption is rampant, and where the poverty-stricken are struggling to feed and clothe themselves? Only time will tell. One thing is for sure – Maneka doesn't seem to go hand in hand with the Oxford-educated, westernised playboy turned shalwar kameez donning, tasbeeh-holding Imran. Her presence seems to comply with Imran's silent nod to the religious masses, but she clearly has a long way to go in persuading the rest of the country of her mettle, and even of Imran's praiseworthy temperament. Until then, we can only cringe.