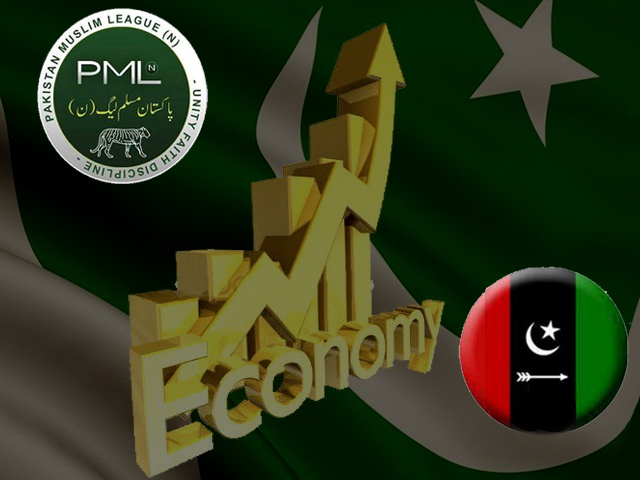 ---
Khursheed Shah should take a look at PPP's abysmal economic performance before pointing fingers at PML-N
Pakistan suffered its highest inflation during PPP's first tenure while the second highest was during Zardari's...
---
Any accusation, any labels of incompetence hurled at Pakistani politicians have a very easy retort – the other guy is worse. Since a new election is on the horizon, our politicians have taken to this time honed art of mud-slinging with a new fervour.

Khursheed Shah has come out with a statement that Pakistan's economy has significantly deteriorated during the tenure of the Pakistan Muslim League-Nawaz (PML-N) government. Perhaps he's forgetting Pakistan Peoples Party's (PPP) very dismal economic performance during its last stint.

There are many facets of governance and politics which are hard to measure. Fortunately, economic performance is not one of them. Thus, we can examine in minute detail how well the PML-N government fared versus the PPP government, vis-a-vis the national economy, and determine if Shah's statement has any substance to it.

The crux of Shah's argument is:

"There's been an increase of about $60 billion debt from 2013 till now (sic)."

This statement is very misleading. True, our national debt has massively increased in the past five years, but not by $60 billion. The national debt stood at $61 billion in June 2013. By June 2017, all external debt and liabilities increased to $83 billion – a significant increase for sure, but of $22 billion, not $60 billion.

While Shah might enjoy chastising the PML-N for increasing the national debt, it was under the PPP government that the national debt ballooned from $45 billion in 2008 to $61 billion in 2013 – a more or less 35% increase in debt in more or less the same time period. Regardless of the degree of the increase, our debt level – at 75.3% of the GDP – is way beyond the 'safe' threshold.

Another area where the PML-N government hasn't fared well is balancing the current account – the gap between external receivables and payments. In June 2013, the current account deficit was $2.5 billion or 1.1 % of the GDP. Apparently, PML-N wanted to break records on the economic front, so it increased the $2.5 billion deficit to $12.1 billion by fiscal year 2016-2017, equal to 4% of GDP (sarcasm intended).

A major reason for the current account deficit is that the government has failed to attract meaningful foreign direct investment, leaving aside all the promises of Chinese investment. Moreover, Ishaq Dar's policy of buffering up the rupee to an artificial Rs105/$1 versus its natural value of Rs118/$1 has significantly hurt the export sector of the country. Exports decreased from $24.5 billion in June 2013 to $20.42 billion by June 2017.

Furthermore, every developing country focuses on education as a way out of its developing status. However, it seems PML-N politicians, though, don't care for it. The literacy rate slipped from 60% in June 2013 to 58% in June 2017.

Despite the laggard performance in all measurable aspects of the economy, Pakistan's GDP growth rate grew from 3.7% to 5.3%. However, most of this growth came from the services sector, meaning that Pakistan's traditional textile and agricultural sectors are still dormant. Furthermore, it must be noted that Pakistan's foreign exchange reserves (forex) reached their highest level at $20 billion during PML-N's tenure.

If PML-N's economic performance looks bleak, don't even bother reading any further, because PPP's economic performance placed Pakistan in such a perilous position that the country was on the verge of bankruptcy. While PPP prided itself on being the first democratically-elected government to complete its constitutionally mandated term, the erstwhile ruling party should also have mentioned that during its stay in office, Pakistan had one of its lowest GDP growth rate ever – a measly 2.8%.

You, the reader, would say, obviously what else could one expect right after the financial crisis of 2008-2009? That's a very valid point. But pray tell, why did India have a GDP growth rate of 7.8%, Bangladesh of 6.8%, and Sri Lanka of 6.1% during the same time period?

PPP governments have always been a bad omen for Pakistan's economy. In fact, it started from Zulfiqar Ali Bhutto's nationalisation of the 70s, which crippled Pakistan's industrial and trading prowess. Moreover, the corruption-laden governments of the 90s, thanks to Asif Ali Zardari aka Mr 10%, ensured that foreign investors were always wary of investing in Pakistan thereafter.

Pakistan suffered its highest, double-digit inflation during PPP's first tenure of 1972-1977. The second highest inflation ever recorded was during Zardari's presidency. When Yousaf Raza Gillani formally took over the reins of the government, the tax-to-GDP ratio was 8%. The goal was to take it to 15%. However, in their five years of power, the tax-to-GDP ratio only reached 9%. Nawaz Sharif and Dar failed to achieve this 15% mark too, but at least they took the tax-to-GDP ratio to 12.5%. The country also witnessed a near total collapse of the power sector during PPP's stint in power, which crippled the manufacturing base of the country and continued to affect our exports even during PML-N's term in office.

We can talk about all kinds of economic indicators till time immemorial, pit one government against another, but the fundamental problem with Pakistan's economy is our very low tax-to-GDP ratio. It is merely simple mathematics – if the amount of money coming in to the government coffers is not sufficient, the government would be forced to borrow. Our government does not only borrow for capital expenditure though. It borrows to pay off what it borrowed previously – paying interest on interest.

Now, there is nothing wrong with taking on debt. Most successful governments in countries far better off than ours borrow for all kinds of expenditures. The problem in Pakistan's case, however, is that due to the amount of money we have borrowed over the years, debt servicing takes up a very substantial chunk of our national budget – capital which can be used for long-term development, be it education or infrastructure improvement. Thus, rather than relying so much on debt, we should focus on increasing our tax revenues.
Facebook Conversations
COMMENTS (2)
Comments are moderated and generally will be posted if they are on-topic and not abusive.
For more information, please see our Comments FAQ