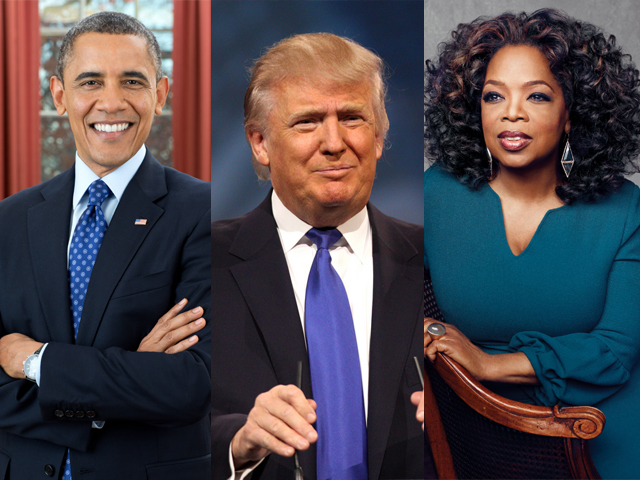 ---
Will a black president make America great again?
Next to Oprah, Obama is the half-empty glass perceived half-full by many Americans. But would it do America any good?
---
After this year's Golden Globe Awards, an overwhelming number of tweets and op-eds acclaimed Oprah Winfrey as a possible candidate for the 2020 US Presidential Election. It was indeed a justified reaction to her powerful acceptance speech, which sounded strong, optimistic and very presidential. Not to be outdone by a woman, President Donald Trump immediately responded to this media reaction by suggesting that while fighting an election against Oprah would be fun, he would beat her.

No matter what one's opinion on the possibility of Oprah 2020, it does bring several questions to mind. Would such a presidency do America any good, after witnessing the struggles of the Obama administration? What are America's intentions behind the support she is being offered? And lastly, would her candidacy be able to recover the American ideals that have been wounded by the Trump presidency?

It would not be out of the blue to suggest that another black president could be white liberal America's great dream when it comes to laying its slaving past to rest; something that could not be done during the eight-year tenure of Barack Obama. If, despite Oprah's disclaimer, the possibility of her as a presidential candidate ever blossoms into a political reality that wiggles her into the White House, it will launder the residue of slave trading that still clings to America's coattails. It will also significantly enhance the US's moral stature in the world, which is currently threatened by the events taking place under the Trump presidency.

Oprah's achievements thus far might be unchallengeable, but her political credentials are a blank canvas in waiting. Back in the day, her sponsorship and support had significantly facilitated Obama's candidacy. Thus, if Oprah 2020 does become a political reality, Obama will undoubtedly return the favour and mentor her through it. At the moment, one can only wonder if this campaign is just America and the world trying to keep a positive outlook in light of Trump, or whether it is something to which Oprah herself might have tacitly or unwittingly approved of. But to suggest that the support she is receiving is an expression of Americans simply seeking a black president would, on its own, rightly be considered offensive, were it not for Obama.

His brilliance and aptitude notwithstanding, he was ushered in by white America's simmering ambition to launder its slaving past. Put next to Oprah, Obama is the half-empty glass perceived half-full by many Americans. He was, and still is, considered to be black, not biracial or half-white. As president, his legacy, which includes Obamacare and a foreign policy based on compassion and dialogue, has ensured his place in history. Obama also recovered some of the moral high ground that President George W Bush had lost after starting two baseless wars, while his election set the precedent for an African-American descendant of slaves to eventually assume the highest office of the most powerful nation in the world.

Obama's detractors cite the number of unarmed black suspects killed with impunity by the police, and the collateral damage from targeted drone attacks, without realising that the American president has no direct jurisdiction in either matter. Furthermore, the Pew Research Centre found that most African-Americans realised the extent and dimensions of racism once Obama became president. So, while white Americans might have been congratulating themselves for electing a half-black president, African-Americans have to, by default, face the stark reality of continuing racism in their country.

Whether or not white Americans feel that by electing Obama they have vindicated their slaving past and do not need to repeat the gesture, remains to be seen. And if the next US president ends up being an African-American woman, it would cap a long struggle to empower women and liberate white America from its dark past.

However, this is easier said than done.

Voters who ensured Trump's victory do not have the same vision of America as Obama's supporters did. Yet, both these distinct visions tend to overlap and jostle each other on common ground, with the mechanisms of America's political system allowing each side its chance. Yet, neither side was able to fully exploit its opportunity, with enduring checks and balances being the ultimate winner. What will ultimately tip the balance is perhaps Trump himself – his flailing domestic and foreign policies could be what cause him to lose the re-election. The Russia investigation, the cold war with North Korea's Kim Jong Un, taking back the Iran nuclear deal, and withdrawing from the Paris Climate Agreement, are just some of the notable political detonators, while others lurk beneath the surface to do unpredictable mischief in the future.

By 2020, perhaps Trump's supporters will have whittled down and will be seeking an alternative champion. Alternatively, his support base might be so strengthened by then that no mainstream opponent would stand a chance. The way things stand, no one can predict what will happen. Even the result of the mid-term congressional elections, due in November this year, will not be able to forecast the 2020 election campaign, let alone its result.

The juiciest and most tantalising scenario remains one where Oprah could really become president. In 2016, American voters, with a 90% literacy rate, managed to elect a brash real-estate magnate and reality star as their president. If Oprah contests the election, there is no logical reason to suppose that she would have a lesser chance than Trump did in the last election.

After all, George Weah, a mediagenic retired football star, ultimately ended up becoming the President of Liberia, Africa's first and oldest modern republic. If Liberia, whose existence can be credited to white America's need to settle freed slaves and assuage white guilt, can elect a media icon in a free and fair election, America can do the same. Thus, while Oprah may not contest the elections – and even if she does, she may not win – but she does seem like the biggest hope at the moment to put some lifelong demons within America itself to rest.