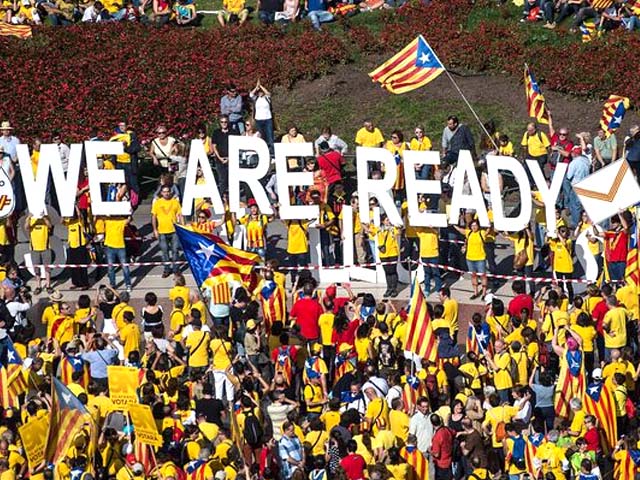 ---
Are the German election results and the Catalonia referendum a wake up call for the EU?
Breakaway parts of countries within the EU could lead to a fire of multiple civil wars.
---
Major political decisions of Spain's Catalonia region and Germany's former Prussia, (lately East Germany), are influenced by their history despite their distinct means and objectives.

Both are trying to shape a future perceived to be compatible with the historical perspective of their self-image. While many Catalonians seek independence from Spain, Germany happily reunited in 1990 and is now seeing its political power balance imperceptibly mutating.

In the long-term, both can stoke a crisis of unity within sovereign member states and the European Union (EU). Catalonian demands for independence will encourage simmering independence movements in Spain, Belgium, the United Kingdom, France and Italy. They will no doubt be contained, but the cost could be high. When such movements get out of hand, they can only be reined in by decisive and often violent action which operates under the suspension of hard-won civil liberties. At the end of the day, no European wishes to cede these privileges.

If Prussian aspirations start nudging Germany eastwards, it will reduce the current ethos of the western alliance, hotly contested by the United States and France by bringing to bear their full might in trade privileges. If German stodginess is inspired by Spanish flamboyance, it could lead to trade skirmishes short of a full-blown trade war.

Catalonians who felt that being part of Spain threatened their language and culture wished for a referendum to choose independence, organised by the provincial government of Carles Puigdemont, president of the Generalitat of Catalonia for October 1st. Prussians are hoping to use Angela Merkel's unpopular economic and immigration policies to redirect Germany's interests eastward to revive the fundamentals of classic Prussian foreign policy.

Catalonia seeks to treat its cultural nostalgia whereas the historical Prussia suffers from political melancholy and contempt for the Rhineland to which it has had to cede decision-making.

In 1923, hoping to shed Prussian domination forever, Konrad Adenauer, later West Germany's first post-war chancellor, unsuccessfully solicited Franco-British support to form an independent state of West Germany.

That dream was realised in 1947 when the allies divided Germany. The separation of East and West Germany did neither any good and, Helmut Kohl's historic achievement of reuniting both parts has not received a significant public complaint within Germany. Yet, the bulk of Merkel's support comes from the western Rhineland of vineyards which sees France as its most natural ally.

Although Catalonia, too, borders France, demands for its independence are fuelled by the perceived threat of cultural genocide by Madrid. The 2010 Spanish supreme court decision that overruled the financial autonomy and preference of the Catalan language granted under the 2006 statute only reignited demands for independence, finally leading to the referendum of October 1st, roundly condemned as unconstitutional and illegal by Madrid, with Spain's constitutional court suspending the vote. After all, the 32,108 square kilometre region provides one-fifth of Spain's Gross Domestic Product (GDP) with a 10€ billion surplus with Madrid.

On September 24th, all policing in Catalonia was brought under Madrid's control and Spain's prime minister unequivocally declared,

"It won't happen!"

It did.

Of Catalonia's electorate of 5.23 million, turnout was 2.26 million, or 42.3% of which a resounding 90% apparently voted "Yes" for independence, despite an intimidating police presence and some clashes.

King Felipe VI of Spain reminded the secessionist leaders that they had acted "outside the law" and that Catalan society was "fractured". Puigdemont, promised his government would shortly declare independence. Thousands of protesters took to the streets in Barcelona. Catalans in favour of independence are now crying for EU involvement.

Germany had no referendum or riots, but a general election.

Merkel was able to maintain her conservative Christian Democrat /Christian Social Union (CDU/CSU) alliance as the largest representation in Germany's parliament at 33%, the bloc's worst result in seventy years. After facing devastating losses with 20.5%, Social Democratic Party of Germany (SPD), the coalition's recent partner, has now jumped ship for the opposition benches.

The right-wing populist and nationalist Alternative für Deutschland (AfD), alternative for Germany, made its maiden entry into the Bundestag, claiming third place with 12.6%, thanks to one-fifth of the votes in former Prussia. The AfD resurgence indicates that the hibernation of historical Prussian aspirations has started thawing. For the first time since World War II, the parties in the Bundestag represent Germany's historical divisions, while their proportions reveal a reaction to the EU bureaucracy's high-handed policies.

The Great European Dream of offering the world an alternative to American leadership is based on the assumption that the surface area of a country still determines its ability to lead other countries. It also presumes that the sum of the 2007 Treaty of Lisbon pundits and time-serving bureaucrats can succeed where the likes of Charlemagne and Frederick the Great did not.

That tall order stretches the boundaries of self-esteem.

In 'The Rise and Fall of the Great Powers: Economic Change and Military Conflict from 1500 to 2000' (1987), Paul Kennedy posits that the key to Europe's world domination in its heyday was not the unity of a super-state. A series of highly competitive rival states fighting to outdo each other in science, technology, and trade ended up with a lead on the rest of the world.

The Treaty of Lisbon pundits ignored ground realities to market their dreams. They reinvented the Brussels bureaucrats as Dream Merchants who now have to babysit a watered-down version of the Soviet Union within which Catalonian secession seeks legitimacy and offers a dangerous precedent to the Basques, Scots, Flemish, Corsicans and Padania and South Tyrol (Italy). If some clique of senior bureaucrats in Brussels thinks that breakaway parts of countries within the EU is the way forward for a super state to emerge, they are playing with the fire of multiple civil wars.

Spanish resilience and determination should not be underestimated, and neither should Catalonian guile. Both sides were realistic enough to realise that the semantics of independence were designed to squeeze further concessions from Madrid. Give in to Catalonia, then the Spanish Basques, and Spain would be history.

Even as the echoes of the referendum bounce off the mountainsides, it is a fair bet that backroom deals are underway.

Brexit mocks the EU's own future and Germany's election results raise long-term questions on the future of the western alliance itself.

Brussels' micro-management of the internal affairs of sovereign nations has caused cracks within the EU on the one hand, and on the other hand, encouraged secession, as in Spain, one of its key prominent members.

Instead of obsessing about creating a democratic super-state, Brussels would be well advised to fulfil its primary role of managing a trading zone to ensure peace and prosperity across the length and breadth of Europe, thereby painlessly projecting its soft power.
Facebook Conversations
COMMENTS (3)
Comments are moderated and generally will be posted if they are on-topic and not abusive.
For more information, please see our Comments FAQ