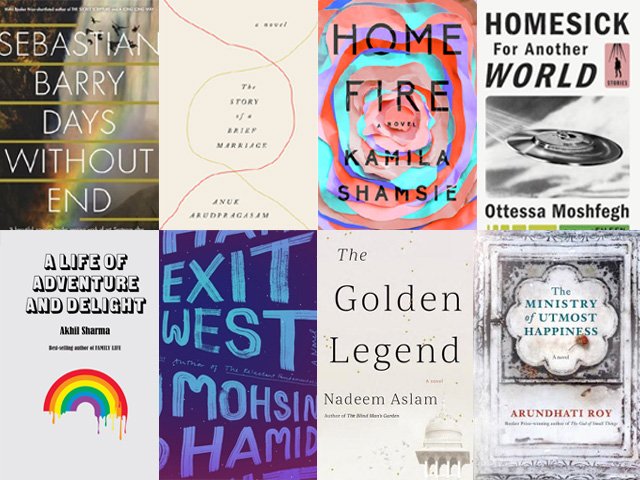 ---
14 books that prove 2017 has been an exceptional literary year
Three of Pakistan's most venerated writers published novels this year: Kamila Shamsie, Mohsin Hamid and Nadeem Aslam.
---

Marked by geo-political tensions and post-truth anxiety, 2017, as a literary year, gave us many reasons to celebrate. For fiction, in general, it has been a great year, but for homegrown fiction in particular, it has been an exceptional one.

Three of Pakistan's most venerated writers published books this year: Kamila Shamsie (Home Fire), Mohsin Hamid (Exit West) and Nadeem Aslam (The Golden Legend). While Home Fire and Exit West became bestsellers and even got the Booker nod, it is Aslam's book, I believe, that towers over all homegrown literary produce this year. The Golden Legend puts to rest all questions, if there were any, regarding Aslam's reputation as the most preeminent Pakistani writer of his generation. In his latest book, just as in all of his others, Aslam's mastery of stylistic brilliance is on full display and he employs it to tell a story that is just as beautiful and memorable as his prose.

Some excellent books also came out from the other side of the border, most notably Arundhati Roy's The Ministry of Utmost Happiness, which marked her long-awaited return to fiction. It is a book just as good, if not better, than The God of Small things, and that is enough reason to celebrate.

Other notable books by Indian writers include Selection Day by Aravind Adiga, a deliciously readable cricket novel that is also a novel about family and a critique of not just the sport itself but also of India's caste and religious hierarchies.

Moreover, hailed as the first post-Brexit novel, Ali Smith's Autumn is a brilliantly inventive novel about the uncanny friendship between an old man and a young woman in times of heating political climate.

In translated fiction, I was enthralled by the Argentinian writer Samantha Scheweblin's creepy and electrifying short novel Fever Dream in which a dying woman recounts a story about a family torn apart by toxins that is as dark and haunting as a nightmare.

Translated from Kannada, Vivek Shanbag's Ghachar Ghochar is a slim novel that encapsulates multifarious lives between its covers. It tells the story of a family's sudden acquisition of wealth and how the family begins to fall apart as a result of it.

I fell in love with two short story collections this year: Homesick For Another World by Ottessa Moshfegh and A Life of Adventure and Delight by Akhil Sharma. In Moshfegh's blistering and caustic stories, the characters are losers, weirdos and creeps. There is a lot that is disgusting in these stories. Almost all of her characters have acne, like to scrape their pimples, and have rotting, blackened teeth. Despite these repulsive details and their doomed fates, or maybe even because of them, Moshfegh's characters are hauntingly alive on the page. Sharma, who in his last two novels has already proven himself as a literary master, his stories are understated and elegiac. Some of the stories in this collection are set in the US while the others in India, but despite their setting, Sharma's characters struggle to grapple with the realities of divorce, death and doomed desires.

Many fine poetry collections were published this year but nothing beats the visionary and illuminating power of Frank Bidart's Half Light: Collected Poems (1965-2016), an accumulation of all of Bidart's poems to date. In Bidart's mesmeric poetry, the secrets of the human body find words, his verse delineates the quietest and the most unsayable bedlams and desires of the human experience.

The Irish writer Sebastian Barry's novel Days Without End is written in the most potent and convincing first-person voices that I have read in a very long time. It is a moving and heart-breaking love story of two people caught between the horrors of war.

In the centennial year of the Russian revolution, I also read Mikhail Sholokhov's And Quiet Flows The Don, an epic about a country torn by conflict and the turbulent fortunes of its people, in particular the rebel Gregor Melekhov, who aches to be with the woman he loves but is devastated by the tragic choices he must make.

And finally, my book of the year. The book that has left the most profound impression on me is The Story of a Brief Marriage by the Sri Lankan writer, Anuk Arudpragasm. It is impossible to do justice to the power and beauty of this book in a few words. It's a book about a single day in the life of a man who, during the Sri Lankan civil war, has lost everything that he knew as a vital part of his life. But there is no end to the extent of suffering that the human heart is capable of bearing and it is the centre of the human heart that Arudpragasm penetrates to find the humanity that's there.

This novel is also one of the most beautifully written books I have read this year. In his debut novel, Arudpragasm has proven that he is a literary talent to watch, and if his next book is even half as good as this one, it will be a part of any number of end of the year lists.

Happy New Year!