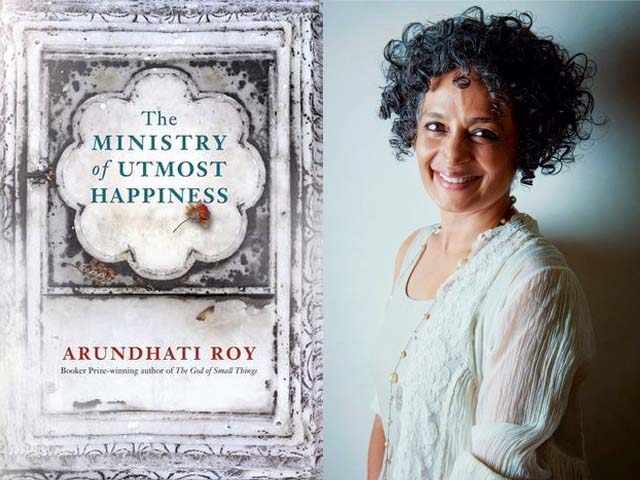 ---
'The Ministry of Utmost Happiness': A beautiful kind of chaos
As a novelist, Roy's gift is for delineating the arithmetic of love and loss, not the 'algebra of infinite injustice'
---
The publication of her first novel, 'The God of Small Things', its subsequent Man Booker win, multi-million sales, and the international celebrity status she has since enjoyed are the only impediments in the way of the success of Arundhati Roy's second novel, 'The Ministry of Utmost Happiness'.

It is a novel as remarkable and dazzling as her first, but it is this unwieldy comparison that dulls its colours and sours its taste. It is a book so different and so far removed from 'The God of Small Things' that it feels it's written by a different writer altogether.

Given the 20-year hiatus between the publication of the two books, Roy's preoccupation with political activism during this time and her ensuing non-fiction oeuvre, this is hardly surprising.  Her second book's concerns, ambitions and even its gestations are significantly different from its predecessor. While the former was overtly Faulknerian in its scope and narrative, the latter is more Dickensian; 'The God of Small Things' immersed us in the piercingly private and personal mayhem of its characters' lives, while 'The Ministry of Utmost Happiness' catapults us into the public turmoil of a nation.

The plot, narrative and the cast ensemble are more grandiloquent. Each of its almost 50 characters feels as if it is the protagonist, each minor digression appears to be a plot twist, a skilfully composed note that orchestrates the multifarious strands of this novel into a harmonious whole.

In the book's long, novella-length first section, we meet Aftab, the deliberately camouflaged male child of a conservative Muslim family. Naturally a hermaphrodite, his strife with his gender identity and his aching and longing to be a female compels him to abandon his family and move into a Hijra house called Khwabgah. There, as Aftab metamorphoses into Anjum, she finds a home where she belongs, a family who understands her.

On a trip to Gujrat in 2002, in the wake of regional political upheaval, Anjum is brutalised and her travel companion, Zakir Mian, is murdered. Disoriented and traumatised by the extent of human barbarity, she abandons the solace of Khwabgah and moves into the duniya, the wider world, where she establishes her own small enclave in a cemetery where her parents and sister are buried. With the help of a wanderer who, impressed by Saddam Hussein's valour, is eponymously named, Anjum turns the cemetery into 'Jannat Guest House'. Apart from a few minor detours scattered in between, we do not meet these characters again until the very end of the novel.

In the sprawling, meandering and chaotic second section of the novel we are introduced to a new set of characters, a group of four university friends in the mid-80s. At the centre of the group is Tilottama, the elusive and comely architecture student who the rest of the three male friends are infatuated with. Separated after university, their paths converge again and again like slapdash shooting stars in the cosmos. As Naga becomes an illustrious left-wing journalist, as Biplab takes on a top post in the Indian Intelligence Bureau and as Tilottama begins a love affair with the third, Musa, a Kashmiri freedom fighter, their lives, in the wake of the Kashmiri insurgency, superimpose again and again, creating an intricate palimpsest of lives that were meant to intersect time and over.

In the second section, while I was not viscerally bored, I did, however, for the most part turn its pages with paltry curiosity rather than ardent desire. One of Roy's greatest gifts is her agile ability to calibrate and dilute her research in a plethora of topics (nuclear proliferation, environmental degradation and Kashmiri independence), into beautifully limpid, tactile and expository prose. It is for this gorgeousness of sentences that I read on, hinged by the centripetal force of Roy's writing.

However, because she urges the reader to so mercifully sympathise with her Kashmiri characters and their undoubtedly harrowing suffering, certain phrases between the generally gleaming prose can appear to be melodramatic and histrionic. Their sappiness appears to be heavy-handed and contrived. And then there are the expletives, rife and plenty, almost on every second page.

The fact that Roy insists on writing each cuss word first in Urdu/Hindi and then providing a parenthetical translation, seemed to me utterly maudlin. In this section, Roy's desire to encompass everything into one book expands its scope and heightens its ambition, but utterly bogs down its appeal. She compromises literary nuances for political rants, coherence for connecting vantages and her poetic language for overindulgent phrases.

Ultimately, it is a testament to Roy's copious flairs as a storyteller that she is able to stitch all the unravelling threads of her story so beautifully together. It is yet again in the personal that Roy finds her salvation. It is when she focuses on the poignant riots and chaos inside her characters and not the outside that the narrative gains momentum and begins to stir depths that redeem the novel from its laboured political baggage.

It is when she writes as a rhetoric lyricist and not as a political polemicist, about the secret lives and cloistered sanctuaries and not about political plots and the battlefield, that her writing begins to swirl hypnotically, marching towards the book's tender and symphonic conclusion.

As a novelist, Roy's gift is for delineating the arithmetic of love and loss, not the 'algebra of infinite injustice'. However, readers must trust Roy's instincts as a gifted novelist and succumb to her chosen form and orchestration of the novel. And for those who persevere through the strained and chaotic middle section, there are myriad rewards towards the end, rewards that remind us that the chaos was necessary, that it was a beautiful kind of chaos.
Facebook Conversations
COMMENTS (2)
Comments are moderated and generally will be posted if they are on-topic and not abusive.
For more information, please see our Comments FAQ