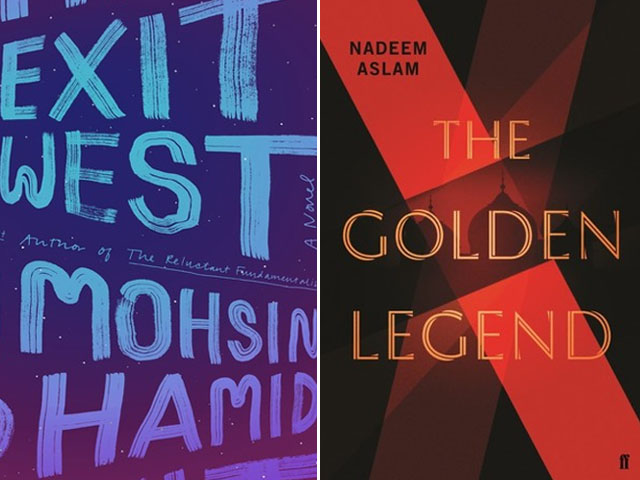 ---
'Exit West' and 'The Golden Legend' could be Pakistan's literary game-changers
While Hamid's novel deals with the refugee crises, Aslam reminds us of the copious injustices present in our...
---
This is a strong year for Pakistani fiction. Two excellent novels, 'Exit West' and 'The Golden Legend', by two excellent novelists, Mohsin Hamid and Nadeem Aslam, have been published to great critical acclaim. Another, 'Home Fire' by Kamila Shamsie, is forthcoming in August and is already being endorsed by a plethora of writers.

Historically, the Man Booker Prize, one of the most prestigious literary prizes in the world, has been won by Indian writers five times. No Pakistani writer has won it and only three, including Aslam and Hamid, have been nominated. This year, with two strong and worthy contenders, Pakistani writers have a great chance of featuring on the long list, which will be announced today.




'Exit West' is a searing and timely novel that charts the escape of two lovers from their unnamed war-torn hometown. Saeed and Nadia, characteristically polar opposites, meet and fall in love during the civil war. Blistering with desire but mired by the atrocities of the war, they are ensconced by market bombings, open-fires, militants and surveillance drones. A serendipitous encounter with an agent buys them the opportunity for escape, a chance to trickle through the uncanny magical doors like sand.

This is the first time Hamid has ventured into the capricious territory of magical realism, and in a novel that deals with profound themes, it somehow, oddly, surprisingly, works. The magical doors become a metaphor for the unpredictability and imperceptibility of escape.

The doors, sucking them in, take them to the beaches of Greece, the gardens of England and the streets of the US. Each of these places is saturated with refugees; they live in tents, on the roads, and they are hurdled, condensed, hundreds in a single compound. With a supple aplomb that has characterised his earlier books, here, too, Hamid vivisects the emotional labour of his characters even as, on surface, he depicts their physical pain. With a shockingly acute insider's eye for detail, he unfurls the calculus of dislocation, the psychology of loss and the enigma of exile.

In this compelling novel, Hamid does much more than regurgitate the stereotypes and banalities that are globally percolating about the refugee crises. In spare and haunting prose, he stitches the wounds of his characters, the refugees, and as we, the readers, linger on, his words heal us too.




Very different in style, writing and theme, but equally dazzling is Aslam's 'The Golden Legend'. Aslam is a master of stylistic brilliance and in his latest book, as in his earlier ones, he blends the beautiful and the revolting, the warming and the wrenching, together. The book is rife with subtle nods to actual political and social incidents in Pakistan. The Raymond Davis case, the lynching and burning of Christian communities, the murder of a newspaper editor over the publication of a controversial cartoon, all these tragedies feel very close to home.

Massud, an architect, is gunned down by an American man at a marketplace in the fictional city Zamana that seems to be a thinly disguised version of Lahore. After Massud's death, his wife, Nargis, is confronted with the demands of the Pakistan Military and the US intelligence who want her to publicly forgive the murderer. When mere insistence turns to brutal violence, Nargis and her Christian guardian, Helen, escape.

Meanwhile, Helen's father, Lily, becomes involved in a scandal with the local Muslim cleric's daughter, Ayesha. When their 'disgraceful' union is publicly announced through the loud speakers of the local mosque, hundreds of Christian houses in the vicinity are burned down and hundreds of Muslims are set loose to capture and murder the trespasser, Lily. Lily, Helen and Nargis, as well as their chance companion, Imran, are haunted by the effluvia of their past lives. Each is trying to escape violence, to protect their lives, and as their lives converge, during the climax scene, we are reminded of how dramatic and yet deeply moving Aslam's fiction can be.

It is a sad book, full of tragedies, violence, blood, injustice, and the knowledge of how each of this is incited by the arithmetic of power relations of class, religion and gender. But it is never devoid of warmth and hope. Aslam, the polemicist, suffuses the book with the political turmoil of our nation; Aslam, the writer, injects empathy into every crevice of this book and into his characters' lives. The prose feels less heavy-handed than in his previous books, though there is plenty of lyricism here too. The plot is a lesser concern to Aslam, a stylist who revels in the beauty of small, ephemeral moments, in the ignored minutia of daily life.

While Hamid's lambent novel deals with the global refugee crises, Aslam's vital book reminds us of the copious injustices ubiquitous in our own country. Hamid's book is just as vital and timely as Diksha Basu's 'The Windfall'. Aslam's book is just as engrossing and compelling as Arundhati Roy's 'The Ministry of Utmost Happiness'. But will Indian writers, once again, outweigh their cross-border counter parts in this year's literary prize bonanza?

If there is any justice in these things, and if literary prizes mean anything at all, not one, but both of these books will be front-runners for this year's Booker Prize.
Facebook Conversations
COMMENTS (3)
Comments are moderated and generally will be posted if they are on-topic and not abusive.
For more information, please see our Comments FAQ