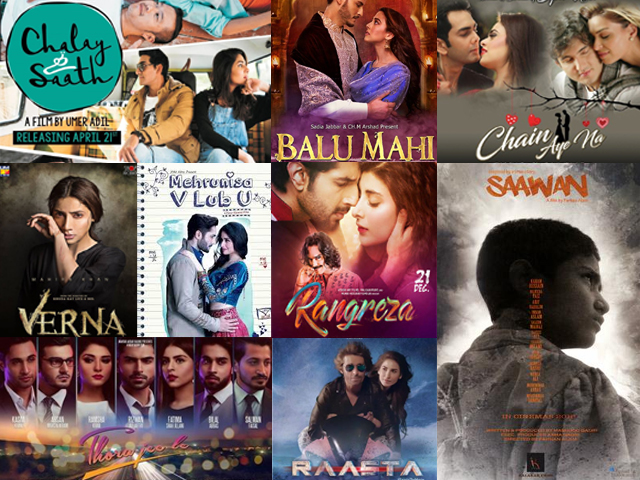 ---
Was 2017 a year of revival for Pakistan's film industry? These 10 movies prove otherwise!
We're looking at you Rangreza, as you get the award for, undoubtedly, being one of the worst films, followed by...
---


Just like its predecessor, this year started with a new hope for Pakistani cinema, a hope that the industry would continue to produce better films than it did in previous years. While the industry may have produced more films this year than it has in a long time, unfortunately, the graph went down in terms of the quality of content.

Let's take a look at what the revival of Pakistani cinema looked like this year.

1. Thora Jee Le


Rafay Rashdi's directorial debut Thora Jee Le was considered one of the most promising films of the year, simply because it launched more than half a dozen actors, actresses and musicians. However, its alarmingly weak plot and below average performances could not sustain the hype, and hence the film busted at the box office. Luckily, perhaps, the actors involved successfully managed to escape the sinking ship that was Thora Jee Le, and got a chance to revive their careers on the small screen. While most actors get their first break on the small screen and then move their way up, these debutants did the reverse and now grace our TV screens instead of those of our cinemas, proving just how cut-throat the film industry is.

2. Raasta

https://www.facebook.com/RaastaTheMovie/videos/1793505597556990/

From the very beginning, audiences did not have many expectations from Raasta, mainly because of the fact that everyone knows about the stark "similarity" between the film's lead, Sahir Lodhi, and the King of Bollywood, Shahrukh Khan. Raasta was rejected by both critics and the masses alike almost immediately, bombing at the box office. It was such a lousy attempt at storytelling and acting that it was simply a pain to watch.

3. Chalay Thay Saath


Umer Adil's road trip turned romance highlighted the significance of family ties and bonding, and could even be considered a visual treat. It had the potential to be a great film, yet its content and performances pulled it down, leaving Chalay Thay Saath simply being a below-par film. Usually, films centred on road trips at the very least have a great background score which adds to their timelessness and appeal, but unfortunately, Chalay Thay Saath has nothing of that sort, with both the music and the film having absolutely no recall value.

4. Mehrunisa V Lub U


After the success of Wrong No, the same team came up with another family entertainer, or at least, that's what they claimed it was. Mehrunisa V Lub U is a great example of when a filmmaker wants to present a film with a strong message and only focuses on that, while messing up literally everything else in the film, namely music, acting, script and common sense. With several scenes blatantly copied from Bollywood films of the 90's and early 2000's, Mehrunisa V Lub U was a sheer let-down, particularly to a follower of Pakistani cinema.

5. Yalghaar


Yalghaar was considered to be one of the most awaited Pakistani films, as it featured not one but two megastars – Shaan Shahid and Humayun Saeed. If anyone could pull crowds to the theatres for a Pakistani film, it was these two. While Yalghaar was a good attempt, it needed more than that, perhaps a better script, performances and direction, in order to attract crowds. Unfortunately, this was not the case, resulting in an entirely forgettable film that failed to impress anyone.

6. Chain Aye Na


This film was nothing but a fool's paradise for Syed Noor. Nobody actually went to watch this film, and those who did, like me, would have liked a refund, as it did not take long to realise that it was simply torturous to watch. The film bombed at the box office, and the reasons for its failure are pretty obvious. Chain Aye Na feels like something Noor forgot to release in 1997, and one can only hope in hindsight that he would have left it in the 90s, where it belongs!

7. Saawan


Saawan was a great attempt at a movie, but its execution was a let-down, considering it was a feature film. While the film received acclaim and a few international awards, due to its portrayal of how conservative and orthodox Pakistani society is, and that was it. The film at times offered no logic, no emotional investment and no sympathy for the protagonists, which is necessary for a movie of its calibre, as well as for it to appeal to a Pakistani audience.

8. Balu Mahi


Balu Mahi was amongst the more decently made films of the year, but then again, the film's plot was hugely inspired from super hit Bollywood films. With the first half a rip-off of Jab We Met, and the second half largely taken from Dil Bole Hadippa, (if one were to replace the cricket match with polo and Sadaf Kanwal with Sherlyn Chopra). Osman Khalid Butt was pretty decent in his performance, and yet there was something missing in the film. Perhaps originality?

9. Verna


Shoaib Mansoor returned with his third film, a much hyped venture with Mahira Khan in lead. However, even the controversy before its release and the public campaign to unban Verna was not enough to sustain the film. Despite the talented cast and crew and the serious and relevant subject matter, the film made little sense. Mansoor deserves praise for highlighting an issue that no one else invested in on the silver screen, yet there needs to be more than that to make a good film, and unfortunately, that was missing in Verna. This is perhaps the most unfortunate film on the list, as it was most definitely the one with the most potential to not only attract audiences but also reform Pakistani cinema as a whole, all of which it failed to do.

10. Rangreza


Rangreza is undoubtedly one of the worst films to come out of the industry this year. From the barely developed characters to the underwhelming performances, there is nothing salvageable in this film, which is a farce of a musical. This was another bummer, simply because when a film manages to create so much hype despite the absence of superstars like Mahira or Shaan, one expects it to be tolerable at the very least. Watching Rangreza was an enormous waste of time and hard-earned money, it would have been best to just stay at home.

There were several films last year that impressed viewers, but this year, apart from a couple of films such as Punjab Nahi Jaungi and Na Maloom Afraad 2, all the films churned out were trash. If 2018 does not bring good films, the much hyped revival of Pakistani cinema just might fall flat. With this in mind, one can only hope that the next year gives us some quality as well as quantity.

Happy New Year!