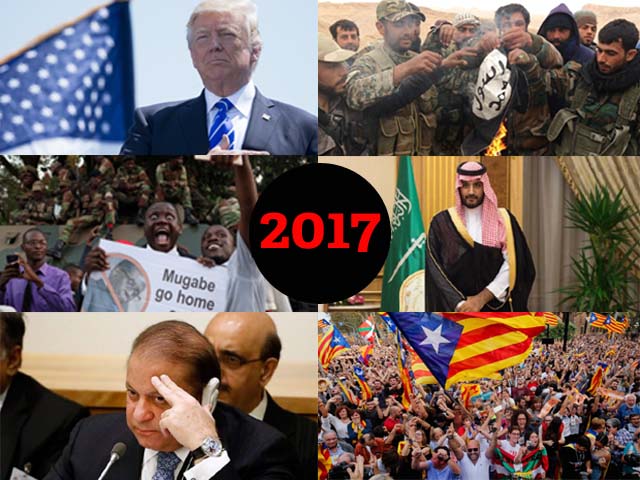 ---
Some fall and some rise, and 2017 proved just that
One premier got ousted; two presidents got elected while one resigned; one reformed while another became independent.
---

Another year has come and gone, while another approaches very soon. This year was quite eventful for Pakistan where China-Pakistan Economic Corridor (CPEC) projects gathered steam, a sitting prime minister got ousted, international cricket teams came to Pakistan, and right-wingers took over the Faizabad interchange.

Interestingly, this past year also witnessed the rise of anti-immigration sentiment in Europe, record-breaking hurricanes in the US, and the rise of a modern, reformist crown successor in Saudi Arabia. More specifically, following is a list of notable events of this past year:



America's new president



New York real estate billionaire, Donald Trump, was inaugurated as the 45th President of the United States on January 20th, 2017. He won the election on the back of a nasty campaign where he belittled all his opponents by calling them degrading names and challenging their intellect. He won despite being openly xenophobic, racist and misogynistic. His victory came as a shock to his political opponent, Hillary Clinton, who had many believing that this was an election that was hers to win. So far, Trump's tenure has been rocky, marred by rookie mistakes and a general lack of diplomacy and courtesy towards his colleagues and the world at large.

As he nears the end of his first year in office, Trump has left no stone unearthed trying to unravel everything that his predecessor, Barack Obama, had established. His ultra-conservative views of the world and unnecessary sabre rattling, has the world on edge.



French presidential elections



On May 7th, the people of France elected Emmanuel Macron as their new president. He is the youngest ever president of France and his victory came against Marine Le Pen, who was running a platform not much different from Trump in terms of conservatism. Macron represents the En Marche! Party, which wasn't one of the main parties in French politics, but its victory suggests an end to the dominance of the traditional right Socialist Party (SP) and the traditional left the Republicans (LR) party.



German federal elections



On September 24th, Angela Merkel won a fourth term as Germany's chancellor after her centre-right coalition, Christian Democratic Union of Germany (CDU) /Christian Social Union in Bavaria (CSU), won the vote in the federal elections. The far-right, anti-immigration Alternative for Germany party (AfD) won 13.5% of the votes, gaining representation in the German legislature. Their win hints at changing political dynamics in Germany. After Trump's election and xenophobia, Merkel is seen as the true leader of the West but the winds of change in Germany might put that in jeopardy.

The latest out of Germany is that Merkel is still trying to form a ruling coalition but has faced setbacks with pro-business parties pulling out of the coalition. Merkel is now pondering either proposing a caretaker government or having fresh elections. The risk of having fresh elections is that AfD might gain an even more significant representation in the government and possibly take over the legislature.



Catalonian referendum



On October 2nd, Catalonia voted to separate from Spain into its own independent government. It was a flawed process with the Spanish government unleashing police into the region to discourage voter turnout. In addition, the government deemed the referendum illegal and its results null and void.

Catalonia is the wealthiest region of Spain that has historically had autonomous control over its territory. Its independence would cost Spain about 20% of its economic output and call into question other financial dues that Catalonia owes the federal government. Over the course of history, Catalonia formed the basis of a major industrial hub in the Iberian Peninsula and has always had autonomous leanings.



Hurricane season in the US



The US had an active hurricane season in 2017, which was termed as the most destructive hurricane season in the US.

The trio of Harvey (August 25th), Irma (September 10th) and Maria (September 10th) ravaged the southern parts of the US as well as Puerto Rico, which is an island territory off the southern coast of the US. In total, the US suffered more than $200 billion in damages.

Houston, a major American metropolis, was flooded with more than four feet of rain water and massive power outages by Hurricane Harvey.

Hurricane Irma ravaged the Caribbean nations before forcing mass evacuations in South Western Florida.

Maria ravaged the island of Puerto Rico, and even though it is a US territory, most of the island is still without power and infrastructure.



The fall of Robert Mugabe



Last month, calls for Mugabe to resign reached a crescendo, which ended with the strong man finally resigning as the President of Zimbabwe. Mugabe started as the Prime Minister of Zimbabwe in 1980 and then as President since 1987. Mugabe came to power as a rebel against the state of Rhodesia (Zimbabwe's old name). Rhodesia was a white-ruled state and Mugabe was a leader of the rebellion.

Unfortunately, Mugabe became a poster boy of how power corrupts and was more concerned about holding onto power than improving the country. The country saw its economy ravaged, living conditions deteriorate and national institutions destroyed during this time.



The rise of the progressive Prince in Saudi Arabia



Saudi Crown Prince Mohammad Bin Salman (MbS) has dominated headlines all throughout this year. The prince is on a mission from God, literally, to consolidate power and become the reformist leader that the staunchly conservative government of Saudi Arabia lacks.

He has been a major proponent of the war against Houthi rebels in Yemen which has killed and inconvenienced thousands of civilians. He was the chief architect of the move to isolate Qatar this summer. The conspiracy theory is that he forced the Lebanese Prime Minister Saad Al-Hariri to resign from his post while the prime minister was on an official visit to Saudi Arabia.

The reformist also announced that women in Saudi would now be allowed to drive cars and that he would offer shares in the state-run oil producer Aramco. Almost immediately after the Davos in the Desert conference, he proceeded to arrest more than 200 princes and politicians on charges of corruption. They are still being held prisoners at the five-star Ritz-Carlton Hotel in Riyadh.

While MbS' actions have been bold and noisy, it remains to be seen if he can think outside the natural Saudi enmity against Iran.



The end of Islamic State (IS)



Raqqa, the declared capital of the IS caliphate, finally fell to Syrian-Kurdish coalition forces in October. The coalition forces were covertly and overtly backed by western intelligence and military forces. The fighting between the IS and coalition forces has left a trail of death and destruction across Iraq and Syria. Raqqa which was once a city of more than 200,000 Syrians is mostly a pile of rubble now. There are hundreds and thousands of Iraqis and Syrians whose lives have been destroyed in this conflict.

While the fall of Raqqa has been hailed as a major victory for the West, it means just that – fall of Raqqa. The leaders and soldiers are alive and well and have vacated the city for more lawless abandons along the Euphrates.



Nawaz Sharif gets ousted



Hyperbolic, arrogant or impractical, call Imran Khan what you may, he finally did get his way. He doggedly pursued his claim of getting Nawaz ousted and his persistence paid off when the premier was booted from his position in mid-October. For a sitting prime minister to get ousted without the help of the military or bureaucracy should come as a welcome surprise. It means that no one should consider themselves above the law.

However, Nawaz's ouster only lionised his base and triggered a power struggle within the party weakening the overall government.



Faizabad sit-in



It was that time of the year again. The right-wingers took over the Faizabad interchange between Islamabad and Rawalpindi, grinding traffic in the twin cities to a halt. The protestors created chaos for people trying to get to work, traders moving goods and students traveling to their institutions.

The protestors constituted of various religious parties including the Tehreek-e-Khatam-e-Nabuwwat, Tehreek-e-Labbaik Pakistan and the Sunni Tehreek Pakistan. They were calling for the ouster of Law Minister Zahid Hamid because he omitted a reference to the Holy Prophet (pbuh) in the country's election oath. The government finally sent in the police, who failed to break up the protestors. This led to a massive outcry on social and electronic media about the spinelessness of the government.

Having said all that, 2018 looks like a real cracker. Pakistan is slated to have its general elections where a depleted Pakistan Muslim League-Nawaz (PML-N) will battle it out with a rudderless Pakistan Peoples Party (PPP). A bhai-less Muttahida Qaumi Movement-Pakistan (MQM-P) will try to hold on to Karachi and the Pakistan Tehreek-e-Insaf (PTI) will try to build on its victories.

Thousands of miles away, Robert Mueller, who is leading the investigation on Trump campaign's ties with Russia, is making headway that could lead to a criminal indictment against Trump. On the other side, Germany is on the verge of new elections which may bring the ultra-conservative AfD to the fore, and much like Trump's undoing of Obama, might undo everything that Merkel stood for.

Until then, stay safe!
Facebook Conversations
COMMENTS (1)
Comments are moderated and generally will be posted if they are on-topic and not abusive.
For more information, please see our Comments FAQ