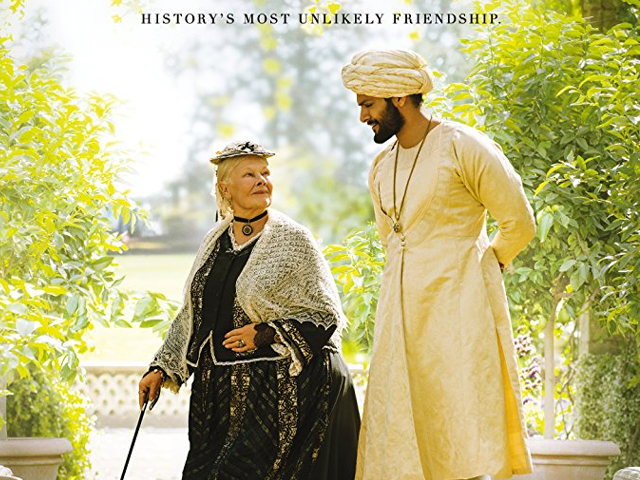 ---
'Victoria and Abdul' wittily and poignantly portrays the bond between an authoritative British queen and her Indian-Muslim munshi
Some elements can be considered to be historical revisionism, which, from a South Asian point of view, is problematic
---
Victoria and Abdul, the latest offering by director Stephen Frears, is a cautiously patterned yet realistic biographical drama about the deep friendship between the Queen of England and her Indian-Muslim servant. The story of this rather unbelievable bond is all about reminiscence and loss, making it immensely pleasing to watch a historical narrative presented with such convincing solemnity.

Based on eminent author Shrabani Basu's book of the same name, Victoria and Abdul is set in 1887 against the backdrop of the queen's golden jubilee – the 50th year of her ascension to the throne of England. Abdul Karim (Ali Fazal), a young clerk from India, travels from Agra to England to present a mohur (ceremonial coin) to Queen Victoria (Judi Dench) in honour of this event.


Her Majesty immediately takes notice of the dark-skinned man,

"I thought the tall one was terribly handsome..."

This marks the beginning of an unlikely friendship between Victoria and her favourite servant. Their close attachment, however, is regarded with apprehension and jealousy, and is thus begrudged by the royal court and family.




However, the queen relishes Abdul's presence and asks him to tell her the norms of Indian life, which she is unfamiliar with. She even starts to learn "Hindustani" and learns about the savour of a mango, the king of fruits.




With each passing day, their rapport cultivates into a lasting camaraderie, until one day, Queen Victoria declares him her personal munshi (clerk). The doe-eyed and straightforward Abdul shares all the whirling tales and characteristics of an Indian lifestyle with Victoria, impressing her with his own philosophy of life:

"Life is like a carpet; we weave in and out to make a pattern."

The 81-year-old plump, widowed and weary Victoria opens her heart to Abdul, and shares with her beloved friend her deepest fears and innermost thoughts:

"Everyone I love has died and I just go on and on. What is the point?"


However, the genuine and loyal connection between them eventually taints the atmosphere between the queen and her royal ménage, who openly call it "munshi mania". Whenever the queen tries to shield her servant cum friend, she receives immense animosity and chauvinism in response from her own people.

Frears' film flawlessly conveys the perception that Basu outlines and describes in her book – that the royal household fails to understand the significance of munshi's role in their queen's life. As Basu suggests,

"The queen's family never understood that he had provided her with the companionship over the last decade of her life, which they themselves had not been able to offer."

The heartfelt screenplay by Lee Hall has an elegant touch of satire and tasteful humour that will keep audiences glued to their seats till the very last minute. Hall's script, which is about the most dominant and powerful woman in the world at one point, manages to be funny and relatable at the same time.




The real highlight of the film, undoubtedly, is the inimitable performance by Dench, who is a distinguished actress – winner of an Academy Award for her role as Queen Elizabeth in Shakespeare in Love (1998) as well as nominated for an Oscar for Mrs Brown (1997). She marvellously portrays Victoria as a woman who is lonely and vulnerable, whilst also portraying her as the authoritative queen that she is known to be. Nothing can divert the attention of the viewers from Dench's magnetic yet humorous portrayal of the inconsolable empress.




Fazal, who has previously been seen in the Bollywood film Sonali Cable (2014) as well as the Hollywood film Furious 7, is servile yet carefree in his performance. He successfully portrays Abdul as an honest, enthusiastic and naïve Indian man, making him a captivating character to watch. The on-screen chemistry between Dench and Fazal is what ties it all up marvellously and sells the friendship between their respective characters.

The rest of the talented cast includes Paul Higgins, Tim Piggott Smith, Michael Gambon, Olivia Williams and Eddie Izzard.




However, some elements in the film can be considered to be historical revisionism, which, at least from a South Asian point of view, is problematic. For instance, while keeping the tone light and creating a funny royalist fantasy, the heart of the plot muddles through to create a dodgy picture of colonialism, largely disregarding the rather large aspect of the gluttonous occupation by the British of the subcontinent.

Moreover, the queen's character is depicted as ignorant of both Indian circumstances as well as British influence in South Asia. This is particularly evident when the famous Indian Rebellion of 1857 is presented in an imbalanced manner and the queen is shown to be oblivious towards the reasons and factors that led to it. This is in direct contrast to what actually happened, as Queen Victoria took more interest in the ruling of India after the mutiny, and made her government take a more rational and constructive attitude towards the people of India afterwards.




Overall, however, the lavish production and the heart-warming tale of Victoria and Abdul wittily probes into issues like racism, multiculturalism, faith and authority, while also contrasting the omnipotence of a monarch with a substantially rare and genuinely poignant bond with a servant.

The masterful acting and the splendid direction alone is worth going to the theatre. This engaging biopic is a delightful treat, and if you love historical dramas, then you definitely can't skip this one!



All Photos: IMDb
Facebook Conversations
COMMENTS (2)
Comments are moderated and generally will be posted if they are on-topic and not abusive.
For more information, please see our Comments FAQ