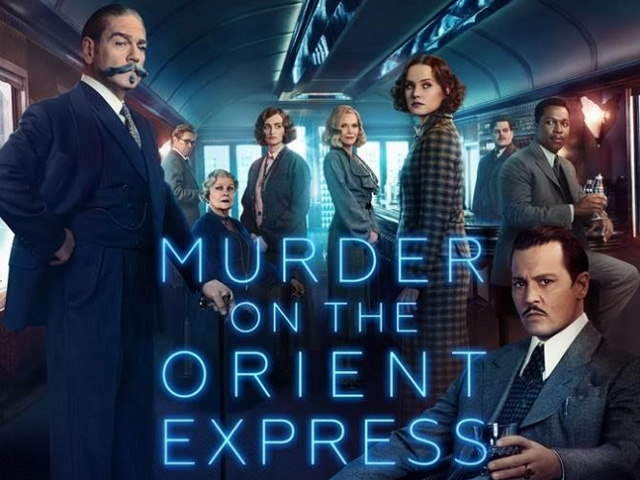 ---
'Murder on the Orient Express' is an unremarkable, conventional and lifeless adaptation of one of the most renowned classics
An exact opposite of its eccentric sleuth, it neither builds on the original nor does anything to violate its legacy.
---
In an age when cinema and filmmaking is arguably at its biggest, it is surprising that the 'whodunit' seems like a genre from a bygone era.

While television shows like Twin Peaks, Sherlock and the latest Riverdale have continued to reinforce the classical construct of the genre increasingly well and creatively, only a handful of films, in recent times, have tried to bring the genre back to life. This, again, is surprising because nothing gets 'butts in seats' like a good, old-fashioned murder-mystery with a twist.

Director and actor Kenneth Branagh likely feels the same way, which can only explain why he decided to adapt Agatha Christie's Murder on the Orient Express, one of the most renowned books of this particular genre. It was last adapted to the big screen in 1974 by director Sidney Lumet.


Set in 1931, the film follows Hercule Peirot (Kenneth Branagh), the self-proclaimed greatest detective in the world, who is about to go on a vacation on the Orient Express after he has just solved a case. Before he has a chance to do much of anything though, let alone relax, a murder is committed on-board the Orient Express.




It is known that this crime has been committed by one of the 12 passengers travelling on the train with Hercule. The 12 passengers that are travelling consist of the butler Edward Masterman (Derek Jacobi), the assistant (Josh Gad), the Count (Sergei Polunin), the widow Mrs Hubbard (Michelle Pfeiffer), the Russian Princess Dragomiroff (Judi Dench), her maid Hildegarde Schmidt (Olivia Colman), the Spanish missionary Pilar Estravados (Penelope Cruz), the possibly Nazi-German Professor Hardman (Willem Dafoe), the salesman (Manuel Garcia-Rulfo), and the interracial couple of Dr Arbunet (Leslie Odom Jr) and Governess Mary Debenham (Daisy Ridley).

Everyone is a suspect and Hercule has to act fast before the killer strikes again.




For a film that has a protagonist with so many peculiarities, Murder on the Orient Express is actually the exact opposite of its eccentric sleuth. It is conventional and rather ordinary.

The good stuff needs to be acknowledged and this film is usually more good than bad, which is perhaps some consolation. For one thing, Branagh does a good job of staying true to Christie's source material, while also making the film entertaining.  There's a lot of fun to be had with the plot, and at 106 minutes, the film definitely keeps you engaged and interested in the mystery.

Branagh also pretty much nails it as Hercule, playing down both the zaniness and the moral side of the character really well, complete with the iconic moustache. And while none of the other actors have the same abundance of screen time as Branagh, they all do pretty well with what they're given – Johnny Depp particularly stands out in one of his minor but better performances in recent years.




It's also worth noting that this particular reincarnation of Murder on the Orient Express is also a slight improvement over Lumet's version from '74. While it can't outdo the pantheon of stars of that film, such as Sean Connery, Ingrid Bergman, Albert Finney and Lauren Bacall among others, it's considerably better made and has neither the wishy-washy cinematography of its predecessor nor feels like a clunky TV movie. Rather, it has a real sense of urgency and feels considerably more cinematic.

On the flip side though, there are moments when the film just feels flat, creaky and dated (and this is no fault of Branagh himself) because of the faithfulness to its source material as there are some elements from Christie's book that just feel out-of-place in a modern day studio film. I also felt like the lack of character development of any of the characters other than Hercule hurt the film because it made them feel like one-dimensional cardboard cut-outs and lessened the impact of the film's major reveal.

Again, this surprised me because Christie was never interested much in character development herself yet I never felt the same way reading her original novel because she not only knew what she wanted out of her story but also how to best tell it. However, Branagh seems less sure about what he wants out of her story.




This begs the question whether Christie is an unadaptable author? All the adaptations of her books have been met with varying to low success and some of her story-telling techniques don't translate well on-screen – or should filmmakers just try something new and original to give life to the classical whodunit?

These are questions Hollywood should consider analysing. The bottom line for now though is that Murder on the Orient Express is a middling and unremarkable rendition of its renowned source material. The movie neither builds on the original nor does it do anything to violate its legacy. Its harmless fun if you can enjoy it for that but it's best if expectations are kept to a bare minimum going in.


Facebook Conversations
COMMENTS (1)
Comments are moderated and generally will be posted if they are on-topic and not abusive.
For more information, please see our Comments FAQ