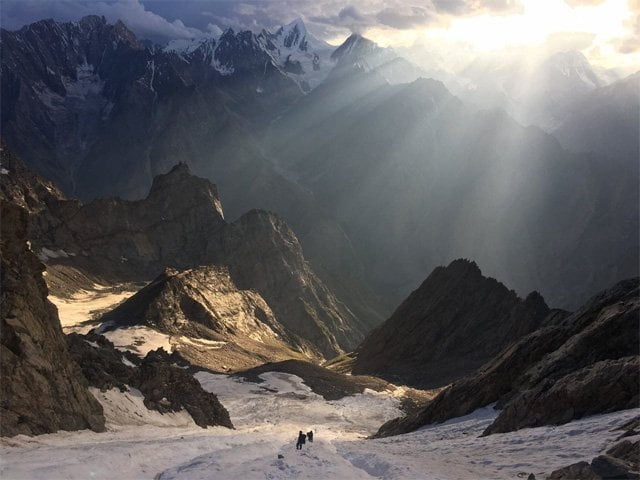 ---
I spent my 30th birthday trying to prove that no mountain is high enough for Pakistani women to climb
I remember losing my patience at times and wanting to quit, especially after one incident of getting stuck in the sand
---
I have always loved mountains from afar, but never thought that one day I would be ready to actually climb a mountain for real. I have never been a mountaineering aficionado, nor did I have any prior experience of mountaineering or technical trekking. Yet, as my 30th birthday approached, my adventurous-self decided to be part of an expedition to climb the Baaushal Peak, which stands at 5,720 metres approximately. 

Celebrating my 30th  on a mountain top in the majestic Karakoram Range of Pakistan seemed like a good idea at the time.

It is also interesting how I became part of this group of brave women to begin with. A group of seven women who had attended climbing schools previously, with some having prior technical trekking experiences as well, welcomed me wholeheartedly in their expedition group. Our organisers informed me that there were some women, around 25 or so, who were interested in joining us, but later dropped out. Even though these women had some prior climbing experience, some didn't get permission from home while some had other reasons to back out.

Given this, it is no wonder that we have known just one woman in mountaineering thus far; the famous Samina Baig, who reached the top of Mount Everest. In Pakistan, where women are often subjugated, it was empowering to see Baig encourage women by telling us that we can do anything, and that no mountain is high enough for us to climb.

"On Mt. Everest, I was not Baig," she revealed in an interview. "I was representing Pakistani women. I was thinking that if I don't make it, how am I going to encourage other women? I had to do it."

Hailing from a remote village, Shimshal, in Pakistan's upper Hunza valley, Baig has thus far has climbed to the top of the highest mountains in five other continents: Denali in Alaska, Kilimanjaro in Tanzania, Elbrus in Russia, Aconcagua in Argentina and Vinson in Antarctica, as well as Carstensz Pyramid in Oceania.

I definitely did not possess the skills and practice that Baig did, so even making it to the base camp of Baaushal Peak, at 3,200 metres, seemed like a pretty big achievement to me.

Our journey to Hushe Valley, from where we had to leave for our expedition, was a long one. Departing from Lahore, this road trip seemed never ending to me. The infrastructure was different from what I saw as a kid when my father was posted in Skardu; most of the roads were paved and it seemed like a proper highway now. Though there were roads that were scary too, as having mountains on one side and a furiously flowing river on the other side was a constant part of the journey. Moreover, it is in this small Hushe valley, a world of its own without any phone signals or internet, that one savours the natural beauty offered by the world more.




I can never forget the moon sightings at night, being surrounded by the highest mountains and waking up to the view of Mashabrum Peak.

From Hushe, where we spent few days acclimatising ourselves, we set out for the base camp. It was there that we did some basic training of climbing with ropes, and learned about all the gear we would be using. Walking with crampons on a glacier was definitely not easy for me, while rappelling was something new as well, and I had to learn to ascend and descend, with the rope becoming my lifeline.




Some nights were scary, especially one night when we heard the loud noise of rocks falling down and thought that was the end, but it was just the movement of boulders and rocks in the river. All the days at the base camp were marked with sounds of flowing water, which was omnipresent in the background. There were times when I simply wanted the sound to stop, as in that terrain we couldn't even wear ear plugs for safety reasons.




After the training we set out for the summit, where I made it till 4,000 metres, but couldn't make it to the top. I had developed terrible knee pain by then, and had to push myself a lot, sometimes even dragging my leg. It was unexpected, and later on I found out that I had developed some ingrowth in my knee.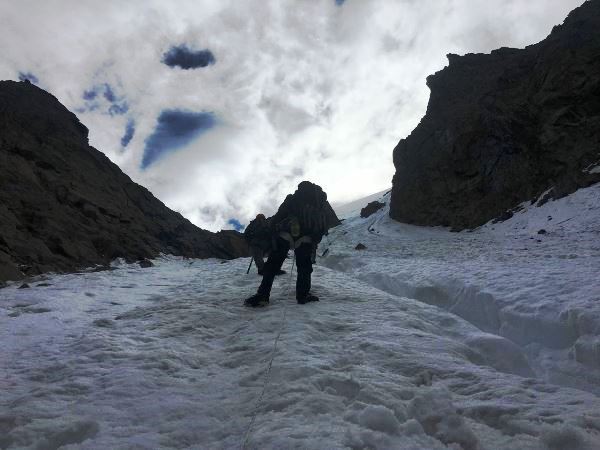 The treacherous Karakoram Range is not for beginners in any way, as the mountaineers say, it is the mountain that allows you to climb it. While the mountain didn't allow me to reach the top, three of my friends and a mother, who left her four-year-old son at the base camp with his father, did make it to the top, and hence our expedition was successful.

Climbing a mountain is definitely hard, and requires a lot of patience and willpower. I remember losing my patience at times and wanting to quit, especially after one incident when the lower half of my body was stuck in sand, with a deep ditch on the other side. I was lucky a porter managed to pull me up.




Being in the mountains, getting to witness the view of majestic K7, Gondogoro, Mashabrum and other magnificent peaks, was definitely an unforgettable experience. Seeing the beauty Pakistan has to offer, and the amazing valleys with a backdrop of highest mountains, made me feel proud to be a Pakistani.




On our way back to Hushe Valley, from where most mountaineers start their ascend of K2 and other peaks, I had the chance to meet mountaineers from various countries. Unfortunately I couldn't meet Vanessa O'Brien, a 52-year-old British American moun­tai­neer who scaled K2, the second highest mountain on the planet. She was on her way back after installing flags of both, the US and Pakistan, atop the mountain.

The famous K2 climber, Hassan Jan, who was our mentor and organiser, told us that no woman has ever climbed K2 before. Not only is it very tough,  obviously, but he also seemed to suggest that K2 is not friendly towards women. Even Baig tried to climb K2 twice, yet remains unsuccessful. I hope though that Baig proves him wrong one day.

In the history of the world, women have always had to work a bit harder to pave their way. Women like Baig, and many other nameless women excelling in their fields, have symbolised the determination demonstrated by Pakistani women who have "broken the glass ceiling" holding them back. Being part of the first female expedition of Pakistan has been nothing less than awe inspiring for me, and to all the amazing women out there, more power to you!


Facebook Conversations
COMMENTS (4)
Comments are moderated and generally will be posted if they are on-topic and not abusive.
For more information, please see our Comments FAQ