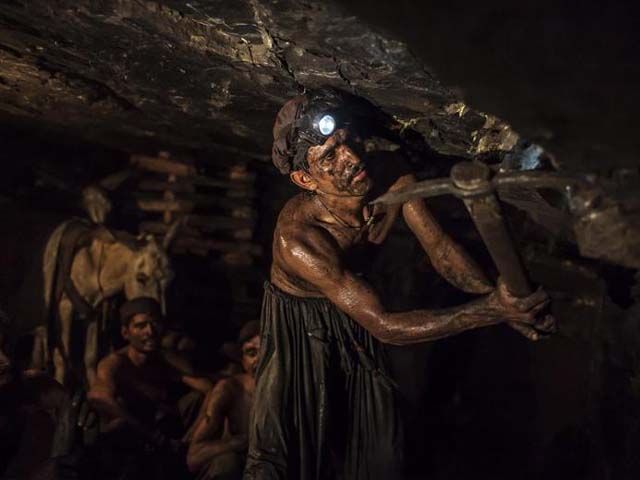 ---
Dining on ashes: Pakistan's hazardous coal dependent future
With the clock ticking, complacency in this regard could have dire environmental consequences for the country
---



This article is the second part in a series about climate change and Pakistan's carbon footprint. Read the first part here.




~



Earlier this year in August, I came across a newspaper article that read:
"The government confirmed on Sun­day successful commercial operations of a two billion dollar 1,320MW coal-fired power plant set up by the China Power Hub Generation Company (CPHGC) under the China-Pakistan Econo­mic Corridor (CPEC) project."

It is mind boggling to see such news at a time where the world is moving towards renewable energy. What makes it worse is that Lahore has been plagued by dangerous smog for the better part of a year. Currently, Lahore's  air quality remains 'hazardous' with an air quality ranking of 447, according to Air Visual's Air Quality Index (AQI). Therefore, it is puzzling as to why the government is initiating projects which are clearly harmful for the environment.

According to the World Health Organisation (WHO), about two-thirds of the exposure to air pollution is due to the burning of fossil fuels. The WHO says that climate change could be the greatest health threat of the century, yet most countries have not prioritised climate crisis plans, especially mega emitters such as America, India and China.

Here, it is important to consider the following. Apart from holding the big emitters responsible, does Pakistan also bear some responsibility? Should we not also play our part in curtailing emissions? Currently, Pakistan has nine active coal-fired plants with more in the pipeline, backed by a combination of Pakistani and Chinese companies. Therefore, even though at present Pakistan contributes less than one percent to global emissions, that amount is expected to increase four fold in the next decade.

While China is moving away from fossil fuel mining to curb climate change, it appears that it is actively promoting dependence of developing countries on fossil fuels by investing in non-renewable energy projects.

This practice is converse to the policy of fossil fuel divestment. The United Nation backed fossil fuel divestment campaign revolves around persuading investors to get rid of their assets in non-renewable energy sources. Nick Nuttall, the spokesman for the UN framework convention on climate change (UNFCCC) stated:

"We support divestment as it sends a signal to companies, especially coal companies, that the age of 'burn what you like, when you like' cannot continue."

On the flipside, Ahmad Rafay Alam, an environmental lawyer who is currently a member of the Pakistan Climate Change Council, tries to clarify that Pakistan's future isn't entirely dependent on coal. He states:

"At present, the tariffs for all renewable energy projects in Pakistan are lower than those of new fossil fuel based projects.  Therefore, there is no reason, financial or otherwise, to invest in coal energy in Pakistan. Other than refusing some of the CPEC projects along with shutting down existing coal fired power plants and coal-powered cement plants the obvious solution – divestment would also include stopping coal used as a fuel in the restaurant business. Yes, say goodbye to tikka!"

When asked about the way forward for Pakistan, he said:

"The present government does have some plans in place to reduce air pollution and fossil fuel consumption through a mix of policies to import better quality fuel, the and to support an electric-vehicle policy that aims to reduce our fossil fuel imports and improve air quality."

Regardless, serious policy reforms are needed. Moreover, these reforms must move beyond the planning phase and into the implementation stage as soon as possible. With the clock ticking, complacency in this regard can have dire consequences for a country that has been the fifth most affected by climate change in the past two decades.

The government of Pakistan must focus on altering agricultural practices, developing an efficient public transportation system and bring industrial reforms that curb carbon emissions. Finally, it is imperative that we shift from to renewable energy sources as soon as possible. We must cut our carbon emissions significantly; otherwise we will continue to sabotage our air quality, contaminate our food and water supplies.