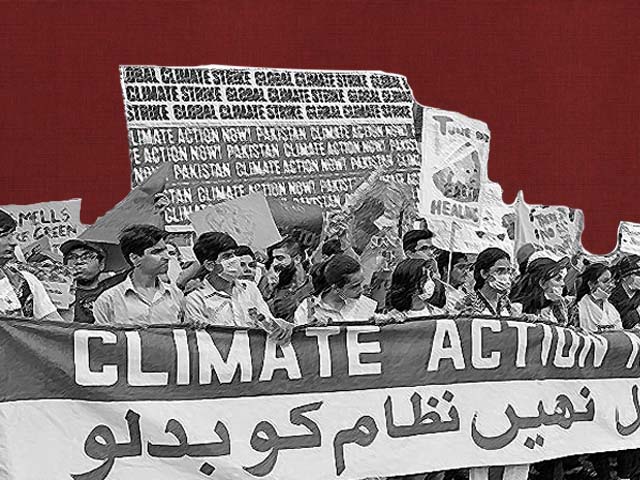 ---
Pakistan is firmly in the cross-hairs of a deadly pandemic: climate change
A lack of political will and a weak climate change policy are currently Pakistan's primary hindrances
---
This article is part of a series about climate change and Pakistan's carbon footprint. The second part in this series will discuss how Pakistan's reliance on coal is impacting the climate.
~
Pakistan is among the few countries that will be most affected if the world does not effectively combat climate change. Although our country ranks 135th on the per capita emissions list, it still falls in the top ten countries most vulnerable to climate change. Natural disasters amplified by climate change seem to loom on Pakistan's horizon if effective steps are not taken immediately. When I was younger I was very eager to inform  the world about this strange conundrum Pakistan was and is facing.  Eventually, I did get my chance and I was able to attend three United Nations Climate Change conferences in Bonn, Germany. I also got an opportunity to be part of the Rio+20 UN Earth Summit in Rio de Janeiro, Brazil. There I met Severn Cullis Suzuki, an environmental activist from Canada who silenced the world for five minutes in 1992 at the Rio Earth Summit, challenging world governments to protect the environment and take action before it was too late. Twenty years on, here she was once again, standing in front of a large crowd in 2012 at another Rio Earth Summit.


Of late, another unlikely climate change activist has emerged in 16-year-old Greta Thunberg. She recently sailed to Madrid, Spain for yet another important international climate conference, namely COP 25. Her journey across the Atlantic was symbolic, as not only did her environment friendly yacht leave a small carbon footprint, it also brought into question the traditional methods of travel adopted by leaders, especially to and from such summits. Separated by years, Suzuki and Thunberg stand for the same purpose – holding governments accountable for their lack of consideration for the environment.

Even though both the activists and many others attending such conferences are doing brilliant work themselves, after sometime, both the summits and the grueling discussions on climate change accompanying them start feeling fatuous. Many a time these conferences end in deadlock or produce routine outcomes and, predictably, little or no substantial action is taken. Considering that India, China and the US are accountable for 85% of the global rise in energy-related carbon dioxide emissions over the past year and that the US pulled out of the Paris Agreement, one is forced to wonder if such conferences are counter productive. Then of course there is the matter of the long flights that leaders take from all over the world to get  to these conferences, which leave a huge carbon footprint and contribute directly towards air pollution.

If based on the above mentioned information we assume that attending such conferences is not the way to soften the impact of climate change, and if we also factor in the worrying stagnation in renewable energy additions after 20 years of strong growth, what options does Pakistan have to tackle its climate change vulnerability?

In 2017, the Ministry of Climate Change was founded. The current minister of state for climate change is Zartaj Gul, who has a degree in Textile Designing from the National College of Arts. Ideally, this position should have been given to someone who has a background in environmental sciences, especially since Prime Minister Imran Khan has been stressing on meritocracy for government appointments.

So far, Gul's tenure has been limited to the reforestation programme and a plastic ban implementation that partially took place in August this year. Suffice to say, the Ministry of Climate Change needs to focus more on policy reforms especially when it comes to projects like the Thar Coal Project instead of superficial, half baked measures. Almost every country, including the US, is shutting down such harmful plants whereas Pakistan is actively going against the grain. The China funded coal project will do more harm than good to the environment in the long run and the ministry must look into its impact.

However, all is not lost and, in a move to make Pakistan greener, the prime minister launched the Clean Green Pakistan initiative on October 8, 2018. This five-year campaign aims to adopt a holistic approach in order to alleviate air, water and land pollution. Additionally, there is also the Billion Tree Tsunami which was launched by PTI in 2014. The campaign helped Khyber Pakhtunkhwa meet its 348,400 hectare commitment to the Bonn Challenge, a global effort which aims to restore 150 million hectares of deforested land by 2020 and 350 million hectares by 2030.

The milestone project achieved its target by dividing the project into sections, namely natural regeneration and planned afforestation which constituted 60% and 40% of the project respectively. It also created 13,000 private tree nurseries which in turn generated green jobs. In fact, Pakistan's Billion Tree Tsunami restored 350,000 hectares of degraded land and forests, surpassing the Bonn Challenge commitment. The director general of the International Union for Conservation of  Nature (IUCN), Inger Andersen congratulated the province of Khyber Pakhtunkhwa saying:

"The Billion Tree Tsunami initiative is a true conservation success story, one that further demonstrates Pakistan's leadership role in the international restoration effort."

It is encouraging to see the government of Pakistan taking baby steps in the right direction. However, a lot still needs to be done. A lack of political will and a weak climate change policy are the primary hindrances currently halting Pakistan's ability to effectively tackle climate change. Furthermore, the current budget allocation is a minuscule percentage of the total development spending budget designated by the federal and provincial governments. Without a concrete plan in place for the transition to renewable forms of energy, future notions of urban smart transportation and climate friendly smart cities are very far-fetched. Pakistan has to build pressure on the developed nations to limit global warming to 1.5 degrees Celsius as agreed upon in the Paris Agreement. Pakistan has a slim window of opportunity to work with the international community in order to fight the imminent disasters before it is too late.

Read part two here.