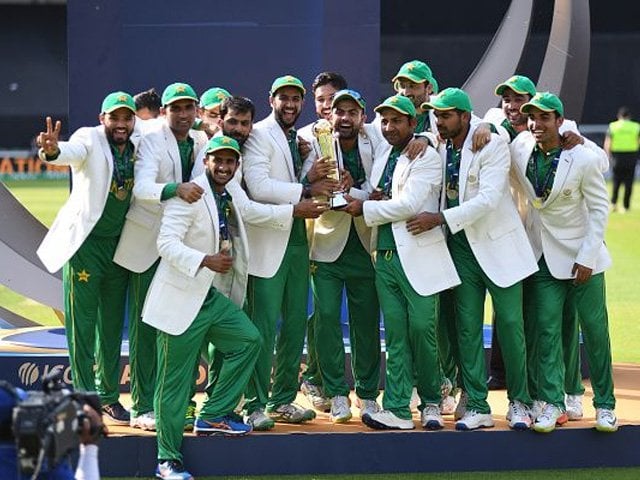 ---
5 moments of pure magic that prove the Pakistan cricket team is a force to be reckoned with
We whitewashed Sri Lanka, all the new faces promise talent, and cricket is surely coming home – the times are changing
---
I mean, let's be real. The Pakistan cricket team has never been the team that played normally, so just limiting Pakistan's miraculous wins to five times is a bit difficult. These impossible wins are nothing less than a magic trick, where the magician's assistant is in the box and cut in half but still manages to escape alive.

Defeating England at the Oval? The magician's assistant in the box.
That Sharjah Six? We just cut the box in half.
The World Cup of 1992? Quarters now!
That T20 World Cup of 2009? Seriously, please stop!
That Whitewash of Australia? Assistant is still alive!!

But these are moments everyone remembers, the mainstream ones. In this list, we will be slightly edgy and only mention the epic moments that true Pakistan cricket fans will know about or remember.

Note: Seriously though, this is a list of five top moments of Pakistan cricket for, and hence I will obviously miss out on a lot of other moments that people might bash me for for excluding for the list!

1) That Maghrib chase

Remember that evening in 2014 when we chased down 302 runs in a mere 57.3 overs against Sri Lanka? Our ODI team couldn't do this back in those days to be honest. But the boys took the threat to their home record very seriously, and decided that Dav Whatmore deserves a fitting farewell. So after 14 sessions of boring us to death, we decided to question every cynic who ever said that Tests are boring. We literally chased down a target in one session at a rate of 5.25. It was a miracle if you ever saw it.


2) Those Lord's push-ups

Is there anything worse than snooty Brits? Yes, possibly, but very few things. After that fiasco of 2010 that shall never be discussed again as my heart still breaks at the recalling (why Amir why?!), Misbahul Haq took a team to the site of one of our greatest humiliations, made a century, lead us to a win and strutted about it. I had prepared myself for a whitewash, until Misbah decided that he is not taking any Brit snoot.

Even today, I tear up a bit while watching those push-ups.




Special shoutout to Yasir Shah. Rumour has it that they call Messi the local Yasir in Spain.

3) #MisYou shiddat se (intensely) 

Two overs. Twelve balls. One wicket. Yasir with the ball.

Ball 1: Defended

(Eleven balls. Just need one more wicket)

Ball 2: Blocked

(Ten balls. Match will be a draw.)

Drizzles. Floodlights come on.

Ball 3: Defended

(Nine Balls. Yasir, we need one wicket)

Ball 4: Out! No, review. Pad not the bat, not a catch. Decision overturned.

(Eight balls. Heartbreak.)

Ball 5: Defended

(Seven Balls. Misbah and Younis Khan deserved a victorious farewell.)

Ball 6: Out!

(Divine justice)

Misbah and Younis on shoulders. Pakistan's first ever Test series win at the Caribbean. And what occasion it decided to arrive on!


4) 2014 Asia Cup also knows as an almost Sharjah

Is there any victory sweeter than that which comes against India?

Yes.

The one where Ravichandran Ashwin is bowling the last over of the match when we require 10 runs with two wickets remaining, and Saeed Ajmal gets out the first ball but Shahid Afridi being himself refuses to let logic rule. He shot two sixes, consecutively.

Pakistan wins by one wicket, and we were reminded why Afridi was called Boom Boom.

Afridi, thank you for this one.


5) "Kohli, nahin hota tujhse chase" (Kohli, you can't chase this score)


This whole tournament was a magic show.

I know I said we will be edgy but let's be honest, I still can't believe this happened.

I still can't believe that after barely qualifying and getting thrashed during the first match, we decided to beat South Africa. Then clawed our way past Sri Lanka, made an English captain cry over his home wickets, and then, we conquered the world.

I still can't believe Jasprit Bumrah overstepped. I still can't believe Fakhar Zaman belted what is India's best bowling attack to date across the ground. Amir single-handedly decimated the three batsmen that other bowling line-ups had failed against (he had Kohli out twice! Twice!). We found a champion in Hasan Ali. Shadab Khan insisted that "pehle pad hai" (it touched the pad first). And just like that we went from the side that barely qualified to world beaters.


For a team that has pulled so many miracles, is it really a surprise that the universe finally decided to work for it? We just whitewashed Sri Lanka in a limited-overs series (something none of us could have imagined six months ago), all the new faces promise talent (is anyone over Usman Shinwari's spell yet, or Rumman Raees's celebration, or Faheem Ashraf's hattrick?), and cricket is slowly but surely returning home (Sri Lanka came to Lahore, understand the symbolic victory here!). Things are finally falling into place; after eight long years of fear of losing cricket forever, the times are changing.

Oh Pakistan cricket team, you madhouse. Never change.

I might die of a cardiac arrest at 30, maybe, but never change.
Facebook Conversations
COMMENTS (2)
Comments are moderated and generally will be posted if they are on-topic and not abusive.
For more information, please see our Comments FAQ