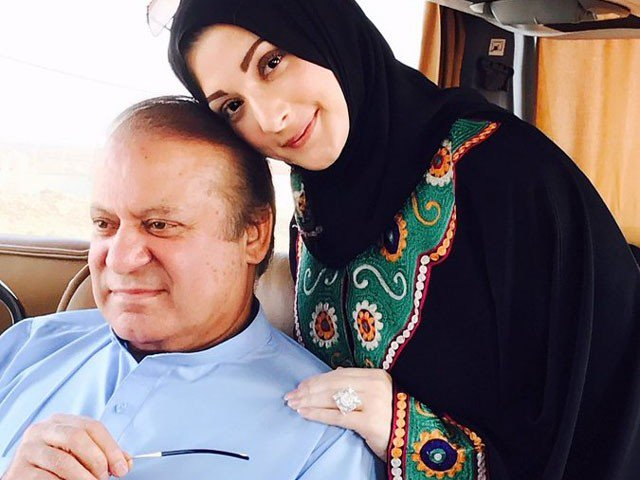 ---
Where does the Sharifs' indictment leave Pakistan? Same place as yesterday
While the Sharifs' indictment is a victory for Pakistani politics,it does nothing for the nation's survival or success
---
After much drama, an accountability court has proceeded to indict Nawaz Sharif and his kin for obtaining their foreign properties and businesses through dubious earnings. The indictment was a result of yesterday's hearing in which only Maryam Nawaz and her husband Captain Safdar Awan were present. Nawaz is in London tending to his wife, Kulsoom Nawaz, who is undergoing chemotherapy.

The hearing was originally scheduled to take place on October 13th. On the day though, Pakistan Muslim League Nawaz's (PML-N) workers and lawyers barged into the court and created a ruckus claiming that their client had been manhandled and requested another date for the hearing. Also, the Sharif sons failed to show up and have now been declared as absconders from the law. The interesting question raised here is if whether this is a criminal offence and can the court declare arrest warrants against them?

The significance of the hearing was that it indicted Nawaz and company of corruption charges. The court pointedly stated that Nawaz had gotten his foreign assets through illicit wealth. Earlier, when the former PM was ousted, the charges against him were vague and lacked meat on the bones. Then, the court declared that Nawaz held a seat on the board of a Middle Eastern company while serving as the PM of Pakistan. Since he did not declare this conflict, he was eligible to be ousted, as this did not qualify him being sadiq and amin (honest and truthful). This time around, the hearing took place following an official anti-corruption notice from National Accountability Bureau (NAB).

At an accountability level, these hearings upon hearings will not lead to anything. Earlier, when the Panama Leak scandal was at the front and centre, the common wisdom dictated that this would lead to nothing. Yet, they did lead to full-scale hearings that led the way to the ouster of a sitting PM. After this, people should have gone back to their day jobs of governing the country and working for the people. Of course, that would mean little fodder for our screaming talk show hosts and boredom for our armchair commentators. Hence, the media and political powers that be are milking this issue for more than it is worth.

On a political level, this was a move that may have backfired on the Sharifs. A few days before the original October 13th hearing, Captain Safdar went on a rant in the National Assembly against Ahmadis and how they should not be allowed to serve in the military or judiciary. This might have been a direct attack on the army and the ever persisting rumours that the current Chief of Army Staff (COAS) is an Ahmadi. While in a modern, accepting, democratic nation, such claims would go unnoticed, unfortunately this is Pakistan, and someone in the military brass might have taken offence to this outburst. The reason for creating ruckus in court on October 13th was likely a ploy to buy more time to calm any nerves. Alternatively, this could have been an intentional attack directly against the army. Again, in the 'Game of Thrones' that is Pakistan, this might not be far-fetched.

On a national level, an immediate diorama was drawn from all parties involved. All three affected (Nawaz, Maryam and Safdar) filed not guilty appeals. Maryam lashed out at the political opposition as well as the personal foes of her father. Nawaz stayed silent on account of his wife's health. Pakistan Tehreek-e-Insaf (PTI) claimed that they were satisfied with the progress. Awami Muslim League leader Sheikh Rasheed stated that the law had been truly implemented.

Where does this leave Pakistan? Same place as yesterday. Pakistan will continue to trudge along amidst a cacophony of politicians. The elites of Pakistan will continue to discuss the perilous decline of the country in their drawing rooms and Gymkhanas (recreational place). The poor will continue to suffer and continue saddling the country with more and more children. The quality and quantity of government schools will continue to suffer. Pakistanis abroad will continue to thank the heavens that they were able to escape Pakistan in a timely manner yet will continue to discuss its politics and shortcomings.

For all the money and the time spent on arranging and facilitating these hearings, influential politicians such as Rasheed could have spearheaded municipal change and improved living conditions, facilitated garbage collection and built more parks. Imran Khan could have taken his philanthropic agenda to the next level and established world-class hospitals in cities across Pakistan, utilising his experience with Shaukat Khanum. Nawaz could have avoided this entire kerfuffle, had he delegated tasks such as foreign affairs to qualified diplomats and focused on developing the country. Ishaq Dar could have spent more time drawing up long-lasting economic policies that facilitate long-term investments instead of focusing on opaque China Pakistan Economic Corridor (CPEC) investments, which may be helpful in the time being but do not account for when and if the Chinese go away.

All in all, this hearing probably came across as a victory for the Pakistani political opposition, an irritant for Nawaz and party, but may not have contributed anything to the long-term survival or success of the country.