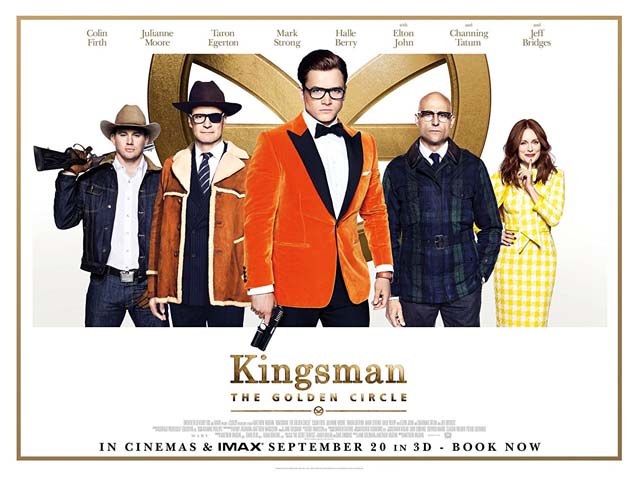 ---
Kingsman: The Golden Circle is a case of too many A-list cooks spoiling a cinematic broth
Considering how the idea was to create a James Bond for the younger generation, even the kids will find this stupid.
---
Filmmaker Matthew Vaughn is notoriously known for opting out of sequels of popular movie franchises that he himself is responsible for creating. The 

Kick-Ass

 franchise was the first instance when Vaughn skipped out on directing a sequel to a hugely successful first part.




The rebooted X-Men series was next in line to experience Vaughn's rejection. Now, regardless of how badly these decisions went down with the followers of the aforementioned franchises, Vaughn's judgment proved to be spot on in both cases. While X-Men: Days of Future Past was almost respectable, Kick-Ass 2 was bashed left, right and centre by both the audience and critics alike.




Given his impeccable track record, why would Vaughn opt for such a confusingly convoluted script to mark his first foray into the sequel-land after skipping out on two decidedly better projects. It's like he was single-handedly trying to flip over the whole 'third-time lucky' expression.




Lying somewhere between Sean Connery's James Bond and Mike Myer's Austin Powers on the spy-thriller genre, the Kingsman franchise was built on the quirky foundations of 'neither too grim nor too comical' formula.



The second instalment in the series kicks off with the whole Kingsman service being wiped off from the face of the earth by a powerful drug cartel headed by Poppy Adams (Julianne Moore). Our protagonist, British hooligan turned gentleman-agent Eggsy (Taron Egerton), and fellow gadget whiz Agent Merlin (Mark Strong) are the only two left from this secret British fraternity.




The duo is then required to enlist the help of an associated yankee spy organisation called The Statesmen where they meet up with Champagne (Jeff Bridges),  Tequila (Channing Tatum), Whiskey (Pedro Pascal) Ginger (Halle Berry) and surprise, surprise, an amnesiac, eye-patch donning Harry Hart (Colin Firth). He is the suave spy, who if we recall was considered dead in an encounter with the chief antagonist Richmond Valentine (Samuel L Jackson), from the prequel.




Now the incidental merger of these two secret service establishments forces our psychotic female antagonist to put her plan in high gear. Poppy proceeds to broadcast a message telling the world about how she has laced every available recreational drug with a deadly toxin, which causes users to develop blue rashes before ultimately killing them. She also has an antidote for it, but in return demands that the president of the United States ends his country's war on drugs and offers her cartel total immunity. It is now up to our eclectic bunch of spy-heroes to save the world from total disaster.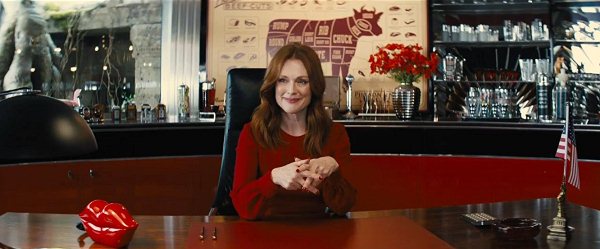 Sounds like a tedious drag? And this is without mentioning half a dozen of those pointless sub-plots that this movie was filled to the brim with. Now imagine sitting close to two and a half hours to 'watch' this utter mind-numb of a movie.

The prequel had Firth ending with a hole in his head but the sequel just leaves us with an extremely bad taste in our collective mouths. It was simply a case of too many A-list cooks spoiling a cinematic broth. Oh and by the way, the star index also includes an absolutely absurd cameo by a pop legend.

And I also hate to break this to you but Tatum, Berry and Bridges together get about a dozen minutes of screen time. It's not just underutilising them; it's downright degrading the trio.




There are quite a few lousy movies that are salvaged by an impressive chief-baddie but Kingsman: The Golden Circle completely fails to take advantage of Moore's immense talent and casts her into an idiotically kooky character that is devoid of any charismatic menace.

The stunts are your typical Computer Generated Imagery (CGI) fest where everything is so calculatingly created that it forces the viewers in digesting a so-called action set piece, minus the danger and the dare.




The humour is largely crass, and while it is certainly entertaining in parts, the whole affair on the whole is just totally forgettable.

While the idea was to create a James Bond for the younger generation, Kingsman with its sequel has managed to create something that even the kids would find stupid.




I am generally a fan of Vaughn's work but Kingsman: The Golden Circle, I doubt, even he would be able to defend. He simply needs to sweep this one under the rug and pretend as if it never happened.
Facebook Conversations
COMMENTS
Comments are moderated and generally will be posted if they are on-topic and not abusive.
For more information, please see our Comments FAQ