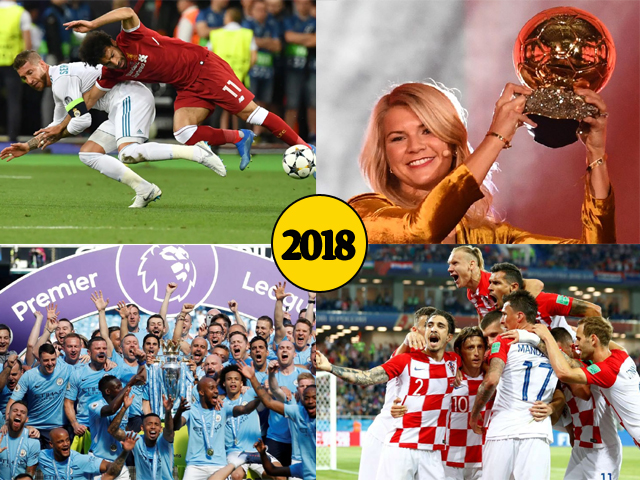 ---
Controversies, surprises and uplifting moments – 2018 was the year of football
One of the biggest stories of 2018 was Ronaldo's leaving Real Madrid, followed by Salah smashing during the EPL.
---
Football is rightly lauded as the king of sports and 2018 was another year where this sport proved why it is held in such a high regard. Since this was also a FIFA World Cup year, there were already major expectations attached with the sport, but like every year, football managed to exceed these expectations and then some.

So without further ado, let's have a look at some of the moments which helped consolidate football's position right at the top during this past one year.

Croatia losing the FIFA 2018

After 63 matches and 163 goals, Croatia and France were the last two teams standing in FIFA World Cup 2018. With some truly fantastic goals, thrilling last-gasp victories and a host of controversies, this particular month-long festival of football was widely regarded as one of the most entertaining world cups ever with plenty of memorable moments.

But none of these moments could rival the heart-warming story of the rise of the Croatian football team. The title game in Moscow's Luzhniki Stadium featured the pre-tournament favourites France and everyone's favourite underdogs Croatia. The whole affair was pretty tense with an own goal, penalty, and a goal-keeping blunder thrown in the mix for added measure. Les Bleus might have won the cup but Croatia managed to win the hearts of football followers the world over.




Liverpool losing the Champions League

Despite this being a World Cup year, for a football fanatic like myself, nothing beats the thrill and chills that club football can provide. And when you add in the prospect of your own club contesting the UEFA Champions League final, arguably the biggest football match in a calendar year, then you are entering football heaven.

In one corner we had Real Madrid, twice defending champions and 12-time winners of the same competition. On the other hand, we had the relatively un-fancied Liverpool, who had won five European Cups previously, but this was their first participation in this tournament after quite a number of years.

It was Cristiano Ronaldo against Mohammed Salah and the tie was too tricky to call. But what transpired during the actual event was luck totally turning against the Reds in the most unfortunate of circumstances. I say luck but it was actually the thuggery of Sergio Ramos that won Los Blancos their 13th European Cup.




The Real defender is known to be an aggressive player. But when he took out Liverpool's main man, Salah, in the first half with a challenge that is not even allowed in a combat sport like Judo, you know that the Spaniard had outdone himself.




And that wasn't his only sinister contribution to the proceedings. He then managed to slyly collide with Liverpool's goalkeeper, Loris Karius, which was later proven to have caused him concussion.

The Reds went on to lose the contest 3-1 with the German keeper roundly being criticised for letting in Spanish side's first and third goals which we now know was all down to being concussed.

The rise of Salah

Salah's first bite at the cherry that is English football can in no way be termed as a sweet one. The Egyptian's first stint for Chelsea between 2014 and 2016 yielded only two goals in 13 league appearances, but his second gig with Liverpool was nothing short of phenomenal. From club record of being the quickest Liverpool player to score 40 goals, to breaking the Premier League record of most goals scored by any player in a 38-game season, Salah has broken records left, right and centre during the English Premier League season that concluded in 2018.




He also won almost every individual record that he was nominated for during the first half of the year, such as the Professional Footballer's Association (PFA) Player of the Year, Premier League's Player of the Season, Confederation of African Football (CAF) African Footballer of the Year, Football Writers Association Footballer of the Year to name a few.

Manchester City – the record breakers

Manchester City had won two Premier League titles before their third one proved to be an absolute charm. The Citizens won the league with five games to spare and broke a number of Premier League records over the course of the season, including: most points (100), most wins (32), most away wins (16), most goals (106), most consecutive league wins (18), highest goal difference (+79), most passes in a game (903), fewest minutes behind in matches (153 minutes) and biggest winning points margin (19).




Ronaldo to Turin

One of the biggest stories to come out of 2018's off-season was Ronaldo's departure from Real Madrid. The Portuguese spent nine trophy-laden seasons with Real, four of them being the Champions League trophy in just five years.

However, like all good things, this association also came to an abrupt end owing to the superstar's complicated relationship with club president, Florentino Perez.

After 450 goals in 438 appearances, the former World Player of the Year left for Juventus in a £105 million move.

https://twitter.com/BetBright/status/1016717499587596288

Goalkeepers finally paid their fair dues

Another big story that came out during the summer transfer window of 2018 was the recognition of one of the most underrated positions in football. English clubs are notoriously known for spending fortunes on player transfers. This summer was no different with £1.2 billion spent on buying players. But what was different this time was how the top two most expensive imports to the British shores were not attacking players, as was the case previously. Instead, the objects of affection were un-fancied goalkeepers.

The world record fee for a goalkeeper was broken twice in the space of three weeks. Liverpool spent a huge £67 million on Brazilian Alisson Becker to conclude its long-term search for a new number one.




But that fee was surpassed with a day to go in the window, when Chelsea forked out a mammoth £71.6 million on Athletic Bilbao's Kepa Arrizabalaga to replace the Real Madrid-bound, Thibout Courtois.

Luka Modric's moment

It might just have been a decade but it felt like a lifetime of watching Lionel Messi and Ronaldo exchange possession of the Ballon d'Or award. Considered as football's top individual honours, we finally have a new winner in the shape of Modric.




The midfield magician first won the Champions League title with Real Madrid and then a couple of months later helped lead Croatia to the World Cup final. The diminutive midfielder is the first Croatian to win the prestigious Ballon d'Or with Davor Suker being the only other Croatian player ever to finish in the top three in 1998.

Ada Hegerberg: The trailblazer

In the grand scheme of things, it might just have been a (not so) small prize for a woman, but it was definitely a giant leap for all of womankind when Hegerberg was awarded the first ever Ballon d'Or for a female football player.




The Norwegian striker who plays for the French club Lyon has close to 300 career goals, four French league titles, a hat-trick of Coupe de France trophies and Champions League titles to her name. Last season alone, Hegerberg scored a record of 15 Champions League goals, and with 41 goals in 41 matches, she is just 10 shy of the all-time Champions League record.

2018 is almost about to end but in the thrilling world of football, the drama simply never ceases to exist. We might not have any major continental or global football events next year but we do have all of the major European leagues in full swing. And with this season league campaigns along with Champions League drawing to close in the first half of the next year, football fans are never too far from excitement.

Happy New Year!
Facebook Conversations
COMMENTS
Comments are moderated and generally will be posted if they are on-topic and not abusive.
For more information, please see our Comments FAQ