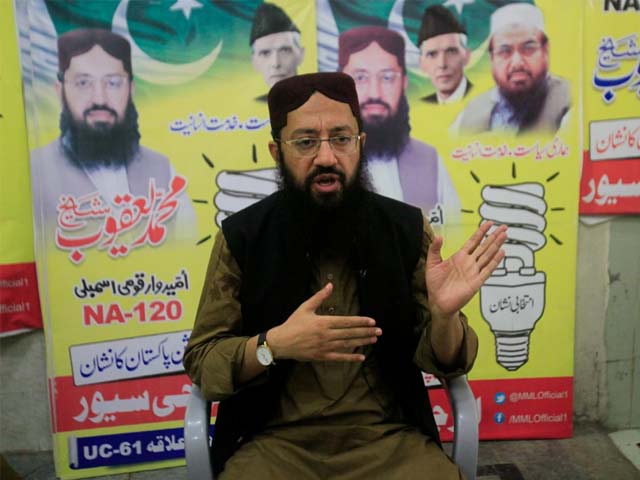 ---
13,000 Pakistanis voted for far-right parties – should the remaining be worried?
If you're wondering why this is worrisome and should not be overlooked, then consider the Lal Masjid events of 2007.
---
Following the Supreme Court decision regarding Nawaz Sharif's disqualification from his prime ministerial position, the NA-120 seat needed to be filled immediately. Fortunately for the Sharifs, the NA-120 by-election results allowed Kulsoom Nawaz to fill this vacant seat. 

NA-120 has been a stronghold for Pakistan Muslim League-Nawaz (PML-N) since 1985 when Nawaz won and became the chief minister of Punjab. From then onwards, Nawaz's party consecutively won the NA-120 seat eight times in 1985, 1988, 1990, 1993, 2002, 2008, 2013 and now in 2017.

The NA-120 by-election results did not only highlight PML-N's stronghold, but also highlighted the emergence of two far-right Islamist parties – Milli Muslim League (MML) and Tehreek Labbaik Ya Rasoolallah.

MML is an offshoot of Jamaat-ud-Dawa (JuD), a charity organisation founded by Hafiz Saeed and Tehreek Labbaik was founded by Islamic scholar, Khadim Hussain Rizvi. An interesting trend was witnessed in these by-elections, as MML and Tehreek Labbaik combined gained about 13,000 votes – 11% of the total votes cast. Even though JuD is a banned organisation and has been blacklisted by the United Nations (UN), their voters didn't seem too bothered about it.

Rather than being concerned with MML's voters and vote bank, we should be more concerned about how the Election Commission of Pakistan (ECP) allowed an offshoot of a banned and blacklisted party to even contest the by-elections? How was the MML candidate, Yaqoob Sheikh, allowed an allocation of a symbol? Fortunately, the Senate Standing Committee on Parliamentary Affairs took notice of this and has asked for an explanation.

By acting in such an irresponsible manner, the ECP is setting a risky precedent and sending the message that terrorist organisations and banned parties can somehow be allowed to come into power and form a government. Such actions only end up facilitating the mainstreaming of terror organisations, something our country can do without.

Historically, religious parties had never managed to gain mass electoral recognition and only had an approximately 2% share in the total votes.

Jamiat Ulema-e-Islam-Fazl (JUI-F), which is still the biggest right-wing political party of Pakistan, gained less than a 1,000 votes. Thus, the NA-120 by-election should serve as a warning for them. But the most interesting aspect was how quickly new parties such as MML and Tehreek Labbaik gained support, because these political parties have no known politicians or previous electoral experience. Yet, they managed to beat JUI-F, even though JUI-F has massive political experience and an organised party structure.

But the party that should be most worried about MML's and Tehreek Labbaik's success is the PML-N. If we compare the 2013 general elections to the 2017 by-elections, PML-N received 91,000 votes in 2013 and 61,000 votes in 2017. Thus, in a period of four years, PML-N lost around 30,000 voters. A centrist party such as PML-N needs to up their game, especially in their own backyard. It would not bode well for the province if far-right parties started emerging and taking over.

As it is, Pakistan is struggling with the dangerous mind-set of extremism and militancy and the emergence of such parties will further motivate such a mind-set. Even though the government and law enforcement agencies are doing their best to curb this extremism, they have not been able to completely flush it out.

Furthermore, an important question is what factors can be attributed to the rise of far-right parties such as MML and Tehreek Labbaik?

To begin with, the India factor plays a major role in this situation. PML-N's policies are considered soft on India regarding several issues, be it Kulbhushan Yadav's case, violence in Indian-occupied Kashmir, Line of Control (LoC) strikes and India-sponsored terrorism in Pakistan.

This apparent soft stance could be due to Nawaz's close relationship or business relationship with Narendra Modi, the prime minister of India. But their stance on India was not well appreciated amongst the religio-political circles.

Thus, the Tehreek Labbaik very cleverly adopted an anti-PML-N stance during their campaign for the by-elections. They highlighted the Mumtaz Qadri issue and used it to their advantage. They made their voters believe that PML-N could have 'saved' Qadri but they did not. They further went on to unfairly accuse PML-N of committing blasphemy by not 'protecting' Qadri.

It's hard to believe that a new political party formed on such premises managed to come in third in the NA-120 by-elections, but it is a strange reality and we must accept it.

Moreover, consistent support for Jamaat-e-Islaami (JI) and JUI-F also serve as a catalyst in the rise of new far-right parties. But JI didn't perform well in the 2017 NA-120 by-elections because they openly support the PML-N government. JI has nothing going for itself in terms of political success, despite being a well-organised, disciplined and democratic party. JI's confused politics may cost them the 2018 elections.

In comparison, the left-wing political party, Pakistan Peoples Party (PPP) gained 1,400 votes. Though what is most shocking was how PPP came in fifth, right after MML and Tehreek Labbaik. During the 1970 elections, Zulfikar Ali Bhutto, managed to bag approximately 78,000 votes (62% of total votes) during the NA-120 by-elections.

But the 2017 results paint quite a different picture for PPP. It is evident that PPP has had to deal with a staggering defeat. Since 2008, PPP has witnessed a downfall, owing to internal political and family rifts. The fact that a left-wing party came in fourth goes to show how an appetite for left-wing politics is decreasing and how people are voting for far-right political parties.

One of the major reasons behind the rise of religious parties is the use of religious seminaries and mosques for political campaigning, a tactic MML and Tehreek Labbaik used for their political campaigns. These parties unfairly motivated people in the name of religion. And you can never go wrong with that.

But here's an important question – why have the provincial governments and law enforcement agencies allowed the use of mosques for political purposes (Masjid Qadsia was used as the MML election headquarters)?? Deradicalisation of the youth was a part of the much-talked about and less-implemented National Action Plan (NAP). But we do not see that happening.

It is ironic how easily the government implements regulations to revise the university curriculum, but somehow manages to overlook the knowledge being imparted in religious seminaries? Would it not be wiser to monitor activities in madrassas rather than universities? 

If you're wondering why this is worrisome and should not be overlooked, then consider the Lal Masjid events of 2007. Lal Masjid and Jamia Hafsa were well-known religious seminaries and were functioning quite smoothly in the heart of Islamabad, up until 2007. That was when they started challenging the writ of the state and began using these establishments to project, promote and demand the implementation of extremist ideologies. Their manpower was generated through their students and ardent followers.

And we're well aware of the outcome of the 2007 incident.

Lastly, regional dynamics also come into play in this argument. In India, the rise of the Bharatiya Janata Party (BJP), the rise of UK Independence Party (UKIP) in the UK, and Donald Trump's victory, all point towards the rise of right-wing nationalistic politics, a factor that should be worrisome for everyone. This could be owing to the increasing trend of post-truth politics, whereby political opinions are formed on emotions, religion and nationalism rather than logic.

Are these global phenomena impacting Pakistani politics as well? Are MML and Tehreek Labbaik going to replace JI and JUI-F in the long-run? How well will they perform in the 2018 elections?

Only time will tell.