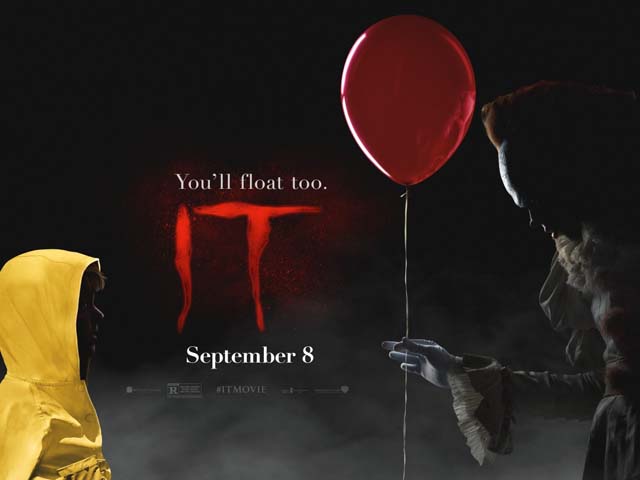 ---
'It' is a twisted, terrifying and an intense piece of work
When it comes to the horror, this film most definitely does not hold back. It did for clowns what Jaws did for sharks.
---
Clowns are creepy. There's simply no getting around that. I don't care what people say, there's just something odd about a grown man in a kooky outfit wearing makeup, a wig and a red nose, and has that much cheer in him. It's this creepiness that author Stephen King capitalised on in 1986 when he wrote It, a book that did for clowns what Jaws did for sharks and what Psycho did for taking showers.



The title character, Pennywise, is a dancing clown who happens to actually be a macabre and malevolent force of evil that exists in underground sewers of the small town of Derry, Maine. It takes the shape of a clown to lure innocent kids into its lair and prey on their deepest and most primal fears.




After a long wait, It has finally made it to the big screen. I'm happy to say that director Andres Muschietti's interpretation of one of King's best books is a twisted, terrifying and an intense piece of work. This movie is as much about the loss of innocence and the deep-seated fears we all faced as kids as it is about a shape-shifting killer clown.

One of the reasons this adaptation works so well is because it respects its source material and doesn't deviate from it too much. The only glaring difference between the book and the movie is that the movie takes place in the summer of 1989 whereas the book, or at least the first part of the book, took place in the late 50s.

Apart from that, the plot is pretty much the same – seven kids, all social misfits who call themselves 'The losers' club', begin to experience visions and physical embodiments of the things they fear, after a tragic incident occurs with one of their siblings. They later learn that the clown, Pennywise, emerges every 27 years in their hometown of Derry to kill children and feed on their terror. Determined to fight back, the group decides to find a way to defeat Pennywise, something easier said than done.




After setting the tone with a bold and staggering opening sequence, It surprisingly doesn't go in the direction of most recent horror films where the audience is hammered with jump scare after jump scare until the horror begins to feel stale and uninteresting. Rather, the film actually spends a great deal of time on the trials and tribulations of these seven kids as they learn to band together, which helps humanise their characters and in turn makes you empathise with their journey. Like road trip movies, horror movies are supposed to be about the journey rather than the destination and it's nice to see that this film understands that.

That said, when it comes to the horror, this film most definitely does not hold back. Director Muscheitti crafts some absolutely chilling sequences that deliver on both, the suspense and the execution.




I think the mark of a good horror film is how many scenes you can actually remember when you walk out of the theater. And I could remember a great many; the sequence in the garage involving a projector being one of the highlights.




Pennywise, played by Bill Skarsgard, is absolutely terrifying. He actually toys with the kids before revealing his true self and when he's speaking, you can sense something truly evil underneath the façade. The fact that he's used in the film so sparingly only doubles down on the intangible threat he poses.




I think the performances of the young cast is also worth applauding. Despite a large cast of kids to focus on, the film manages to give each kid at least one proper character moment.




Jaeden Lieberher and Sophia Lillis in particular are really good as Bill and Beverly respectively. Both are the subjects of different kind of traumas and watching their characters grow from those traumas is truly wonderful. Actor Finn Wolfhard, best known for his portrayal of Mike on Stranger Things, also manages to steal quite a few scenes as the wise-cracking Richie and is arguably the funniest thing about the film.

It joins the likes of Stanley Kubrick's The Shining, Brian De Palma's Carrie, Rob Reiner's Misery and David Koepp's Secret Window as one of the best King adaptations to grace the big screen. And what makes it so good is that It is as much of a coming-of-age drama, and a study of trauma and fear as it is a horror movie. The only few flaws in the movie are that it goes on for too long and there are definitely some issues with the delivery of exposition.

However, no one can deny the fact that this is a movie you must watch in the cinema and is certainly one of the better horror films to come out in the recent times.



All Photos: IMDb