 ---
Watch 'Na Maloon Afraad 2' for the entertainment movie that it is, nothing more
Director should be grateful to the cast; if it weren't for the great performances, the mediocre script would be duller
---
In 2014, Nabeel Qureshi and Fizza Ali Meerza paired up to direct and produce Na Maloom Afraad and it proved to be an instant box office hit. It is the longest running movie in Pakistani cinemas since 2007, beating the records of Khuda Kay Liye and Waar.

After three years, the duo returned to direct and produce Na Maloom Afraad 2, which was released over Eidul Azha. Before we get into the nitty-gritty of the movie, it is important to applaud and appreciate the fact that two remarkable Pakistani movies, Punjab Nahi Jaungi and Na Maloom Afraad 2, were released in succession. This is a huge milestone for the Pakistani film industry.

But back to Na Maloom Afraad 2; the cast is almost the same, except for a few new additions, and the movie picks up from where it ended in the prequel.


The movie revolves around Farhan (Fahad Mustafa), Shakeel (Javed Sheikh) and Moon (Mohsin Abbas Haider.) Farhan is happily married to Naina (Urwa Hocane) and is working as the CEO of their company, Shama Achaar, along with his brother-in-law, Shakeel. Everything seems to be working perfectly well for the two, up until they receive a phone call from an offshore bhai (gangster) demanding extortion money.

To make things worse, their factory catches fire that night and they're left in a conundrum.




Amidst this chaos, they receive a phone call from Moon to invite them to Cape Town for his wedding to Parri (Hania Aamir). While they are in Cape Town for Moon's wedding, they somehow end up with Sheikh al Baklawa's (Nayyar Ejaz) 24-carat gold commode and the trio find themselves in the midst of a cat and mouse chase. This situation is what forms the crux of Na Maloom Afraad 2's storyline.




In terms of performances, Na Maloom Afraad 2 undoubtedly belongs to the three protagonists. Javed Sheikh, like always, proved that he is a true showman through his impeccable performance as Shakeel. Not only are his dialogues penned smartly, he delivered them with utmost hilarity and presicion.




Furthermore, Fahad Mustafa looked confident and flawless playing the role of Farhan. His constant transition from being a toughie to an emotional softy leaves the audience in awe. Personally, he was my favourite.

Mohsin Abbas Haider added the fun element in the movie, just as he did in the prequel. However, this time around he has a six-pack to flaunt, which he proudly does throughout his time in South Africa.





Moreover, even the supporting actors such as Nayyar Ejaz and Saleem Mairaj did a commendable job. Despite having only a few scenes in the movie, Ejaz impressed the audience as the Sheikh. Mairaj, being the splendid actor that he is, was extremely convincing in his role as a gangster.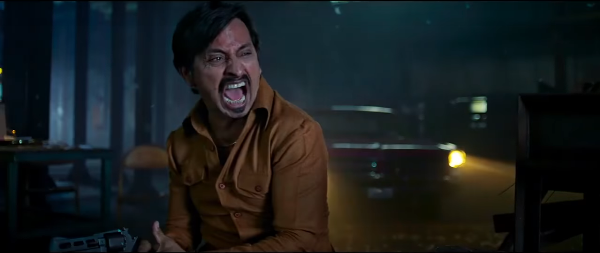 Thus, it would be justified to say that Na Maloom Afraad 2 belonged to the male cast. I, for one, felt that Urwa Hocane and Hania Aamir looked great but were merely used as eye candy since they had nothing major to offer in terms of performance and dialogues.




Moreover, Sadaf Kanwal performs an item song, Kaif O Suroor, which could have had better choreography.


As for the script, it did fall short when it came to the female actresses, but it also fell short in the novelty and interest department. Unfortunately, the dialogues did not leave much of an impression on the audience, other than the great comedic timing. But we can't expect movies such as Na Maloom Afraad 2 to have exceptionally well-crafted dialogues since it's purely an entertainment movie, nothing more.

Nabeel Qureshi should be grateful to the cast though, because if it wasn't for the great performances, the already mediocre script would become duller.

There were a few scenes in the movie which did not make sense and were extremely illogical, but then again, for a movie such as Na Maloom Afraad 2, it doesn't matter. As long as a movie manages to entertain the masses with slapstick jokes, it will do well and Na Maloom Afraad 2 does just that.




The art direction and cinematic shots are wonderful and the movie has not been marred due to excessive branding, which is a prevalent issue in Pakistani movies. Luckily, the brand placement in Na Maloom Afraad 2 was not overwhelming. I suggest other directors and producers follow Qureshi's cue and tone down on their blatant advertising and brand placement.




All in all, Na Maloom Afraad 2 is a great watch, especially if you're looking for a few good laughs. The only issue is that it brings nothing new to the table in terms of a storyline and creativity, as I felt I had watched the movie countless times before. If you plan on watching the movie, which you should, suppress the inner critic in you and expect a thoroughly well-shot and funny movie, nothing more.


All photos: Screenshots