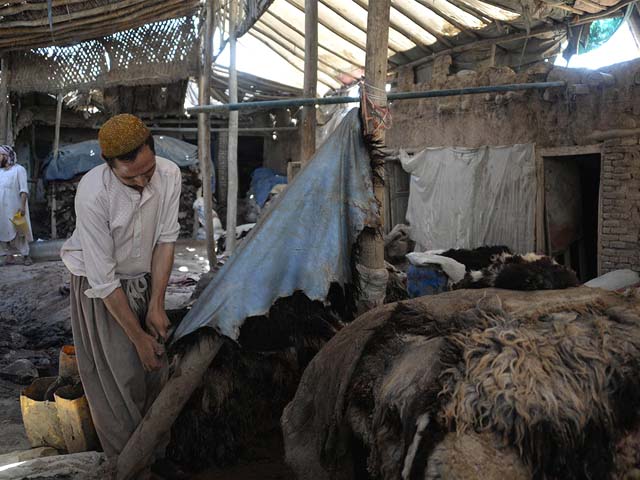 ---
A single cowhide can fetch around $50 in the open market, but where does that money go?
Much of the business conducted across the country is in hard cash with no official records.
---
Eidul Azha is finally here. Just the mere thought of it fills my mind with vivid images of beef and lamb stews, korma and pulao. But let's not forget Eidul Azha also means rejoicing with our family and friends and understanding the concept of sacrifice. Though let's be honest, that is secondary in the face of the scrumptious food we get to enjoy.

Growing up in Pakistan, Eidul Azha also meant spending time at the bakra mandi (cattle market), picking out the best sacrificial animal. It also involved spending Eid morning with the butcher in the yard as he slaughtered, skinned and made several meat pouches to distribute.

Before we would set off to people's houses for visiting and distributing purposes, the doorbell would ring. Some years it would be the jamaat from the mosque, while other years it would be representatives from a welfare organisation. One must be careful here though, since some individuals claim to be social welfare workers, which they aren't. No matter who it would be, they would always be looking for us to donate our animal hides. We never gave it a second thought though. In fact, we would be happy to get rid of the animal hides.

For the past decade or so, Pakistan has been suffering from a spate of deadly terrorist attacks. No one is safe. Schools and colleges have been made to hire extra security and snipers for the safety of their students. International cricket teams have stopped visiting Pakistan.

It is all too convenient and easy to blame external forces and countries such as the US or India for stoking unrest in the country. But realistically speaking, we know that there are internal elements in our country that contribute to this deadly violence. The media and conspiracy theorists keep shifting the blame onto external elements creating unrest in Pakistan, but domestic militants are equally to blame. Many of these militant organisations have been banned by the government but they still operate as human relief charities. Since Pakistan is a disaster prone and developing country, all sorts of human relief efforts are welcome. Thus, militant organisations functioning as charities, resort to collecting animal hides during Eidul Azha to raise money.

When organisations come knocking at our doors asking for hides, they appeal to our humanitarian side by promising that the proceeds from the hides will be used to help the impoverished. They claim that they will raise money by selling these hides to leather manufacturers, textile mills and any other industries that extract materials from leather. Denizens of Karachi alone slaughter roughly one million animals on Eidul Azha. A single cowhide can fetch around $50 ( about Rs5,000) in the open market. You do the math. Alarmingly though, there is no transparency regarding what happens to these hides once they leave your house. The popular belief is that the money raised through their sale is used to fund the underground militant wings that run these charities.

Reputable organisations such as the Edhi Foundation and Shaukat Khanum have been trying to quell this issue by collecting hides as well. Unfortunately, they are beaten by the sheer number of volunteers the militants can whip up. These outfits generally run religious seminaries along with charity wings. It is extremely convenient for them to redirect man power from the seminaries to their charity wings when need be.

One of the biggest obstacles in curtailing terror activities through hide collection is the lack of transparency. Pakistan has a large illegal economy, the size of which remains unknown to date. Much of the business conducted across the country is in hard cash with no official records. Thus, it is virtually impossible to track the amount of money generated through animal hide sales and where it is utilised.

Our police forces have limited interest in stopping these organisations from their collection activities and they are understaffed as it is. Their prime responsibility has become the facilitating of government officials and holding back dharnas. Hide collection is neither illegal nor does it pose a threat to anyone; hence they turn a blind eye towards it. Who knows, they may even be collecting a commission on the collection in their neighbourhoods, which means it's in their best interest to let the collection go on unhampered.

In a bid to curtail terrorist funding through hide collection, the government has managed to introduce policies over the past few years. They have gone on record and banned over 40 major organisations including Lashkar-e-Jhangvi (LeJ) and Jamaatud Dawa (JuD). They also introduced a code of conduct regarding hide collection, under which only recognised parties and organisations are allowed to collect hides. In addition to registering themselves as legitimate charities with the government, these organisations are required to carry their official CNICs and permission letters from the government when they collect hides.

Unfortunately, these policies have proved to be futile.

If the government was stronger and not mired in their own scandals, perhaps they could make an effort to make the process of hide collection more transparent. They could set up collection points where citizens could drop off the hides instead of handing them out to anyone and everyone who comes knocking at their door.

Responsible departments could introduce a pickup service which could collect hides and make sure the money generated was spent on projects beneficial for the country. Most importantly, educational authorities should introduce efficient educational systems so that parents may rely on government schools and colleges rather than relying on religious seminaries. The wish list goes on and on. Unfortunately, since none of the items above are covered under China-Pakistan Economic Corridor (CPEC) projects, or provide no benefit to them personally, they are not even on the government's radar.

As citizens though, we can and should make a conscious effort. If we donate our money towards charities which slaughter animals on our behalf, we must carry out the due diligence in order to find out the status of that organisation. If we do donate our animal hides, we must be careful not to hand them out to strangers. If possible, we should make the effort ourselves and drop them off at a legitimate organisation that focuses on social welfare only. Try not donating your hides to neighbourhood mosques, since a lot of these mosques have popped up on the back of dubious funding and we have no way of knowing how they utilise these proceeds.

Enjoy Eid and eat well. But make sure your hides are donated in a way so as not to fund illicit and/or harmful activities.
Facebook Conversations
COMMENTS (7)
Comments are moderated and generally will be posted if they are on-topic and not abusive.
For more information, please see our Comments FAQ