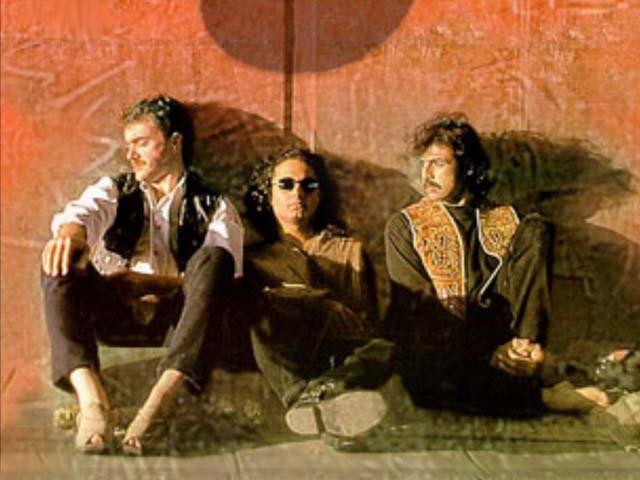 ---
How could Salman Ahmed let his masterpiece die a sad death at the hands of singers who were not meant for it?
For someone who has been a Junoon worshipper most of her life, what is Azmat's will always remain Azmat's.
---
Being a 90s child, it won't be wrong to say that we're the last generation, that among many other endeavours, still like playing the real, traditional Ludo (not Ludo Star).


We grew up having a total of two television channels to watch and ran down the hills to find who reached the ground first. We spent all our nights playing board games with our cousins during long summer nights, saved money for a Walkman and eventually witnessed the glorious pop music era in Pakistan.




I might sound like an old grandfather glorifying everything from his past while shunning everything today. But I am very certain that Pakistani music from those days is irreplaceable to date. Listening to Junaid Jamshed, Junoon and Awaz still transports me to the days gone by.




As many young Pakistani musicians were making their mark worldwide, pop music was probably the second biggest religion in those days. Interestingly, each band had a unique style of its own and there was hardly an instance where you came across carbon copies of older songs with little amendments done.




One of the most prominent names from those days was Junoon, and as the name suggests, Junoon was literally a junoon (craze). It was a band of three casually dressed up but passionately creative boys, taking the entire music industry by storm. These guys were the first ones to bring the term 'sufi rock' into the limelight.




I vividly remember my elder cousins piling up audio cassettes neatly in their drawers and spending every available rupee on these cassettes. Most of us knew all their songs by heart, and although I was too young to understand the meaning of terms such as 'sayonee' and 'ehtisaab', I would always hum along regardless.




Ali Azmat with his swinging curly locks and a deep tint of madness in his voice remained completely oblivious of his surroundings and skies while he performed on the stage. Anyone who has had the privilege of attending their concerts is a witness of how the stage was set on fire by his mad, mad voice. It was an enigma, a junoon.




Every song still stands very close to our hearts even after the passage of time. Although Junoon split up a few years later, it still stands tall and strong in our hearts with the same blaze. Interestingly, a few months ago, I saw Azmat during my flight to Lahore and trust me, my heart skipped a beat the moment I did.




This year, when Coke Studio decided to redo a very popular Junoon number, Sayonee, with Salman Ahmad (Junoon's guitarist), Rahat Fateh Ali Khan and Ali Noor, it seemed a little tricky and doubtful. All three of them being veterans of their fields were there to bring back an old spell from the 90s..



However, like not all love stories have a happy ending, similarly in just the first 30 seconds, the glass palace of our dreams came shattering to the ground. I still fail to understand the thought process behind using a 

qawal 

to sing a rock number, but maybe renditions are supposed to be like that.


Noori reminds me of my teens and Noor's music has been a muse in shaping my younger years. But even he couldn't save what was meant to drown. It was too late. Ahmad's guitars were the saving grace but I still do not comprehend how and why he let his own masterpiece die this sad death at the hands of singers who were not meant for it. Perhaps the intentions were pure and were solely meant to make us appreciate worse musical experiences of our life.




On a separate note, Ali Zafar certainly owes one to his senior, Ahmad, for deviating the audience's attention from his 'poor man's Jack Sparrow' performance. His rendition must have caused the late Saleem Raza sahab's to twist and turn in his grave out of agony and despair, to say the least.



Despite having released some four days ago, the internet has still not forgotten the trauma they went through. And they might never.  Here and there, one after another there are flocks of humans crying in misery and despair. Everyone expressed their shock and dismay over Rahat complying to Ahmed's ambition of reincarnating Junoon. Tears all over Twitter, I swear.


NO ONE can sing Sayonee better than Ali Azmat himself!
Salman Ahmad should stop ruining Junoon's legacy, its so disappointing for the fans.

— Abdullah Qureshi (@AbdullahQureshi) August 18, 2017


https://twitter.com/JhonSuNOW/status/898534590289256449


Only good thing about Rahat Fateh Ali Khan's Sayonee is that no one will criticize Momina Mustehsan's singing this year.#CokeStudio10

— SIR .. (@SirJohnRoe) August 18, 2017


https://twitter.com/Waqas_amjad/status/898535355741335552

https://twitter.com/anisulhassan/status/898523688869429248


Coke Studio has ruined Sayonee. A song so close to my heart. I'll never forgive them for this. Hurts so much.

— Sami(h)a 🇵🇰🇵🇸 (@PsychedSam) August 18, 2017


Here I must appreciate Noor who was gracious enough to come forward to confess that Sayonee was meant for Azmat's voice alone and that no one else is capable of singing it. Since Junoon has been an inspiration behind most of the musicians today, I am sure Noor's heart bled as much as ours. Deepest condolences to Rahat who has probably taken a sabbatical from this not-so-beautiful world after the sad demise of Sayonee by his hands… See you soon, sir.

By the way, being a music enthusiast all my life, I do understand the dynamics of music renditions and covers. They are never meant to sound the same as the original song. However, for someone who has been a Junoon worshipper, what is Azmat's will always remain Azmat's.

All of us who have grown up listening to this iconic track can never forgive Coke Studio for doing what it did to this memory from our childhood. Since the release of this track, the original song has been listened to over and over by fans to neutralise the lingering bad taste in their mouth.

With no offence to the veteran Khan and Noor, let me say it loud and clear that Coke Studio has let us Junoonis down. How I wish human egos were not above the dignity of art and respect of an artist, but sadly they are. At least this is what our self-proclaimed sufi Ahmad has taught us with his joyous 'Masha Allah' at the end. Sigh!

I am sure listening to the qawali-cized Sayonee must have brought tears to Azmat's eyes but the rapidly increasing love and respect for his craft among the audience would have put up a smile on his face. Once a Junooni, always a Junooni!

*Drops the mic*

*Wipes the tears*