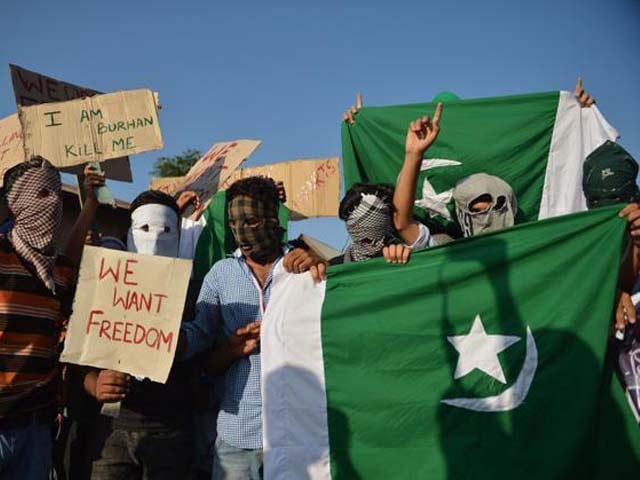 ---
Kashmir's undying love for Pakistan is an unpalatable truth for India
Some Kashmiris consciously choose to pay a cost for their expensive expression. That is how much they love Pakistan.
---
We have seen numerous images of young Kashmiri lifeless bodies, wrapped in Pakistani flags, being lowered into graves by their old and fragile fathers.

Such images are enough to give us an idea of how deep-rooted pro-Pakistan sentiment is in Indian-held Kashmir.

Kashmiri civilians, mostly teenage boys, are hounded, tortured, arrested or even killed by government forces during anti-India protests and pro-azadi (freedom) rallies. This is a result of them raising passionate slogans in favour of Pakistan. Kashmiri boys and girls are seen chanting "jeeve jeeve, Pakistan" (long live, Pakistan) or "Pakistan Zindabad" slogans. A few have even set the Pakistani national anthem as a ringtone on their mobile phones.

This unconditional love for Pakistan emanating from a few sections of the Kashmiri society is not something new or surprising. It is, as they say, a matter of fact.

In the past, Kashmiris would draw up wills with the request that once the region merges with Pakistan, their children and grandchildren should hoist the Pakistani flag on their graves. For some, a visit to Pakistan is no less than an emotional pilgrimage.

Kashmiri children from the 90s, also described by some as 'children of conflict', have heard countless bedtime stories from their grandparents about how older Kashmiris loved Pakistan. They also loved Pakistan's cricket and hockey teams, radio commentary in Urdu, thought-provoking television serials, as well as Pakistan's sahar angez mouseeqi (magical music) in dil gudaaz aawaz (heart-breaking voice).

As a school boy, I grew up listening to exciting Urdu cricket commentary on Radio Pakistan. I immediately fell in love with this language of elegance and grace.

The very first Urdu sentences my ears heard, understood and then remembered were,

"Aasman par halke halke badal chaye huwe hain, aur maidan par iss waqt Pakistan ki team chayi huwi hai."

(The sky has been taken over by light clouds, just like how the cricket ground has been taken over by the Pakistani team.)

"Bharat ki wicktein aisi girti gayien jaise khizaan ke mousam main paidoun se patte gira karte hain!"

(India's wickets have been falling the same way trees shed leaves in autumn.)

Love for Pakistan is not just limited to its language and its cricket team, it goes beyond that. Iconic Pakistani tele-serials Ankahi (1982), Tanhaiyaan (1985), Dhoop Kinarey (1987) and recent ones such as Zindagi Gulzar Hai and Humsafar are household names in Kashmir.

In Kashmir, one comes across people whose love for Pakistan will surpass the proudest and most patriotic Pakistanis. Pakistanis may even end up doubting their quom parasti (nationalism) and hubul watni (patriotism) on encountering such Kashmiris.

Key observers state that in a suppressed environment, such as the one in Indian-controlled Kashmir, wherein democratic spaces for expression and dissent are suppressed, it is difficult to assess how deep the pro-Pakistan sentiment actually is.

February 5th symbolises Pakistan's deep-rooted relationship with Kashmir. Every year, this day witnesses the revival of cultural, religious and the geographical proximity the Kashmir valley enjoys with Pakistan. Observers claim that the pro-Pakistan sentiment in Kashmir is neither dead nor diminished, rather it's suppressed. The reasons for this are rooted in how Kashmiris have been treated since the 90s.

Interestingly, there is also a section of Kashmiri youth which does not entertain any discussion or debate that aims to equate Pakistan with India. For most Kashmiris, India is an aggressor while Pakistan is the sympathiser.

India's Independence Day is observed as a 'Black Day' while Pakistan's Independence Day is celebrated with immense joy. In some parts of south and north Kashmir, some people organise small rallies in which Pakistan's national anthem is played out loud.

Given the fear of being kept under strict surveillance by government forces and intelligence agencies, some Kashmiris consciously choose to pay a cost for this expensive expression. That is how much they love Pakistan.

However, their love for Pakistan does not necessarily mean that they favour merging with Pakistan. In my view, the most dominant ideology prevalent in today's Kashmir is the 'anti-India' and pro-freedom ideology. Many Kashmiris question the role of Pakistan in Kashmir, especially after the outbreak of anti-India armed rebellion.

Some Kashmiris also question Pakistan's official policy regarding Kashmir, which they feel keeps wavering from time to time. They feel frustrated over what they describe as 'Islamabad's inconsistent Kashmir policy'.

A few voices from Kashmir's new, assertive, educated and conscious generation are also worried about how extremist jihadi elements such as Lashkar-e-Taiba (LeT) have hijacked the Kashmir solidarity movement in Pakistan. They are also concerned about why more and more voices from Pakistan's vibrant civil society and liberal circles don't speak up enough about Kashmir.

Furthermore, there are concerns over why the Pakistani electronic media is not holding prime time television debates on Kashmir in order to,



a) Counter Indian media's Kashmir narrativebased on propaganda, falsehoods and vitriol


b) Raise global awareness about the genesis of the Kashmiri dispute and to hold Indian forces accountable for their alleged atrocitiescommitted on the people of Kashmir



It's clear that there is anger against the Indian state when it comes to the treatment of Kashmiris. However, to assume that Pakistan's role in Kashmir cannot be questioned is also naive. In my view, there is a stronger sentiment for azadi (freedom), but the pro-Pakistan constituency in Kashmir is also an undeniable reality. It is an unpalatable truth for the Indian state.

In the absence of any empirical study, it is very difficult to assess whether the pro-Pakistan sentiment has weakened or enhanced over the years.

Kashmir bleeds every single day. Kashmir suffers every single day. Kashmir mourns every single day. Given the love Kashmiris have for Pakistan, I hope Pakistan rethinks its Kashmir policy.