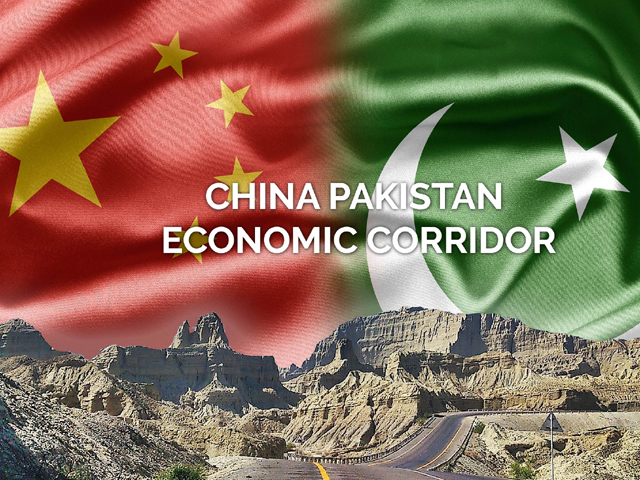 ---
Given the Pakistan-India rivalry, how pragmatic is it for IOK to be part of CPEC?
"We need to put Kashmir into the paradigm of Central Asia and South Asia, and take it beyond India-Pakistan paradigm."
---
The dominant view from Indian-held Kashmir is that the disputed region could greatly benefit from the China-Pakistan Economic Corridor (CPEC). Provided both Islamabad and New Delhi declare all parts of the erstwhile state of Jammu and Kashmir (Kashmir Valley, Ladakh, Jammu, Pakistan-administered Kashmir, Gilgit-Baltistan (G-B)) as a 'single free economic zone'.

Cutting across the ideological lines, leading stakeholders from India-held Kashmir argue that,

"Kashmir can in fact become a gateway for India to be part of the CPEC, provided there is a settlement of the dispute first."

Without a whisker of doubt, the multi-billion dollar CPEC will definitely impact the socio-political and economic landscape of a certain part of the erstwhile state of Jammu and Kashmir. Yes, G-B.

Considering India's concerns over CPEC, Pakistan's geopolitical tensions with arch-rival India are expected to grow and rise to ignite political instability in the region.

India accuses Pakistan of abetting non-state actors in order to destabilise India and try to wrest control of Kashmir. New Delhi has also raised objections over Pakistan's proposal to merge G-B as the country's fifth province while raising 'sovereignty' concerns.

On the contrary, Pakistan's contention is that India supports rebel groups in Balochistan to destabilise Pakistan. Islamabad also has an official position that the Indian-controlled part of Kashmir is its "jugular vein".

Moreover, in the wake of emerging geo-political realities in South Asia and Central Asia and also building of new alliances (China-Russia-Pakistan-Iran), the hostility between Pakistan and India, (two nuclear arch-rivals) is not going to disappear anytime soon.

It is no secret that Pakistan is getting closer to Beijing and India is inching closer to Washington; these are not minor differences.

Given India's 'sovereignty' concerns that CPEC passes through areas of G-B and also the fact that Pakistan facilitates Chinese access to the strategically-important Gwadar port, how pragmatic is it for Indian-controlled Kashmir to become part of the multi-national economic project?

Leading resistance leaders in Indian-held Jammu and Kashmir, including Syed Ali Shah Geelani and Yasin Malik, have expressed their reservations against Pakistan's proposal to merge G-B as the country's fifth province. Last year, the duo also sent letters to the Pakistani Prime Minister Nawaz Sharif in this regard. Geelani had argued that any such proposal would "impact the disputed status of the region" while Malik contented that merging G-B with Pakistan "will only help India to consolidate its writ on Indian-occupied Kashmir".

The pro-azaadi (freedom) leaders have reaffirmed their positions on this issue.

What are New Delhi's other key concerns?

Andrew Small, author of 'The China-Pakistan Axis: Asia's New Geopolitics' and a US-China expert, briefly alluded to India's anxieties at a seminar titled 'Impact of China-Pakistan Economic Corridor on Kashmir', organised in Srinagar by The Kashmir Institute on March 11th this year.


It was the first ever seminar on CPEC held in Indian-held Kashmir which was attended by noted academics, civil society actors, members of media fraternity and student community.

In his 13-minute long pre-recorded video-talk, Small said that Kashmir remains a "sensitive issue for the Indian government".

"Kashmir is a point of sensitivity for the Indian government in context of the CPEC as some of the routes are passing through Kashmiri territory. India has raised its concerns with the Chinese side, including concerns about possible military utility and impact of Pakistan's influence," he said, adding "China would like to use Pakistani ports both for the Peoples' Liberation Army and Navy."

The author further argued that CPEC has directly involved Beijing in the risks of New Delhi-Islamabad relations. He made a reference to Chinese stance after the Uri attack (September 18, 2016), urging both India and Pakistan to ease tensions in the region.

China is concerned that the acrimonious atmosphere between New Delhi and Islamabad could have an adverse impact on CPEC.

According to Small, China has made it clear to Pakistan that stable relations with both New Delhi and Kabul will be key to the success of its economic endeavour.

"There are different sets of pressures on Pakistan because of the CPEC, including Kashmiri militant groups operating in Indian-side of Kashmir and how China handles the Kashmir issue with India in bilateral relations" he said in his talk.

The author noted that New Delhi can be a beneficiary of CPEC and that the doors are open for her to join it formally.

New Delhi could be a beneficiary of transportation connections for Pakistan through Central Asia and Afghanistan, but "there is a high degree of suspicion that still exists on India's part".

"The most important impact the CPEC can have is the direct cross-border dimensions, for instance, in Kashmir they are likely to be much further off in future, and have an impact on the overall framework of India-Pakistan relations," he added.

Professor Siddiq Wahid Radhu, a leading historian and former vice chancellor of the Islamic University of Science and Technology (IUST), in his presentation at the seminar said that the people of Jammu and Kashmir have to define their interest in CPEC.


"The economy of Kashmir is closer to the economy of Kashgar than to Jammu or Lahore and Kashmir's geographical proximity is more to Central Asia than South Asia," Radhu said.

"We (Kashmiris) are on the right side of history. Globalisation is threatening the status-quo states as empires and colonial states do not want their borders to be opaque and we need to be ready for fitting in when the next collapse happens," he said while stressing that "we need to put Kashmir into the paradigm of Central Asia and South Asia, and take it beyond the India-Pakistan paradigm."

Radhu's optimism is well taken, but the question is about Kashmir's bargaining power in the current scenario when the right-wing Bharatiya Janata Party (BJP) is ruling both New Delhi and Srinagar with an iron fist under Narendra Modi.

Be that as it may, many scholars are of the view that Pakistan-China relations are inspired by their "mutual rivalry with India".

Regardless of regional and global circumstances, in Pakistan, the perception of China is of an unfaltering "all-weather friend", while for China, Pakistan is a "permanent friend".

In 1963, Pakistan and China granted each other the status of the most favoured nation.

"Besides, Pakistan has given China access to the Indian Ocean. In 1967, the ancient Silk Route between Xinjiang and Gilgit was 'reopened'. Then, in 1971, the Karakoram Highway was inaugurated. Ultimately, this route is supposed to lead to Gwadar, a Baloch deep-sea port in which the Chinese have invested $200 million and 450 personnel for its construction since 2006."

Christophe Jaffrelot, the renowned author and expert on South Asia, writes in 'Pakistan At The Crossroads'.

"The nearly 1,864-mile-long corridor (railway line) between Chinese province Kashgar and Gwadar port  in Pakistan will make things even more complicated, the highway will go through parts of one of the most unstable provinces of Pakistan, Balochistan. Guerillas have already kidnapped and killed several Chinese engineers in Gwadar", Jaffrelot opines.

According to the official website, CPEC's concept was first evolved during the Chinese premier's visit to Pakistan in May 2013 and the Action Plan was signed on July 5, 2013 during Nawaz Sharif's visit to China.

The nearly 2000-mile-long corridor is expected to shorten China's route to the Middle East by about 7,500 miles. China has invested between $46 and $54 billion on its flagship project. It will link China's Xinjiang province with Gwadar in Balochistan.

Chabahar Port in the Sistan-Balochistan province in Iran's southern coast lies outside the Persian Gulf which is easily accessed from India's western coast bypassing Pakistan.

Mubeen Ahmad Shah, former president of the Kashmir Chamber of Commerce and Industries (KCCI), in his address to the seminar over Skype from Malaysia hoped that CPEC might break the status-quo on Kashmir. Shah urged Islamabad and New Delhi to declare all parts of the erstwhile state of Jammu and Kashmir (Kashmir Valley, Ladakh, Jammu, Pakistan-administered Kashmir, G-B) as a single, free economic zone. In his view, the economic interests have the potential to resolve the Kashmir dispute.

Meanwhile, the moderate Hurriyat leader Mirwaiz Umar Farooq in an exclusive interview with the author for prominent Srinagar based weekly Kashmir Ink described CPEC as a "major development" in the region.

"Though there is a rift between China and India, I believe all countries of the region will benefit out of the CPEC in the longer run. India should not stay out of it. There is also an opportunity for India to assess the economic advantages it can have by being part of it. Kashmir can in fact become a gateway for India to be part of the CPEC, provided there is a settlement of the dispute first."

Farooq also argued that CPEC highlights the need to resolve the Kashmir dispute.

"In that context, we might see China's greater involvement in playing a role in resolving the dispute. You might also see Russia's interest in the Kashmir resolution. And if that happens, it can be a major boost, at least from our point of view. From the economic point of view, Kashmiris can also benefit from CPEC if we are made a part of it. The entire region can actually benefit from it."

Does this optimism stem from the nostalgia of hope than realpolitik?

It is a desire which may or may not be fulfilled.

In practical terms, the leadership in our part of Kashmir does not wield much influence to impact the larger framework of Pakistan-India and India-China relations.

Speaking in realistic terms, it is highly unlikely that our part of Jammu and Kashmir will reap any economic benefits whatsoever, in the immediate future, from the multi-billion dollar CPEC, as long as Islamabad and New Delhi continue moving away from each other.

With regards to CPEC, the most important question that many people in the Kashmir Valley are asking is, can the Kashmir Valley become part of CPEC involving many countries, including Russia, Pakistan and Iran?

Interestingly, Jammu and Kashmir's embattled Chief Minister Mehbooba Mufti recently described CPEC as the "gateway to Central Asia". Extending her support to CPEC, she argued that Jammu and Kashmir could become a "corridor of economic activity".

"Jammu and Kashmir could become a corridor of economic activity in the region and India could take huge benefit of the economic activities going on across the Line of Control (LoC). Why can't we be partners in the economic growth and share benefits of projects like the CPEC? Let's move beyond skirmishes," she was quoted as having said by news-gathering agency, Press Trust of India (PTI).

She said this while speaking at a seminar in New Delhi on March 15, 2017. The said seminar was also attended by governors and chief ministers of various Indian states including Chhattisgarh, Andhra Pradesh and Telangana.

Mufti passionately asked,

"Why can't Jammu and Kashmir be part of the CPEC?"

So far so good!

But, given the political uncertainty and the Pakistan-India rivalry, how pragmatic is it for Indian-held Kashmir to be part of CPEC?