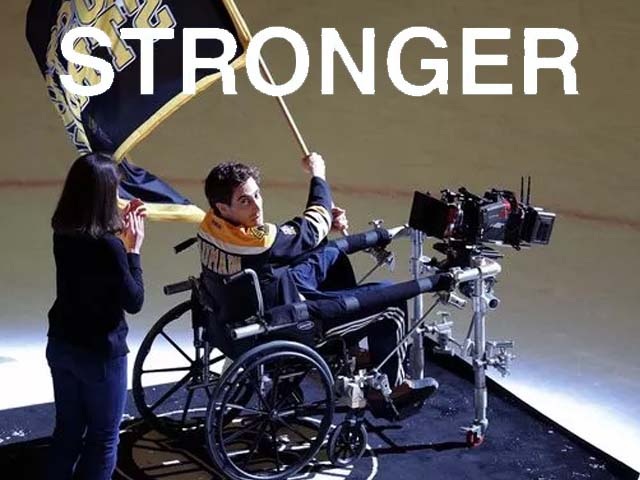 ---
Stronger: Jake Gyllenhaal gives us an insightful view of the Boston Bombings
Gyllenhaal's Stronger seems to be a true character study with a much more intimate look at two lives affected.
---
Remember those years when we as a collective used to root for Leonardo DiCaprio to win his first ever Oscar. Well guess what, we have got another cinematic bandwagon to jump on to. Ladies and gentleman, may I present to you, Jake Gyllenhaal, the powerhouse performer who after DiCaprio's academy win is now the best actor to not have earned the accolade.

Ever since his iconic portrayal of a psychologically troubled teenager in the cult classic Donnie Darko, Gyllenhaal has gone from strength to strength. Between Prisoner, Nightcrawler and Nocturnal Animals, the 36-year-old is truly at the peak of his craft. But surprisingly, he's been nominated for the Oscar on just one solitary occasion, for the neo-western romantic drama film, Brokeback Mountain, way back in 2005. The writer personally believes that Gyllenhaal deserves far many academy award nods than his singular nomination, not to mention an actual win.

But all that is seemingly about to change with his latest turn as Jeff Bauman, a true life character and a Boston Marathon Bombing survivor who lost both legs in the 2013 terrorist attacks at a sporting event in the capital of Massachusetts, where three people died and hundreds were injured. The aforementioned is all part of Stronger, based on a 2015 memoir of the same name, describing Bauman's efforts to adjust to his new life, whose trailer has just released worldwide.




When the first of the bombs were detonated in the terrible attack during the annual Marathon event, Jeff Bauman (Gyllenhaal), a 27-year-old, working-class Boston man was waiting near the finish line trying to win back his former girlfriend Erin Hurley (Tatiana Maslany). As a result, Bauman not just loses both his limbs at the knee, but also his will to live.




After regaining consciousness in the hospital, our protagonist is able to help the police identify one of the bombers, but his own battle has just begun. Bauman's role in the investigation takes a back seat in the trailer. The trailer mostly focuses on the couple's relationship leading up to the bombing and how they struggled to remain together as our hero faces despair following the incident and struggles to cope with his newfound position as a citywide celebrity and a symbol of American bravery.




Stronger comes hot on the heels of another Boston Marathon attack movie, Patriots Day, which starred Mark Wahlberg as a cop who gets involved in the manhunt to capture the terrorists behind the bombings. While that film took a more action-centric approach to a fictitious account of the true event and worked on a macro level, Gyllenhaal's Stronger seems to be a true character study with a more intimate look at just two of the numerous lives affected due to the tragedy.




Gyllenhaal, by the looks of it, is ready to deliver another master class in method acting with this emotionally devastating performance. Maslany, who you might remember from the clone drama Orphan Black, also looks to be adding to the movie's acting stakes by pulling off some incredibly powerful work during the promo.

Stronger is primed to open in theaters during the last week of September this year.
Facebook Conversations
COMMENTS
Comments are moderated and generally will be posted if they are on-topic and not abusive.
For more information, please see our Comments FAQ