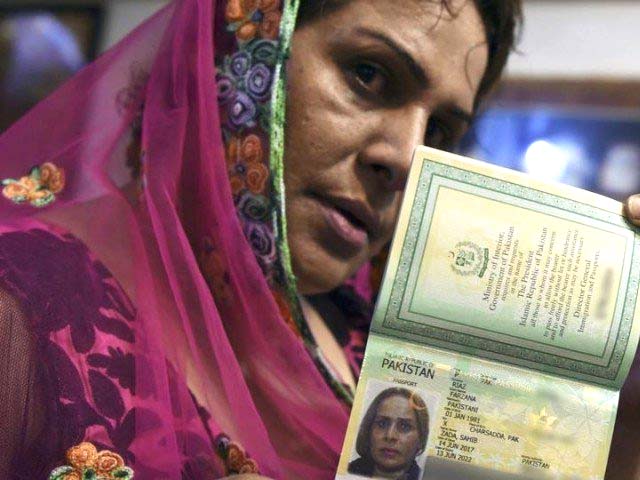 ---
Pakistan issues its first gender-neutral passport – what's that, America? You still haven't?
Pakistan is even ahead of the US, where male/female gender registration is the only available option for passports.
---
In an unprecedented move, the government of Pakistan
issued a gender-neutral passport
to a transgender activist, Farzana Jan. In an interview after receiving the passport that marks the gender as "X", Jan said,
"I am so happy to be recognised by the Directorate General of Immigration and Passports that I am a human and have a gender other than male and female."

Jan is an activist for the rights of gender minorities and a co-founder and president of an advocacy group, Trans Action Pakistan. The group works for the rights of gender non-conformists, such as eunuchs, transgenders and transvestites.

Hate crimes against gender minorities and their exploitation are common in Pakistan. Emotional, verbal, physical, and sexual abuse of transsexuals are, unfortunately, routine occurrences. In recent years, many members of the transgender community were molested, abused, abducted, tortured and even assassinated.

Crimes against the transgender community are anything but rare. Last week, on the first day of Eid, men of all ages were caught on video harassing a group of transwomen. It just goes to show the mentality of our people when it comes to accepting anyone that is inherently other – as our society breeds upon the conventional.

https://www.facebook.com/iSafeerAnsari/videos/809725302526642/

In November 2016, a video of a man beating up a transgender person in Sialkot surfaced across the internet. The apparent 'reasoning' behind this attack, according to the perpetrator, was that the transgender, Julie, refused to pay extortion money. The transgender community in Pakistan is constantly targeted, and as the educated minds of our society, we should bind together to do something about it.

https://www.facebook.com/etribunevideo/videos/1228058200588132/

Moreover, in another horrific incident, medical attention in a hospital was denied to a transgender person resulting in the loss of her life. Every minority life matters and Pakistan was supposedly created as a haven for the minorities – so why are our transgender people living in fringe towns? Why are they not allowed to live a normal life?

For that reason, the new passport regulations, giving this group legitimate status, comes as welcoming news. It also comes at a time when most of the western world is celebrating "Pride month" to advocate for the equal rights for lesbian, gay, bi-sexual, transgender and queer/questioning people.

Pakistan, in general, is a conservative country, but in recent years, it has shown many progressive strides towards the recognition of transgender rights. In 2009, the Supreme Court of Pakistan identified transsexuals as a separate identity and advised the National Data Base and Registration Authority to issue gender-neutral identity cards to these people. They finally got the right to vote and inherit property. Many transgender people then used their newly recognised status to contest in elections as a way of cementing their identity in society. There are no official statistics on the population of transsexual persons in Pakistan, but according to an estimate of Trans Action Pakistan, the population is as high as half a million. And in the on-going census, transsexuals were given a separate box for registration. In these ways, Pakistan is even ahead of the US, where male/female gender registration is the only available option for passports and official identity cards.

Many famous Sufi poets in the past have used gender variant expressions to make love and romance all inclusive. And the subcontinent has a history of giving cherished roles to khawajasaras (transgender people) in Mughal courts. They held the important job of communicating between male and female sections of the court and were treated with dignity and respect. In the last few decades, however, their role in society has been mostly limited to dancing, begging and prostitution.

Society has to learn to see gender beyond male and female. This is an over-simplification of gender and clinically wrong. Now we know that gender expression, gender identity and sexual orientation lie somewhere on a broad human spectrum. Last year, Kami Sid, a graceful transgender, modelled in a bold and beautiful, first-ever photo shoot for the public that not only broke the stereotype of transgender identity but gave a new image of acceptance and social freedom. In a recent video, Zulifkar Ali Bhutto Jr, a member of one of leading political families, talked about masculinity as a 'softness and gentle trait" contrary to the tradition of thinking about masculinity as strong. We have reached a time when there is a need for new education about feminine and masculine identities.



Gender neutral passports and identity cards are very important legal issues for the integration of transsexuals in our society. In an ideal world, there should not be any harassment and discrimination against gender minorities. We are still far from reaching that goal. We must learn to respect people regardless of their gender and to be kind to all gender non-conformists in an all inclusive society.