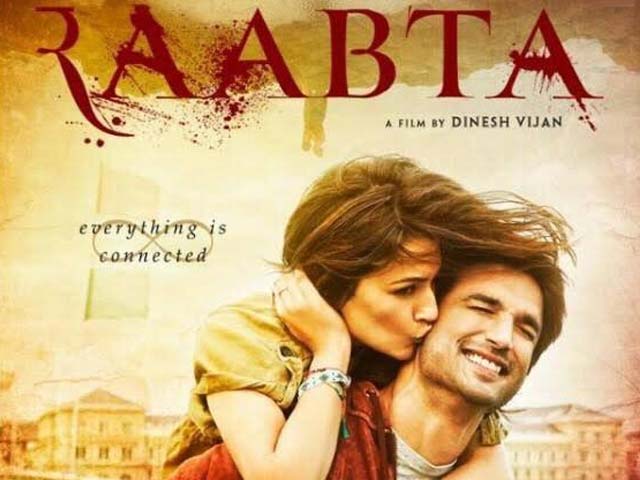 ---
Raabta fails to connect with viewers with its nauseatingly bad 'been there, done that' story
What's the deal with B-town and its clichéd obsession with faux-modernity, where having pre-marital sex is the be-all?
---
It is extremely amusing when movies have ridiculously high levels of disconnection with the audience, especially when its title and tagline state the opposite.

Raabta, the latest punar-janam (rebirth) absurdity to come out of Bollywood, is so shamelessly dedicated to its primary theme of reincarnation that it doesn't even mind taking elements already used in a vast number of movies to fill its 150-minute long run time.


It has an uncanny similarity to the absurd concoction of Befikre, Before Sunrise and Before Sunset (in reference to a fledgling romance in an exotic European locale). From the opening parts right down to the cringe-worthy climax ripped off from Titanic, and a weird combination of Mirzya and Game of Thrones thrown in the middle for good measure, Raabta is a tenuously tiresome déjà vu ride throughout.




Raabta kicks off with this entire connection farce in the scenic Budapest with Shiv (Sushant Singh Rajput), a quintessential philandering B-town lead guy in a foreign country. Our hero might be a banker, but all we see him do is party and chase women. It is here that Shiv happens to stumble upon Saira (Kriti Sanon), a chocolatier, while he is on a date with another girl. Now, this promiscuous behaviour isn't just restricted to our male protagonist because our lead lady isn't a goody two-shoes either, despite what the director wants us to believe.

Shiv stalks Saira, and since she is a chronic infidel, she allows him to complete the swift wooing process by sleeping with Sushant's character in 48 hours flat, even though she's been in a steady relationship for two years. A special shout-out to Bollywood logic which abides by the notion that incessant stalking is the best way to make a girl fall for you.

Let's dive back to Saira's unfaithfulness; she ditches her boyfriend to hook up with our male lead and then proceeds to date Zakir (Jim Sarbh), an eccentric liquor baron. But that is not before she cheats (again) on Zakir to get back with Shiv.

A comet called Love Joy and a strange soothsayer also make an appearance in the film. Our female protagonist is abducted by Zakir, and through dreams and prophecies, it is revealed that her promiscuity transcends time and centuries. It turns out that Saira had left a warrior to be with another; Zack and Shiv in their primeval avatar respectively.




Now the filmmakers tried to paint all of her cheating tendencies on display as part of the reincarnation mumbo-jumbo, but it might be a lot easier to admit that Saira just wasn't into polygamy.

On its surface, Raabta is technically a sound production. It looks fantastically glossy, but where it fails miserably is the writing. The excruciatingly long saga might be eye-candy, but balancing the narrative which deals with a twisted love troika spanning two lifetimes is a cinematic bridge too far for the filmmakers.

And what's the deal with B-town and its clichéd obsession with faux-modernity in contemporary romantic flicks, where having pre-marital sex is the be-all and end-all of their celluloid liberalism?




Rajput is an average actor, but he lacks the suavity and charisma to make the casanova Shiv lovable. Sanon, on the other hand, is saddled with a poorly written character which at best is pity worthy, and at worst is revoltingly immoral. The antagonist Sarbh is guilty of the cardinal sin when it comes to playing a negative character. He is barely being menacing and often unintentionally hilarious.

Raabta's music, while better than average, is as recycled as the screenplay with the two tracks worth mentioning here, 'Main Tera Boyfriend' and 'Raabta' both being a rehash of already popular songs.



Dinesh Vijan, the director, ventured out to tell a 'love never dies' tale, but all he managed to do was come up with a nauseatingly bad case of 'been there, done that'. He wanted Raabta to be a rom-com with a twist, but all it came across as was a twisted rom-com.

All photos: Facebook
Facebook Conversations
COMMENTS
Comments are moderated and generally will be posted if they are on-topic and not abusive.
For more information, please see our Comments FAQ