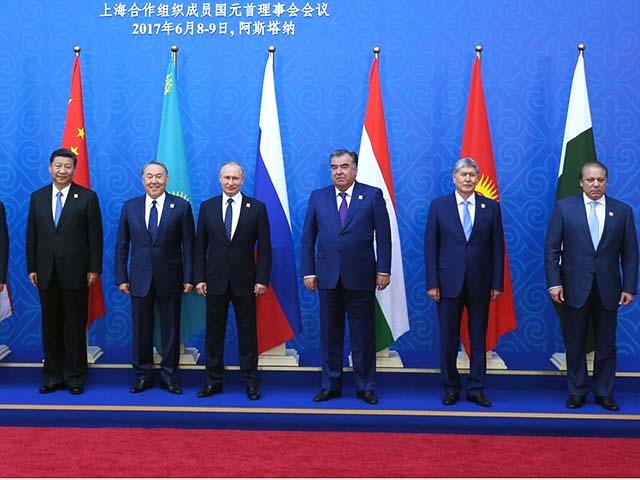 ---
Will Pakistan and India's induction in the SCO help improve their bilateral relations?
Having all three of these countries in the SCO will force them to behave and not go blocking each other's water supply
---
Pakistan had been eyeing a spot on the Shanghai Cooperation Organisation (SCO) bench ever since its inception. The SCO has always been touted as the Eurasian version of the North Atlantic Treaty Organisation (NATO) minus the allied army, intercontinental missile shields and funding. Still, a seat on the SCO council would mean getting into an agenda pushing position with two regional powers, China and Russia.

After remaining an official observer for the past many years, Pakistan was recently officially inducted into the SCO as a full member. China made a major push for the inclusion of Pakistan despite some reservations of Pakistan's alleged ties to terrorism. The kicker has been that India has been added to the SCO along with Pakistan.

The reason the SCO chose to include both of them together are quite a few in number.

There was a strong push by Russia to most likely include India as a counter to China's push for Pakistan. Pakistan is an unabashed supporter of China and Russia needed a counter balance. China is expected to push its agenda for the $5 trillion One Belt One Road (OBOR) initiative of which Pakistan is a major beneficiary through the China-Pakistan Economic Corridor (CPEC).

Russia has its own version of this corridor called the International North-South Transport Corridor (INSTC). This corridor primarily connects India, Iran, Azerbaijan and Russia. Though it is not in an as advanced stage as OBOR, given the resource crunch that Russia has had to endure in the past few years, it makes sense to have Russia and India pushing it in the SCO.

Of late, there has been a concern around the growing presence of the Islamic State (IS) in the region. While Pakistan may have the tactical chops to deal with the IS, it now has the regional approval and oversight for any operation needed to rout them out. Again, India has been added as an overseer of this, given that they keep lamenting Pakistan's involvement in terrorism against India. India now has the ability to monitor Pakistan's anti-terrorism approach in the region.

Historically, Pakistan does not bring any of its issues with India up in regional forums such as the South Asian Association for Regional Cooperation (SAARC) and the United Nations (UN).

Inclusion in the SCO means that both India and Pakistan will be encouraged to improve their bilateral relations since SCO member countries need to show a united front, including military might. Donning blue helmets and serving under UN forces in far flung countries is one thing, conducting joint military exercises is entirely another. On the flip side, the SCO may just get more political and Pakistan and India might create an air of distrust if they don't embrace the SCO for what it is.

In the recent freezing of Pakistan-India ties, India made constant threats of blocking the water supply to Pakistan. This would have gone against the decades-old Indus Water Treaty which governs rivers that flow through India into Pakistan. As a counter, China flexed its muscles and threatened to block the Brahmaputra tributary flowing into India. Having all three of these countries in the SCO will force them to behave and not go off blocking each other's water supply.

In general, it may not make much of a difference to the status-quo. Pakistan will continue to be backed by China as is. China may just gain an additional vote amongst official members. Russia will continue to play all sides and maintain its support for India while remaining cordial with Pakistan. India will continue to make overt claims of Pakistan's support of terrorism and seek to isolate it. Pakistan will continue to rely on China to change its fortunes. The general mistrust will remain between India and Pakistan and they won't hold any joint military exercises.

The benefit will be that Pakistan now has a seat at the table in a major regional organisation. It will have the opportunity to push its narrative further with countries other than China. The Pakistani government needs to seize this opportunity and design an action framework for dealing with all members involved. Secondly, Afghanistan and Iran may be less aggressive towards Pakistan now that it is a full SCO member. They will need Pakistan's support if they ever want a full membership in the SCO.

All in all, this is good progress. SCO is well regarded in the Eurasian region and has the highest diplomats engaged in its running. However, it remains to be seen how well Pakistan plays it out.