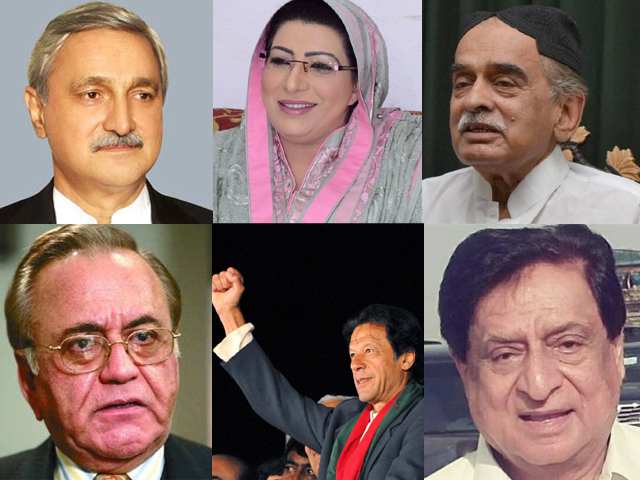 ---
With no tabdeeli in sight and given the recent recruits, I no longer support PTI or the "great" Imran Khan
Criminals are creeping up into PTI's ranks and Imran is no longer the man needed to bring about the required change.
---
A couple of days ago, I caught sight of a headline which shook me to the core of my political conscience. What struck me was the hypocrisy it carefully concealed and the pretentious outlook it rendered. It read that,
"Former Sher-e-Punjab Ghulam Mustafa Khar joins PTI."



Attached with it was a photo with a glowering Imran Khan, sitting across Khar on his magnificent couch.


https://www.facebook.com/ImranKhanOfficial/posts/1887567094619035

Up until a couple of months ago, I used to identify myself as a Pakistan Tehreek-e-Insaf (PTI) supporter and much to the resistance of a lot of people around me, I continued to support the party on conditional grounds. I believe support does not come free, as with it comes a filter of sensibilities. And I am glad I fall under the category of not being blinded by hero worship or the oh-so-charismatic Imran, as many around me unfortunately are.

At its conception, PTI was founded upon the basis of justice, humanity and self-esteem, of questioning and reprimanding the status-quo, and youth and merit. It made people believe that a utopian society was within their reach. But for a while now, Imran has strayed from his prior vows. I remember clearly the massive 

jalsa

 at Minar-e-Pakistan, where Imran promised to break the status-quo and bring about change in our society, or what he aptly called tabdeeli (change). That tabdeeli was meant to be based upon principles and merit, justice and equality but over the years, the concept has eroded.

And so it became the Khars, the Tareens, the Qureshis, the Kasuris, the Jatois, the Chaudhrys and the list goes on. The status-quo that he was out to challenge, slowly and gradually integrated into his organisation, to such an extent that they started dissuading him from his commitments, his goals and secretly altered his mission.

At first, it was credible people such as Shah Mehmood Qureshi and Javed Hashmi, who at least displayed a modicum of sense and diplomacy, but very soon, every other regional political leader with a sustainable vote bank became an entrant into the party of so-called change.

From Liaquat Ali Jatoi to Khar, Firdous Ashiq Awan to Chaudhry Akhlaq, all of them are vehement supporters of the status-quo. In their lands and tracts of influence, they continue to wreak havoc upon the lives of people labouring under them and yet, they form the hierarchy of the party that once claimed to represent the weak in society.

While there is no doubt in my mind, or perhaps in a lot of minds who once supported  PTI, that Imran is loyal to his country, it is to my disappointment that he is no longer the man needed to bring about the required change.

Fishing for electables like bait in the sea is just another virtue that was criticised by him, not once or twice, but multiple times. And he persists in pointing fingers at parties that were virtually formed upon the Changa Manga politics of horse trading, yet refuses to look within his own ranks.

If this state of affairs continues, one can only wonder how long the chants of naya (new) Pakistan, tabdeeli and the resurrection of hope will manage to sustain themselves; for the people of Pakistan are no longer the cattle they once were. They are now far more knowledgeable, politically informed and courageous in making gallant decisions and deception, specifically from PTI, is intolerable for many.

Khar is not a new name to politics. He's been a household name for decades now, and while I can at least digest others' (who I blame for PTI's decline by the way) inclusion into the party, Khar is one name I cannot take without cringing. Perhaps, my bias is galvanised partly by Tehmina Durrani's 'My Feudal Lord' and otherwise, through private conversations I've had with members from his family.

To me, personal life is not to be displayed in public and it is unethical, but he is a man who betrayed Zulfikar Ali Bhutto, the man who made him the household name he is, the man who gave him confidence, resources and the opportunity to excel in politics. If he could not remain loyal to the man he called his 'spiritual father', how can I believe he will stay true to Imran, who he detested until a few years ago?

I don't buy any of it and sincerely hope that Imran sees some sense very soon. Criminals are creeping up into his party's ranks and he must steer clear of them and build back the organisation of hopes, dreams, and idealism that he once promised us all.