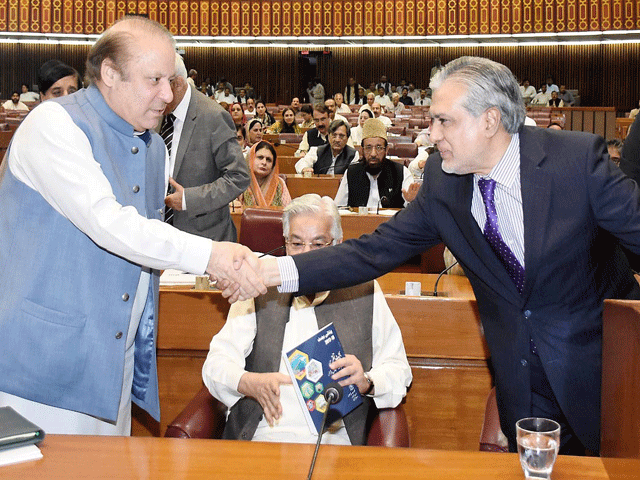 ---
Budget 2017-2018: Is Pakistan really on the upward trajectory?
The year over year growth, while lower than the target, is still the best growth rate the country has seen in a decade
---
With much fanfare and hoopla, Ishaq Dar and company announced the annual budget for the nation this past Friday. It was budget as usual, delivered with haughty claims of turnarounds and opportunities within reach. Even before the budget had been announced, the Ministry of Finance had been subliminally pushing figures into the media to soften any surprises.

While Pakistan missed its growth target of 5.7% from last year, it still achieved a growth of around 5.3%. This puts the country in the company of companies that are over $300 billion dollars in size.  The year over year (YoY) growth, while lower than the target, is still the best growth rate the country has seen in a decade. A lot of this growth came on the back of an 'as expected' performance from the agriculture sector of 3.5% and a 'better than expected' growth of the services sector at 6%.

As expected, provisions for the military went up by 7% to Rs920 billion. On the face of it, however, it makes sense to spend on defence. There is a jingoistic government in India, a shifty president in Afghanistan, Americans questioning the coalition support funding to Pakistan, an internal push against militants and the provision of security to China-Pakistan Economic Corridor (CPEC)  projects.




It could be argued that military funding in some ways gets pushed back to the people through a military support of exercises such as the national census and re-establishing areas cleared of militants. There is, however, nothing on paper stating how much that happens and we can only conjecture. We do have hard figures on how the health sector in Pakistan is woefully underfunded when compared even to Afghanistan. Or that military funding is more than 10 times the money allotted for education. Even the so-called development budget (for example, roads, railways) at more than one trillion is more than 10 times that of education. It just shows the government's pragmatism in the matter on which they choose to fund.

I believe that as important as an annual budgeting exercise is, Pakistan must get more innovative with how it arrives at its numbers. The current budget simply lists out the growth expectations, line item expenses and vague plans. There is little accountability about how the money was spent last year.

For example, for multiple years, the residents of Islamabad suffered greatly due to the on-going construction of the Kashmir Highway. When the highway was finally built, they took a collective sigh of relief and started using the highway regularly. Then, just last month, they woke up to see bull dozers and workers digging up the highway again in the name of the Metro Bus extension. For starters, why was the government tearing apart a highway it has just built? Second, where was the money coming from? Low and behold, the current budget lists Rs8.42 billion for this. Ironically, the government started a project two months before it actually budgeted for it. Go figure.

If we focus on the education sector budget that is Rs90.5 billion, as low as it is, another fact jumps out. Most of the allocation, about 75%, is set to be spent of tertiary education. This includes the Higher Education Commission, Fulbright funding support, scholarships and university research support programs. There is nothing about the number of schools the government will set up, how it will monitor their progress or how they will create opportunities for secondary school students to take advantage of government spending on higher education. Perhaps setting up the University of Gwadar makes strategic sense, but establishing a science and technology park at an already well-reputed university is money that could have been spent on developing the education infrastructure of the country.

As much as I appreciate the details in the current budget, there may have been a way to present the same numbers and expectations without the country collectively rolling their eyes. I believe the budget presents an opportunity to become a macro-economic policy document as opposed to a colourful brochure listing out facts and figures about the economy:

1. Budgetary proceedings need to be open to discussion and/or opinions from an informed electorate that may comprise of bankers and economists outside the government. Perhaps even setup and office similar to the Congressional Budget Office in Washington, DC that is non-partisan and can question proponents of the budget and/or advocate for changes within it.

2. The government needs to stop relying so heavily on tax collections. I have been hearing about Pakistan's low tax collections since I was born. There has to be another way to generate money. Increasing the tax bracket remains an exercise in progress and keeps breaking the back of salaried employees.




3. Pakistan is an agricultural country. Our farming methods remain out dated and archaic. It isn't enough to provide hybrid canola seeds or farming subsidies. How we farm, how we sell produce, what we grow, how we distribute subsidies – all of it needs to improve.

4. The textile industry has been cribbing about losses for some years. It's not just lack of power but also a high tax rate and poor facilities.

5. The health sector should be funded based on its needs, not its perceived utility. An out of control surge in population and distribution of doctors needs to be addressed and pondered over. Looking at the enormity of the problems in this sector and the miniscule budget allocated to it just means that they have a very weak lobby.

6. The education budget needs to be divided based on a solid education policy with allocation across various education levels. Similar to corporations, there should also be tracking and transparency provisions how this money is spent and how the students move through the system across all levels.

7. CPEC is not the answer to all our problems. It must be treated only as one component in the path to success. Over reliance may just bring disappointment and debt payments.

8. While the military budget should also be under the lens but that is just not possible in Pakistan, so I will let that slide.

9. It may also be helpful if we made budgeting a quarterly exercise with key performance indicators for each sector. It would give a holistic picture of the economy at the end of the year as well enforce accountability.

In the end, Pakistan is certainly not going down. It is on the upward trajectory that is getting better by the passing day. It is still hampered by debilitating bureaucracy, weak institutions and middling policies. The biggest hurdle is transparency. Until and unless the government makes itself accountable to the people, there is little chance that it will achieve anything.
Facebook Conversations
COMMENTS (16)
Comments are moderated and generally will be posted if they are on-topic and not abusive.
For more information, please see our Comments FAQ