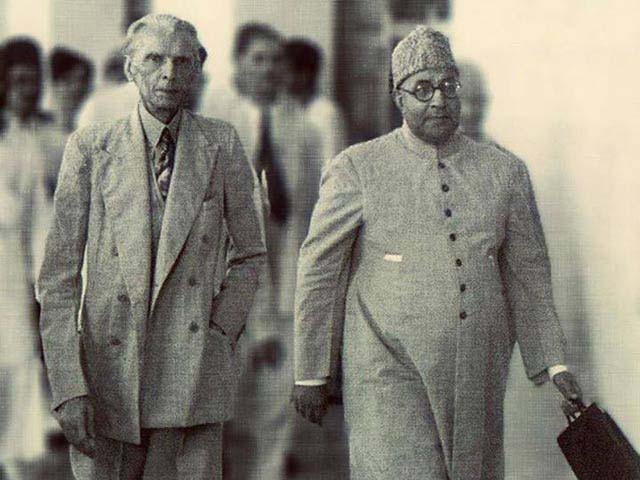 ---
Our greatest sin: Letting our founder die in vain
Under the present circumstances, there are two political forces that continue to haunt us, Sharif and Zardari
---
The shape taken by Pakistani politics over the past few decades serves as an indication of the coming times. I have no qualms about the fact that the young heirs of the political families, currently in the phase of growth, will be the ones forming the government in the future.

Quaid-e-Azam Muhammad Ali Jinnah and Liaquat Ali Khan were among the most prominent politicians of their time but they cannot be viewed in the same light as the conventional Pakistani politicians. Even comparing them to their successors or the present day political elites makes them sound like a species of some kind that did not belong to this country, simply because their politics revolved around refining the future of the people, not taking it away.

Jinnah elevated the status of law as a profession. His practice didn't merely represent his knowledge because he had mastered it as an art in and of itself, clearly reflecting the virtue of character of a great personality. Both Jinnah and Liaquat had their sights set upon a great objective that they both wanted to achieve, perhaps even greater than the establishment of Pakistan. Unfortunately, none of them were granted enough time to be able to achieve something beyond the creation of Pakistan.

After the passing of Jinnah and then Liaquat, neither were the local politicians capable for such leadership nor were we fateful enough to be led by selfless leaders ever again. Maybe if we deserved it, we would have gotten more time with the great Jinnah.

A popular belief prevails regarding the death of Jinnah that he was the victim of a conspiracy leading up to his death, but that's simply not the case. Jinnah was rather a victim of us being inept as a nation, which is evident from the fact that even today, some 70 years later, if a gravely ill person is sent to Quetta for treatment, any expectations of satisfactory medical care will be futile.

Tragically, the very person who made this country was barred access to the latest medical facilities of that time. The same was true for air travel. There was no aircraft available to transport the feeble Jinnah from Karachi to Quetta.

To top it all off, the car assigned to take Jinnah from the airport to Governor General House, broke down on the way. It pains me to imagine what a sick old Jinnah who was already fading at the hands of tuberculosis may have gone through under the scorching hot weather of Karachi. The emergency responders from the Governor General House weren't even qualified enough to give quality care to a dying man or try to save his life.

Thus, on his way to his destination, Jinnah's weakness got the best of him and he took his last breaths owing to the disregard of a depraved nation that took its founder for granted. I think it was the first indication of our misfortune and the troubled times to come. Soon after, Liaquat was assassinated, while Fatima Jinnah – dubbed as our last hope, died in mysterious circumstances as well.

The question is how could a nation that was orphaned so soon after its birth possibly win the race towards progress and development?

After Jinnah, the leadership that took over consisted of feudal landlords, sardars and military rulers. We got the kind of political competence that a nation can possibly get from people belonging to these classes. Maybe we would have transformed into a developed and organised nation, if we hadn't treated our founding father in such an appalling manner.

As far as the resources bestowed by mother nature were concerned, we had plenty, but we didn't make good use of even one.

Along the lines of history, we may have had a chance in the form of Zulfikar Ali Bhutto, but the peak of misfortune is that we hanged him ourselves. Post-Bhutto, our political landscape was enveloped by darkness after it was bereft of good people and the resultant drought continues till today, with no ray of hope in sight.

Under the present circumstances, there are two political forces that continue to haunt us, one of them is Nawaz Sharif and the other is Asif Ali Zardari. The former has lost all credibility to his crave for wealth that materialised into the Panama scandal, while the latter has had a career rife with corruption scandals ever since he began. Any new political gentry that rises in the future will do so under the shadow of either of these politicians and it doesn't take a genius to figure what it will turn out to be.

In Pakistan, no lucrative sector or business has been able to stay out of the reach of our politicians. Their approach can be different but their goal remains the same – accumulation of wealth through governance. Their politics only serve as means to an end, that is, to plunder as much as they possibly can, before they go out of the picture.

Both Sharif and Zardari seem intent on choosing their children as their political successors instead of making that decision on merit. However, wealth collected by depriving the underprivileged and taking food off their plates has never benefited anyone.

The rural classes that form the majority will keep voting based on caste and family heritage, chanting emotional slogans while refusing to break their chains and get out of this mental enslavement. They will remain restrained to their ignorance. We, the educated class, will keep suffering and no matter who we vote for, the result will remain the same. Nations that show ungratefulness to the ones they owe the most, suffer in the long run. We let our founder die in vain, is it not our greatest sin as a nation?

We have been deprived of a visionary leadership that can help us out of this crisis. It is due to karma that we have ended up in this position, and the fact that our country is led by a group of self-cantered political families.
Facebook Conversations
COMMENTS (8)
Comments are moderated and generally will be posted if they are on-topic and not abusive.
For more information, please see our Comments FAQ