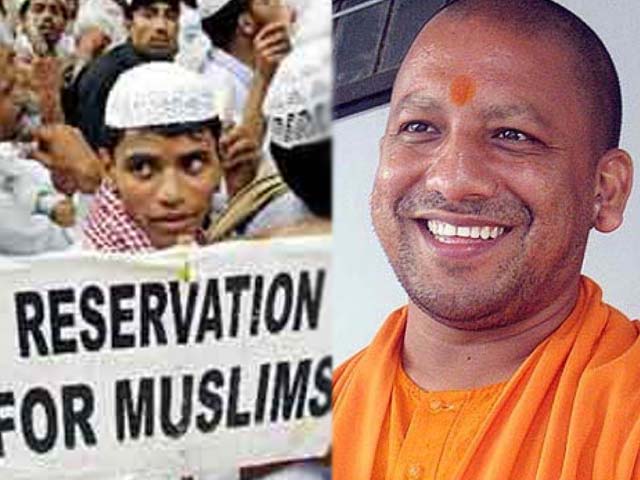 ---
Why Yogi Adityanath's decision to prune official holidays should be applauded
It is insinuated that including Eid Miladun Nabi and Jumaatul Wida in the list is a communal move directed at Muslims.
---
One of the most contentious political appointments in India in recent times has been the elevation of Yogi Adityanath as the chief minister of Uttar Pradesh (UP), the country's most populous and politically significant state.

After the Bharatiya Janata Party's (BJP) emphatic victory in the recent assembly elections, there was prolonged suspense over who would ultimately get the coveted position. There were a number of strong candidates, and though Adityanath's name was in the fray, he certainly was not the front-runner. The announcement therefore took a lot of people completely by surprise.

Surprise would actually be a bit of an understatement given the kind of reactions that came from various quarters. There was fear, loathing, derision, and shock. Even amongst BJP supporters, many felt disappointed. The man, after all, had an image. With over two decades in public life, he had a reputation for being an "ultra-right wing Hindu leader". The fact that he was a practicing monk, always clad in saffron robes, added to the perception. Over the years, many divisive and militant statements had also been attributed to him.

On the other hand, over the years, he had also come to be known as a strong administrator and a strict disciplinarian. His constituency in Gorakhpur has a significant Muslim population and has enjoyed relative communal harmony. Above all, he was believed to be incorruptible. As a monk, he renounced all worldly ties and dedicated his life to public service. However, his Hindu identity and roots were very obvious.

He was, thus, the antithesis of the state's outgoing Samajwadi Party, which was notoriously caste-ist and was seen as pandering to Muslims. UP has been wracked by corruption, violence, crime, and poverty. Successive state governments have been more intent on nurturing their vote banks and have allowed development to flounder. The massive mandate that the BJP received in 2017 was clearly a repudiation of identity politics and appeasement. The people were yearning for development and good governance, and that's what the BJP promised.

It was, therefore, unexpected that someone as divisive as Adityanath would be made the CM. One of the things about strong democracies is that power brings moderation, and that is exactly what happened with Adityanath.

The moment he came to power, he sought to assuage the concerns of minorities and his opponents. His statements and pronouncements were markedly inclusive. Of course, there were some controversial decisions like the anti-Romeo squads and the closure of illegal abattoirs, which were perceived by some as targeting Muslims. However, these moves were motivated by a need to enforce the rule of law rather than out of vindictiveness.

It was almost amusing to watch the outrage over the closure of "illegal" abattoirs. If something is illegal, it should not be functioning in the first place. Animal slaughter produces a lot of biological waste, and if not treated properly, it can cause major health problems in the surrounding areas. It is a testimony to the ineptitude and carelessness of the previous government that a large part of the meat industry was served by unlicensed and illegal establishments.

Similarly, UP had a huge problem with sexual harassment and crimes against women. In this climate, it was essential to instil the fear of the law. It's instructive to note that the initial noise over these decisions, created by vested interests, has now subsided.

There were some instances where innocent people were being targeted under the guise of these initiatives, but yet again, Adityanath moved swiftly to curtail any abuse of his policies. Adityanath has gone about revitalising the state's administrative machinery with missionary zeal. One after the other, he has introduced measures that have breathed new life into the moribund system.

He's a workaholic and a tough taskmaster. Bureaucrats are being held accountable and honest officials are being given a free hand to run their departments. English is being reintroduced for the lower grades in school so that children get exposure from a younger age. He has stressed on the need for clean government offices and has led this initiative from the front. He's stripped his official residence off all creature comforts, which is yet another departure from how politicians in India usually live. A deep cleansing is underway in UP.

Another major distortion that Adityanath is trying to address is the extravagance of public holidays. UP has over 40 government holidays, which is twice as much as anywhere else in the country. This surely is a drag on efficiency and productivity and therefore the number had to be pruned. How can any work get done if there are so many holidays? Add weekends and personal holidays to this equation and it becomes clear that government offices are closed almost more often than they are open. His recent decision on removing 15 holidays from the official list is therefore laudable.

Some detractors are highlighting the inclusion of Eid Miladun Nabi and Jumaatul Wida in this list and are insinuating that it is a communal move directed at Muslims. However, they need to understand the fact that the remaining 13 holidays being discontinued are non-Muslim occasions. Some of the holidays being scrapped include Chhath Puja, Maharaja Agrasen Jayanti, Maharishi Valmiki Jayanti, Vishwakarma Puja, Maharana Pratap Jayanti, and Parshuram Jayanti, all of which hold great significance for various Hindu groups. This pruning is fairly comprehensive and is directed at making the state more efficient and competitive, not to mention improving its work ethic.

There is a lot of optimism surrounding UP and Adityanath today. He's picking up the broken pieces of a once glorious state that was done in by bad politics. It is important for this momentum to not get derailed by issues of communalism and social divisions. He's made a strong start and must not lose focus in order to usher in a new era of transformation.