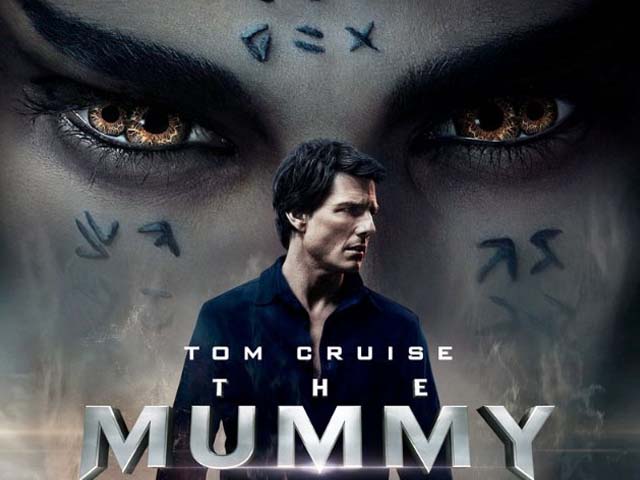 ---
The Mummy: Tom Cruise and Russel Crowe, what more do we need?
First thing's first, we've got a youthful looking Cruise and The Mummy to look forward to.
---
Well guess what? As sure as night follows day, we have got another movie where Tom Cruise is seen doing what he does best. He is literally 'off to the races' again in the reboot of Brendan Fraser's action-adventure hit The Mummy.

So what exactly is Tommy boy bringing to the table – other than running around like an absolute maniac – this time around? How about we delve deep into the preview material to find that out.




Set to the tune of the Rolling Stones' 'Paint It Black', the trailer flashes back to how an ancient Egyptian princess (Sofia Boutella) – who was a little too ambitious for her own good – begins to use dark magic, and as a result is punished by being buried alive in a tomb deep beneath the sands. Cruise's character Nick Morton unearths the entombed princess from her crypt and consequently has to deal with all her resurrected malevolence that was building over the years she spent lying in a grave.


With the plot out of the way now, the only issue that is left to be dealt with is how in God's name a 54-year-old could try to manage to look like he is fresh out of his tweens. I don't care how Cruise does it, but this is seriously spooking me out. I mean pulling out the kind of stunts that he does during the trailer; this guy is a freak of nature.




You know what else is bizarre?  The fact that every big studio is now coming up with a shared cinematic universe of their own. In recent times alone we have had the 'Marvel Cinematic Universe', a world where Captain America, Iron Man and the gang coexists. Their direct rivals, DC comics were not going take this lying down so they came up with their own version of a cohabited world: one where Superman and Batman shared the 'DC Extended Universe'. We also have this connected world of King Kong and Godzilla: the 'MonsterVerse'plus the entire 'Lego World'. The common universe trend is undoubtedly the rage these days.

But you know what? This shared verse mania is not just a modern day fad. Universal Studios had it all figured out as early as the 1920s when starting with The Hunchback of Notre Dame, they released a string of horror movies – including Dracula, Frankenstein, The Wolf Man etc – under the umbrella of 'Universal Monsters'. So it is only appropriate if the original inventor of this whole common universe craze revert to their roots. With the re-imagining of The Mummy from 1999 – itself based on the 1932 Universal Picture's horror classic – the studio just precisely did that.

Another heavy hitter joining the cast is Russell Crowe who is playing some sort of a monster scholar. Considering this is Monster's Universe territory, it is no surprise that his character just so happens to be reminiscent of Dr Jekyll.




The inclusion of the aforementioned duo alone in the movie is worth the price of admission but the trailer also manages to pull you in with some nifty Computer Generated Imagery (CGI) and mind-blowing action sequences. The girls in this universe are also pretty to look at, just so you know.

Other characters set to potentially appear in this particular cinematic universe include Johnny Depp who is already on board for The Invisible Man while Javier Bardem is slated to play a part in a future reincarnation of the Frankenstein.

But first thing's first, we've got a youthful looking Cruise and The Mummy to look forward to.

The Mummy hits the theatres June 9, 2017.