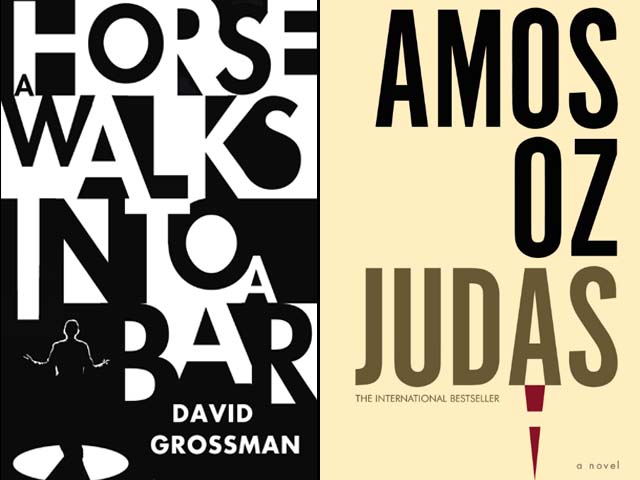 ---
'A Horse Walks into a Bar' and 'Judas': Two riveting masterpieces from Israel to the world
Both these novels are extremely different and are undeniably the works of two masters at the top of their game.
---
'A Horse Walks into a Bar' by David Grossman


Dov Greenstein, the stand-up comedian at the centre of David Grossman's quirky and ravishing new novel 'A Horse Walks into a Bar' confesses:

"It's a pretty pathetic form of entertainment, let's be honest."

But whether his jokes are drab or stirring, whacky or offensive, this book, as austere as it is hilarious, never loses sight of the earnestness of its authors undulating vision and ambition even while casually masquerading as a comic novel.

Spanning a single evening and set in a chic nightclub in Netanya, a small town in Israel, the novel tells the story of the stand-up comedian Greenstein. The narrator of the novel is Avishai Lazar, a childhood friend of Greenstein. Lazar is a recently retired district court judge and a widower, who after having lost contact with Greenstein when he was nine, has recently caught up with him again and has been invited to visit the club one night.

Lazar watches Greenstein embark with a stilted patter but soon the room becomes dense with his slapdash vitriol, his jokes spare no one, neither the Jews nor the Arabs, the rich or the poor, even insulting the town itself. Surface hilarity gives way to crude humour. The more macabre his humour becomes, the more perturbed and disconcerted the audience as well as the reader gets. Soon, both the audience and the reader find out that his comic show is as much an act of mirth as it is of self-deprecation, interrogation and confession. On stage, he appears to be as Lazar remarks,

"A little rodent gnawing on himself."

Yet none can stop his crass polemic from pouring over the rather unsettled audience.

Much like the brash protagonist of the book, Grossman, who is obviously a literary genius, refuses to flatter or comfort. However, despite little surface level consolation, the book is surprisingly suffused with as much warmth and compassion as it is with wit and drollness. Over the span of its mere 194 pages, Grossman taps again and again into the agile complexity of human life, and in doing so, he allows the solemn brilliance of his work to save us from its unsparing rage.

'Judas' by Amos Oz




While 'A Horse Walks into a Bar' takes us into the mind of an idiosyncratic man psychologically damaged by the society, 'Judas' by Amos Oz explores the mental hullabaloo of a renegade apostle.

Oz, much like Grossman, is one of his country's foremost novelists, a literary alchemist who takes brazen risks in novel after novel, and every one of them pays off. Although his latest work 'Judas', his 17th novel to be translated into English, is not on par with his earlier masterpieces such as 'A Tale of Love and Darkness', it does little, however, to damage his chances of being his country's, along with Grossman,  most serious candidate for the Nobel Prize in literature.

Set in Oz's native Jerusalem, Judas tells the story of a heartbroken and financially strained student who after running into muddle with his research, drops out of university in the winter of 1959. In Shmuel, Oz paints a fully-fledged and sympathetic character, giving as many details of his physical demeanour as he does of his mental and moral quagmire. Abandoning his education, he takes up employment as an in-home aid to an old, debilitated man, Gershom Wald.

Incapacitated as he is, Wald's need for arguments is insatiable, lighting up the desolate interior of the house with rambunctious chatter. Another person sharing the household is Atalia Abravanel, an aging yet suave puzzle of a woman, who as it turns out, is Wald's daughter-in-law. In Atalia, Shmuel sees the glue that will hold his life together, inevitably falling in love with her. At the same time, his passion for studies is rekindled, pushing him to explore the place of Jesus in Jewish faith, which ineluctably leads him into the exploration of the murky and dubious character of Judas.

In 'Judas', Oz's exploration of love and betrayal is both moving and thought provoking. It's a symphonic novel that stitches despair and hope, to create a stunning tapestry of his character's inner and outer lives, lives that are as fragile as a chrysalis and yet remain forever adamant against the misery of the modern world.

Both these novels, 'A Horse Walks into a Bar' and 'Judas', are extremely different and are undeniably the works of two masters at the top of their game. Both have been exquisitely translated into resonant and crystalline English prose; the former by Jessica Cohen and the latter by Nicholas de Lange.

Last week, both these books were revealed as finalists for the prestigious Man Booker International Prize, one of the most prestigious, albeit relatively new, book awards for translated fiction. Either of these two writers could win, deservedly so. But while Oz's melancholic and moving portrait of love and loss will deeply resonate with many, in the face of current global socio-politico despondency, Grossman's tender and comical portrait of man and a society falling, and rising again against all odds, will triumph.
Facebook Conversations
COMMENTS (1)
Comments are moderated and generally will be posted if they are on-topic and not abusive.
For more information, please see our Comments FAQ