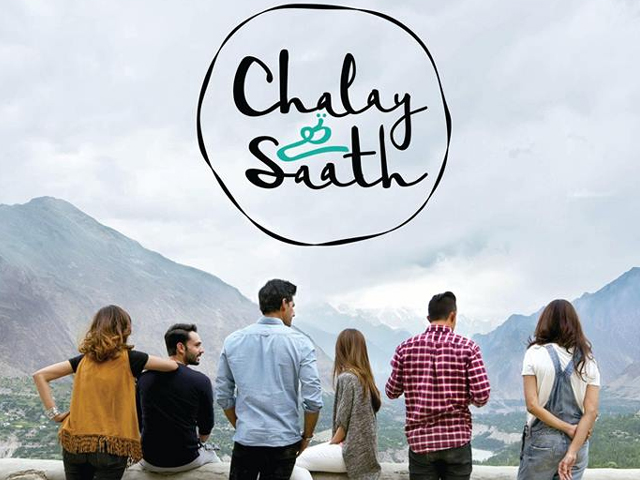 ---
With no star power, Chalay Thay Saath is one bumpy ride
Chalay Thay Saath is beautifully shot, but when it comes to viewing it as an actual movie, it lacks in a lot of areas.
---
Pakistani directors and producers often misunderstand the movement to revive Pakistani cinema. This year has seen numerous below average movies, thus questioning the merit and authenticity of the command in filmmaking; movies like Thora Jee Le, Whistle and Raasta. Let's see if Umer Adil's latest venture, Chalay Thay Saath will be able to break this dry spell. The film doesn't seem to have any star power, thus it makes one question – can a movie with no crowd-pullers make it big in the box office?


Zain (Osama Tahir) and Tania (Mansha Pasha), who are on the verge of separation, plan a farewell road trip for Resham (Syra Shahroz). They plan on going from Karachi to Resham's hometown, Hunza. Along for the ride is their childhood friend, Faraz (Faris Khalid) and a Chinese tourist, Adam (Kent S Leung). He doesn't speak Urdu, and his English isn't that great either. But despite the language barrier, we see love blossoming between Resham and him.

As the movie progresses, as does their love, Resham asks her father (Behroz Subzwari) to meet Adam to decide their fate. Let's just say the first impression does not sit well, and Resham's father tells Adam to stay in a camp outside his house until he earns his trust. Unfortunately, Adam must return home to look after his ailing mother.




Filmmakers need to understand just how essential location can be to a movie, as visually scenic scenes are usually the highlight of any movie. Chalay Thay Saath is beautifully shot, and a great documentary on Hunza, Giglit, and the northern areas of Pakistan, but when it comes to viewing it as an actual movie, it lacks a lot. The dialogue is average, albeit fresh. However, they are easily forgettable.




In terms of music, Chalay Thay Saath has a brilliant score as it's fresh for Pakistani film. Conversely, music cannot make a movie great as it requires more than just appealing sounds.

As for the direction, it is evidently decent; Adil has enacted the aesthetic beauty of the north remarkably.




Performance wise, Chalay Thay Saath doesn't showcase any impeccable and bravura performances. Shahroz gives a good performance and looks gorgeous on-screen, but she wasn't given any opportunities to prove her mettle as a performer. Kent is fresh and innocent; he effortlessly pulls off his character. Khalid has a very strong screen presence and is good "hero-material". Pasha performs affably well, but she seems to go overboard in a few of her scenes. Tahir played his part decently also. Subzwari is just average, maybe a little more persuasiveness on his part could have gone a long way.

Chalay Thay Saath is the kind of film that makes you feel good because of its theme and how visually appealing it is. However, it does drag on quite a bit and it isn't exactly believable at some points. For a 28-year-old girl who is apparently a doctor, some of Sharoz's scenes are hard to digest. Thus, it offers little, if any repeat value. At the box office, it will definitely have to face a rough sail.