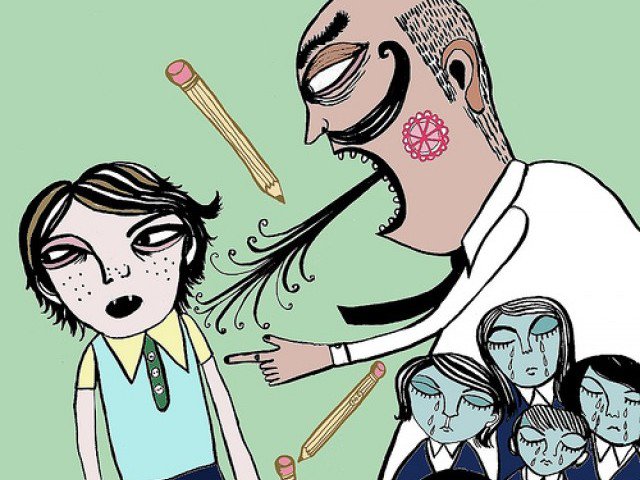 ---
My teachers refused to teach me because they "weren't in the mood"
My professor made me stand in the corner of the building for sitting with girls, while shouting insults at me.
---
When I joined my high school, my fluency in Urdu sucked. My accent, vocabulary and my pronunciation of the language was so bad that when it was my turn to recite anything, the whole class would burst out laughing. My teacher never said anything to me and only corrected me where I was wrong. He would smile and tell me to go on. On some occasions, he would make sure I was the one who read out loud.

Never once did I ever feel threatened or discouraged. Over the period of two years, my Urdu improved and my vocabulary got so much better that sometimes I was the one explaining Urdu words to others.

My teacher, to whom I'm forever grateful, never shamed me for being weak at something that I couldn't grasp. Every time I went up to him to learn how to improve myself, he would politely spare time from his break to help me out. He made me want to be better at learning what I didn't know. His positive attitude is the reason my mother was surprised that I got an A+ on my final.

Now that I am enrolled in another institute and pursuing professional studies, I have noticed a shift in the attitude of the teachers I encounter. Over the past two years that I have spent at my college, I have realised that I am weak in certain areas and might not be a very good student in some subjects. However, the way my teachers handle my weakness has lead me to a negative state of mind.

I have been shamed and humiliated on numerous occasions. Every time I asked a question they could not answer, I was asked a question I didn't know the answer to so I could be shamed adequately while keeping the teacher's respect intact. Some teachers have shamed me so much so that my entire personality has seemingly changed. I used to be a confident student, asking questions and participating in discussions, but over the course of my college education, I have been belittled for asking so-called stupid questions that only got a stupid reply. One professor even made me stand in the corner of the department for sitting with girls, while shouting insults at me in front of all the staff.

I am a slow learner and I admit I can act a bit dumb at times, but I always try my best to understand something, which is why I ask questions. Due to this discrediting, I have now stopped asking questions for the fear of being mocked in class. I am now failing courses and have a hard time adjusting to my college environment. In university, I was made to stand on a chair for an entire period just because I did not have my textbook. If this is discipline, I don't want it.

I never look up to what students and peers say; I know it's their job to make fun of others. However, when teachers get judgmental and start picking out students to humiliate in front of everyone else, this is where things go wrong.

I was in this one class where a professor refused to acknowledge one of her students. She claimed that she had never seen said student, even though her attendance record was good. However, the professor chose not to believe her. Thus, she failed her in her finals and the girl had to repeat one entire year of university. The funny thing is that she failed her by just one mark.

The confidence I once had in myself has now been completely shattered. Where I once stood self-assured, I am now embroidered in self-doubt. I have a low self-esteem and I cannot even study for the fear of being shamed. No matter what I do, I just cannot bring myself to the standard my teachers want me to be at. And they aren't helping with this attitude either. Making students feel vulnerable and creating a hostile environment for students to learn does more harm than add credibility for the teacher.

I've been in situations where teachers refuse to check assignments just because they "weren't in the mood". As infuriating as it is, it slows down the pace of learning. Teachers should act as just that, ones who impart knowledge, at least when they are on campus. When we asked this professor to check our exams, she cancelled the assignment and in turn credited all of us with an F grade; all because she "wasn't in the mood".

I am in no way saying my teachers are not learned; they are well-educated beings who are at the top of their knowledge pool. But when it comes to behaving with students, only a few teachers have had a positive impact on bettering my ability to learn. I don't mean to be rude by pointing this out; I just want to show how teachers can have a positive impact as well as a negative impact on their students. And surely feeling powerful or proving superiority will not help them or their students at all. I just wish teachers realised that their words can shape us students. They are the ones who get to decide who we become.

A little kindness can go a long way. Don't they want their students, their kids, to go the long way?