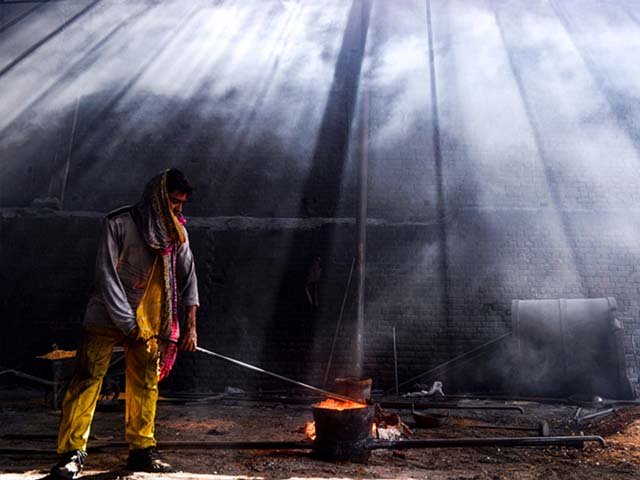 ---
The problem with labour laws in Sindh
Employees who find themselves at the receiving end of such malpractices have very little legal recourse they can take
---
As the Pakistan economy continues to battle its way through these trying times, the repercussions of such economic uncertainty have to be shouldered by the masses. However, the rising financial insecurity is not simply a product of increasing prices and has been exacerbated by increasing unemployment. On the occasion of an unforeseen dismissal from one's job, it is customary that one would presume the law would come to their rescue. However, the laws in Sindh governing the rights of white-collared employees and labourers alike fall short of any such expectations. Hence, various corporations in the country take undue advantage of these legal shortcomings.

Recently, a leading automobile manufacturing company laid off numerous employees stating that the performance of the dismissed individuals had been unsatisfactory and that some workers had even chosen to resign themselves. The truth of the matter is that in such a situation the employee is left with only two choices: either willingly resign and set the corporation free from any and all liability, or get terminated and minimise the chances of being employed ever again.

Another instance of deceitful dismissal recently was by a pipe manufacturing company which informed its managers that either they would be fired immediately or they would be re-hired under new employment terms. This is advantageous for companies since such a re-hiring of employees under new terms allows corporations to change the manner in which they are paid. The rationale behind this is that workers who have been employed at any company for a stipulated period of time are entitled to benefit from yearly increments, meaning that the company would be obligated to pay a higher wage. Therefore, if they are to re-hire such employees, they can do so by giving them a starting salary which is exponentially lower than the one they would have had to pay otherwise.

Other companies throughout Sindh have also been using these practices to get rid of their workforce, including managerial level workers, contract workers, factory workers and permanent employees. Some of these managerial workers are young, naive and simply lack the knowledge and resources needed to take on big multinationals and corporations. Older workers have families to support and usually choose to retain their jobs, even if it means working under unfair employment terms. Companies are aware of the fact that securing a job in a competitive market is a difficult task, which is why they prey upon the lack of choices their workers have. Many workers are also pressurised at the hands of manipulative human resource departments, thus ensuring that this emerging modus operandi continues to trample upon the voices of the wronged employees. Further complicating the matter is the fact that the law seems to offer no protection to the ordinary worker from the malpractices and deceptive behavior of such corporations, except for the long drawn out process of adjudication in the labour courts.

The Sindh Shops and Commercial Establishment Act, 2015 regulates the employment of white collared employees, however, under Section 19, it fails to address the fall back that a wrongfully terminated employee should have. Furthermore, the courts, through case law, have established the grounds upon which dismissal can take place, which includes reasons such as misconduct, improper behavior, unaccounted absences or leaves, but the honourable courts have failed to establish the rights of an unfairly dismissed employee in detail. The Sindh Terms of Employment (Standing Orders) and the Sindh Factories Act, 2015 also have no provisions pertaining to remedies for unfair dismissal of employees. In theory, these laws should have changed the landscape of labour rights in Sindh, yet they continue to fall short of their intended objective. Even if we are to take into account legitimate reasons for dismissal, as in the aforementioned incidents, such corporations cannot be held accountable for their actions due to the legal shortcomings. This leads to corporations using this lacuna in the law for their own benefit by cutting costs at the expense of their employees.

The solution to countering such practices by corporations is one that has been promulgated in several countries which have put in place grievance mechanisms through which wrongfully terminated employees can lodge complaints against their employers. The process involves the establishment of a commission which then investigates and attempts to arbitrate between employee and employer by giving both a fair chance to remark upon the dismissal. In light of this, the lengthy and costly process of adjudication should not be the primary means of redressal for employees in a country where many already have little faith in the justice system. Unfortunately, due to the legal loopholes which corporations in Pakistan continue to exploit, it seems that employees who find themselves at the receiving end of such malpractices have very little legal recourse, thus forcing them to accept their fate.