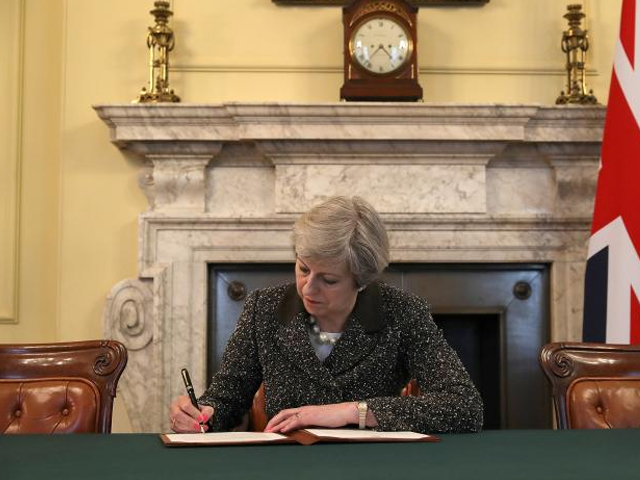 ---
Brexit: Britain's chance to flex its economic muscles
The tumultuous marriage which has seen Britain enjoy tariff free trading and travel within the EU will be ripped apart
---
All the pundits and economists predicted Brexit wouldn't happen and yet here we are, nine months on with Theresa May signing a letter initiating a two year negotiation process to culminate in Britain's divorce from the European Union (EU).The 44-year-old tumultuous marriage which has seen Britain enjoy tariff free trading and travel within the EU, will now be ripped apart and the minutiae of the separation will be attempted to be agreed upon. Brexit itself was a huge surprise but May's calm, structured and organised approach to the whole matter has surpassed critics. 

Going forward, crucial questions on Britain's access to the EU trading bloc, immigration from EU countries into Britain and the significance of the European Court of Human Rights will need to be addressed. May's government will need to have a robust yet flexible approach if the negotiations over the next two years are to be beneficial to both sides.

Those who voted for Brexit are clearly celebrating. They finally feel as if they have Britain back to themselves and out of the clutches of an ageing EU. However, critics are warning that Britain will suffer once Brexit is finalised.  It will be akin to Pakistan's clean break from India. A new Britain will emerge, sovereign yet isolated, independent yet excluded. Scotland, which is already snipping away at May's heels, will demand another independence referendum and will want to either retain EU membership through independence or its benefits through negotiation. Nicola Sturgeon, head of the Scottish National Party (SNP), has vehemently hounded Mrs May to agree to another referendum even though the latter has said the country must show a united front whilst Brexit negotiations continue. Its rough seas ahead.

What will post-Brexit Britain actually transpire into? It's difficult to say at this early stage. Some have argued that it could be a 'hard' Brexit where a complete break from the EU is envisaged whereas others have argued for a 'soft' Brexit, which allows for the perks of free trade but limits placed on immigration and other regulations. Judging by the letter May sent to Donald Tusk to initiate Article 50 negotiations, a 'soft' approach looks likely as she refers to coming to an agreement 'beneficial to both sides' and uses security cooperation as a veiled threat for negotiations. Britain does provide great assistance to Europol and its intelligence on crime and terrorism are something that the EU cannot ignore. It will be interesting to note what emphasis the region will place on this when coming to the negotiating table.

Immigration, especially from war-torn countries like Syria and Libya, served to exacerbate the Leave vote, therefore, it will be imperative that May deals with this sensitive topic. There are roughly three million EU citizens who live in Britain. The uncertainty surrounding their status will need to be removed. In the months past the referendum, immigration from the EU to Britain actually increased, maybe as a shock reaction to the vote's outcome. So the impetus of taking back control of Britain's borders might have been a complete fallacy considering more people are now entering Britain than ever before.

Brexit might also be a great opportunity for Britain to reassert its economics prowess by strengthening ties with the Commonwealth. May has already visited India and America in a concerted effort to forge trade deals and develop an identity far removed from the EU. It will also give Britain a chance to control the terms on which they want to trade with the EU. Will Britain be able to negotiate a trade deal with the EU or revert to World Trade Organisation (WTO) rules? It will be a lawyer's boon to research the possibilities that Brexit might possibly take.

I voted to remain in the EU because the benefits far outweigh the detriment. Visa free travel within Europe, the freedom to live or study in any EU country, the benefits of tariff free trade and a unity that surpassed the divisiveness caused by the Second World War were all worth the struggles of abiding by EU law and unwarranted immigration. It was a system that most regions could only dream of having. Imagine India and Pakistan agreeing to porous borders! However, with the rise of nationalist populism, a rising divide between rich and poor, a failure of globalisation benefiting all meant that a divorce from the EU was inevitable.

This shock vote will also give the remaining EU member states a chance to regroup and think about its role in the global world order today. What initially started as six members has now ballooned into 28 countries. How is such a colossal conglomeration to be effectively managed to avoid another Brexit? The time is apt for a rethink and rejuvenation of the status quo. Perhaps Brexit will become so bureaucratically difficult for Britain that it might deter other countries from leaving. Either way, this costly divorce is deeply saddening and as Tusk put it solemnly upon receiving May's letter invoking Article 50,

 "Thank you and goodbye".