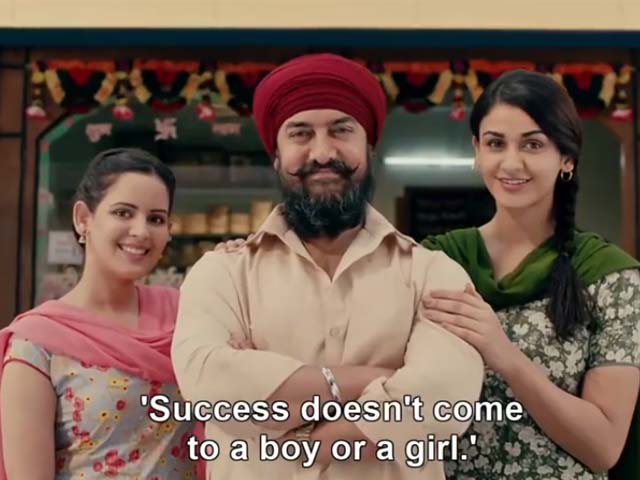 ---
"Not sons, they are my daughters"
There's never going to be a justification for holding girls back from realising their potential simply for being girls
---
There is almost nothing Aamir Khan touches that does not turn into gold. Not just a shiny, yellow plating but a burnished, solid bar. There is no denying the fact that he is a genius and in this advertisement, he proves it yet again.

It is poignant, and it is sweet. It touches upon an age-old, bitter dispute delicately, albeit tentatively. The constant war fought, particularly in the sub-continent, for women's rights and against male chauvinism continues to grow increasingly aggressive with each generation. In my opinion, it has escalated to the extent that it has desensitised many from both genders. There are movements, protests, and feminist Amazons; there are child brides and infanticides, there are little girls who only want to go to school, women who win Oscars for social change and others who sell their bodies for publicity.

The spectrum of female stereotypes is as extensive as their male counterparts', naturally. But in the East, the female gender so colourfully represented is not yet digested easily, even justified human rights' issues become suspect and reflexively rejected. Double standards sadly persist. Particularly in India, where the dichotomy between progressive working women, liberal Bollywood and the consistent gang rapes of young women plaguing the country signify the fracture in the fabric of female emancipation.

Keeping this in mind, I think it is incredibly clever how the music, lighting and general tone of the advertisement is insidiously pleasing; lulling the viewer into a false sense of security and then making a proverbial bang of a social statement that is controversial for countless Eastern families to date. The tone of the advertisement is not aggressive, but it is effective. With its unthreatening romanticism, it manages to deliver a powerful message of gender equality and progress.

"You catch more flies with honey than you do with vinegar".

I have always loved this expression, and this advertisement exemplifies why. The dogmatic mind-set towards gender equality in our part of the world is difficult to extinguish because there are so many branches for it to cling to. Gender bias and male tyranny find themselves distorting, if not sacred text, then social norms. For a psyche that is so intrinsic in its cultural taboos, enlightenment can only make its accession slowly and sensitively.

From the quaint Punjabi jolliness, to the cute small-town mithai shop, this advertisement tells us a big story about sexist comments. From harmless but narrow-minded customers to a progressive entrepreneur and father who is willing to go against the tide for his daughters – this advertisement is important in highlighting female empowerment. The fact that they have shown the daughters as lucrative for the father's business gives another facet to the message: it pays to be progressive.

Although many of us reading this, myself included, hail from forward-thinking families where gender bias is not an issue, there are several seemingly educated families that I know who desperately need to have this message shoved down their throats. From my friend in school, who aced every test but was forcibly married off before college, to my maid who put her brother through school but had the love for learning and thirst for knowledge that put mine to shame – there was and is never going to be a justification for holding girls back from realising their potential simply for being girls.

Whether it is India or Pakistan, Star Plus or Geo, the message in this commercial is applicable to all of the sub-continent. The dogmas of yesteryear that continue to subjugate women must be eradicated and any campaign that strives to do so must be celebrated on both sides of the border.

Lastly, although this advertisement may be confused by some for propagating feminism, I believe it is less about that than it is about evolution. Men and women together are two halves of a whole, and a society that cannot recognise that will always realise only half of its potential.

So let us accolade this media promotion and pray that it manages to infiltrate the psyche which thinks only boys can provide supportive crutches for old parents, and that girls are a burden and that women who work outside their homes bring shame upon their families. It is time for the 21st century to be embraced and the narrow thinking of the past to be put to rest.

The very charming Canadian Prime Minister Justin Trudeau, once commented on the gender-balanced Canadian Cabinet, and said very succinctly,

"Because it's 2015".

Indeed it was. Indeed it is time we all caught up.
Facebook Conversations
COMMENTS
Comments are moderated and generally will be posted if they are on-topic and not abusive.
For more information, please see our Comments FAQ