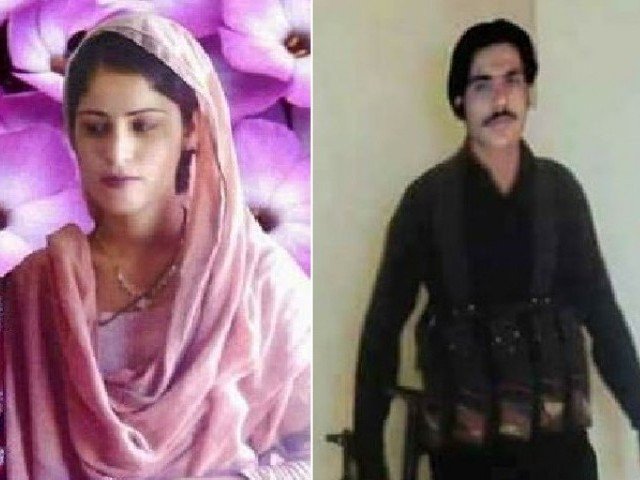 ---
Tania Khashkeli and Pakistan's trigger-happy feudal lords who think Sindhi lives are cheap
Tania died because Khan's arrogance couldn't hear a refusal; because her death is thematic of the cancer within Sindh.
---
Imagine a young, pretty girl living in rural Sindh, one that is part of a modest family that believes in educating its girls. In a picture of her, I see a dainty teenager wearing pink against a backdrop of spring flowers.

Imagine a landlord who has ties with Pakistan Peoples Party (PPP), one who has the power to influence the local police and is accompanied by armed men. His photograph reveals everything about his unsavoury profile – greasy hair, distinct moustache, the proud display of weapon paraphernalia.

This story cannot end well.

Allegedly, Khan Muhammad Noohani wanted to marry young Tania. However, Tania and her family saw fit to refuse his proposal. He retaliated by going to her house with his gun-toting associates and shot Tania dead in the middle of her veranda, in plain sight of her family. A bullet pierced through her skull to hit the wall behind. This incident was preceded by two kidnapping attempts on Tania by Khan, which she luckily evaded.

While her father, Ghulam Qadir, has knocked on every door to seek justice for the atrocity meted out to his daughter, there has been a murky ambiguity in how the local police have reacted to this incident in the district of Jamshoro.

Although Khan and his accomplice have been remanded (one is still at large), Ghulam told Sindh High Court (SHC) Chief Justice (CJ) Ahmed Ali M Sheikh that the investigative officer is biased towards the accused. The family had been receiving life threats from the accused and Khan's tentacles are permeated deeply within the police and political leadership of the district.

Tania's family's claims stood true in front of the SHC CJ when he called for suo moto action and the officials in charge of the investigation were brought to court. The investigative officer's story did not add up and further discrepancy was noticed when the location of the police encounter did not match the photograph taken of the arrested fugitives. Clearly, Khan has godfathers in good places within PPP.

While the SHC CJ has made the victim's family's security liable to the Superintendent of Police (SP) of Jamshoro and the Director Inspector General (DIG) of Hyderabad, he has also had the investigative officer replaced with a more reputable and honest one. Nevertheless, one wonders if this is merely treating the symptoms of a disease left uncured.

Rural areas all over Pakistan have a bad reputation of churning out neo-feudals who think they are above the law, based on the years that they lived in poorly educated villages. Paying off low-level police officers and bureaucrats and doing the dirty work of local political bigwigs make them big fish in a small pond. What is worrying in this case is the very clear sponsorship Khan has had from the ruling party. If it were not for the SHC CJ, the provincial government machinery would have done everything possible to brush Tania's murder under the rug.

It is alleged that Khan and his accomplice, Moula Bux Noohani (Moulu), were on the run and had taken refuge in Balochistan with the help of a sitting MNA. Tania's family claims the killers are not only affiliated with PPP but also with Chief Minister (CM) Murad Ali Shah.

These are mammoth accusations and deserve far more attention and media coverage than they have received. For a murdered victim's family to claim that the CM of the province was cloaking the killer of their daughter requires investigation into the whole district's political hierarchy.

Nevertheless, Tania's case clearly proves that Sindhi lives are cheap. Especially if they belong to poor, young women. Tania died because Khan thought he could get away with it, because his arrogance could not hear a refusal; because our government hands the jail's keys to the ones who should be behind bars; because her death is thematic of the cancer within Sindh – might is right.