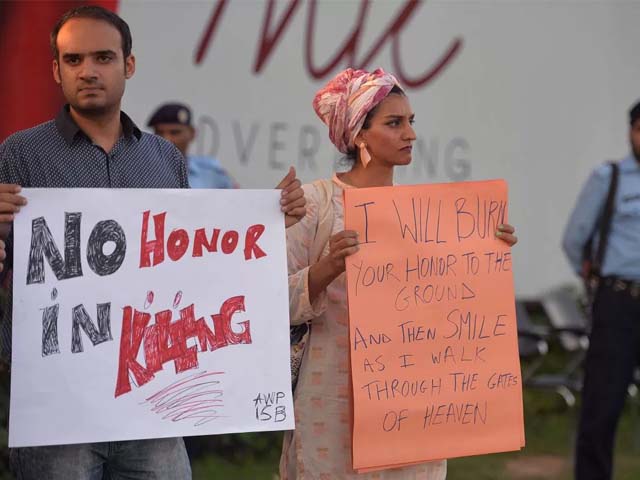 ---
Anti-honour killing and acid attacks bills: More laws to be buried in the graveyard of good intentions?
Unfortunately, there are countless other noble laws the Sindh Assembly has passed that are busy collecting dust.
---
This past week, the Sindh Assembly passed two laws against honour killing and acid attacks. It is a commendable initiative and the first such act against honour killings in all four provinces and territories.
The laws are adequately severe with stipulations such as no blood money is allowed to be granted, acid attacks are unbailable offences and suggesting that the capital offence may be given to those killing in the name of honour. Furthermore, they are reflective of a humanistic mind-set and the architects of it will have to do far more than merely draft it and push it through the red tape of senates and assemblies to receive accolades and rose petals.
Unfortunately, there are countless other noble laws the Sindh Assembly has passed that are busy collecting dust and dying sad little deaths with no active committee to implement or enforce them. But they are considerately gaining political mileage.
The Sindh Child Protection Act was passed in 2011 and the Sindh Child Protection Authority (SCPA) was made to ensure that the law would be constituted within 60 days of its passing. In 2015, Dawn reported that the respective committees had met a total of three times since then. Many of us may never even have heard that there was or existed such a body to look out for Pakistan's young. Clearly, the many underage labourers and toddlers walking the streets barefoot have not benefitted from this bill in the past six years.
Being an optimist at heart, while I can applaud the good intentions and the bravado with which the laws for honour killings and acid attacks were passed, it is clear that will and grit must be exercised to ensure these are at least enforced. Because it is clear that without the state's constant administrative involvement, these laws along with the others will find themselves buried in the graveyard of good intentions.
The Sindh government has failed to implement even the first chapter of the Constitution of Pakistan – fundamental rights which include equality to all Pakistani citizens, security of person, protection of property rights and more. How then, can implementation be depended on at all?
A failed provincial government that has done nothing to get the province out of the deplorable poverty rates it wallows in is infamous for rampant corruption. Thus, this government may table theoretically great laws, but to see these laws come to fruition is another story entirely.
The implementation of human rights laws aside, there is zero will to implement any law in the province which doesn't provide a hefty monetary dividend to politically appointed lackey's with official seals. The Inspector General (IG) of the province, AD Khwaja (the police being integral as one of the enforcing arms of the law) is not even allowed independent authority over his own officers and law enforcement.
The city's sanitation is at an all-time low with gutters overflowing, druggies and prostitutes squatting in residential areas, and government hospitals in a sham. These are the same hospitals which are meant to provide free treatment for any and all acid attack victims as per the recent law.
With the divine fortune only granted to the defenceless, Sindh is home to many non-governmental organisations (NGO). If one must look for silver linings, it is a good day to hope these laws will be put to use by them if not by those tasked to by public money. If it is a particularly good day, we may find a politician piggy-backing their public relations (PR) on the path to re-election. Wishful thinking!
Being a born and bred Karachiite, it is hard not to be bitter about broken promises. It is the prayer of every inhabitant of this great province that with the advent of progressive laws, their fulfilment and a safe society for all regardless of cast, colour, gender or creed comes with it.
So in conclusion, I would thank the legislation for the laws, but it's not just the thought that counts.