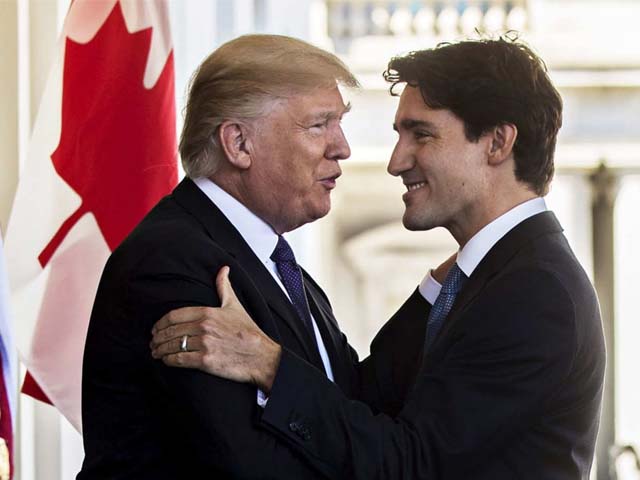 ---
Monsieur Trudeau and Trump played their cards well
Monsieur Trudeau's open-door immigration policy is not being groomed for export to the United States.
---
Monsieur Justin Trudeau, prime minister of Canada and Mr Donald Trump, president of the United States of America, met face-to-face in Washington on February 13, 2017. This meeting affirmed that their nations' bilateral relationship would be unaffected by different policy positions.

President Trump said:

"America is deeply fortunate to have a neighbour like Canada."

Prime Minister Trudeau confidently stated:

"No neighbours in the entire world are as fundamentally linked as we are."

Monsieur Trudeau publicly declared the steadiness of the Anglosphere applecart club which comprises of the US, Canada, UK, Australia and New Zealand.

Club rules recognise complete domestic sovereignty with "fundamentally" interlinked, interdependent foreign policies led, though not dictated, by the United States. Common values may be expressed in different forms and styles. Just as the first three letters of the names of Canada's prime minister and the United States' president bind them, while the remaining letters proclaim their independent spirits.

Monsieur Trudeau and Trump played their cards well to uphold their commitments to their electors who employ them under short term contracts. Their teams had two case studies of what to avoid.

The consequences of British Prime Minister Theresa May's January 27th White House visit triggered a protest movement at home, refocusing attention on her ability to govern and conduct foreign policy. In the follow-up to what was agreed with former President Barack Obama, Australia's Prime Minister, Malcolm Turnbull, tried to send 1500 refugees to the United States. He got his fingers rapped by President Trump before the White House announced that the deal would proceed.

Neither Monsieur Trudeau nor Mr Trump forced his menu down the other's throat. Monsieur Trudeau's open-door immigration policy is not being groomed for export to the United States and he appears content with the dimensions of his folk-hero status among the developing world's hopeful. Just as Mr Trump is unperturbed about being their bête noir since they do not figure on the United States' electoral lists.

The sacrosanct place granted to domestic policy and sovereignty by both leaders is also Mr Trump's tacit recognition of Canada's status. Monsieur Trudeau's pugnacious handling of the Donald Trump handshake assault confirms the parentheses. Granted, 75% of Canada's exports rely on the US market compared with 18% from the US. Yet, Canadian trade and investment ensures nearly nine million US jobs, also making Canada a prized client in 35 US states. Neither country can discount its dependence on the other.

They are both deeply concerned with immigration, climate change, the environment and the economy, only in different ways. There is mutual agreement that, catalysed by propulsive technology, environmentally friendly measures should ensure jobs and a decent standard of living. So expect US-Canadian led Anglosphere technological ventures which keep them several steps ahead of the rest of the world and have trading zones and alliances scrambling to catch up.

Both heads of state referred to their shared values, common shedding of blood and, as a consequence, interdependent security.

This area will continue to develop, further involving Anglosphere countries, with special emphasis on their transnational military industrial sector.

In the two world wars, more South Asian blood (1.6 million casualties) was shed than Canadian (around 300,000), but the latter is honoured by a higher weightage. Although British leaders, to please their Asian-origin electors, do occasionally acknowledge South Asian casualties, there are no reminders of having "shed their blood together".

And "a collective defence" as its logical outcome is notably absent.

Brown blood may receive a nod of acknowledgement, but the blood brotherhood and a collective defence are an Anglosphere privilege. A "collective defence" of blood brothers goes well beyond a classic alliance of converging interests. This premise regulating the Anglosphere's heartbeat will provide space for independence, with a conflict resolution for competing blood brothers.

Canada and the United States' environmental policies might bring them into tactical conflict on the world stage where each will seek allies, but that will only be a postural battlefield manoeuvre. Strategically, the Anglosphere will sail on.

Thus, the variables of Canada and the US' domestic policies will not affect the fundamentals of their relationship. Tactically, they will bicker, negotiate, renegotiate and compromise. But bicker they will as an assertion of sovereignty to reassure their electors.

The North American Free Trade Agreement (NAFTA) will be handled in one of two ways. Either Mr Trump will lower his voice which his spin doctors will reprocess as neighbourly diplomacy, or Monsieur Trudeau's spinmeisters will extoll the virtues of the Comprehensive Economic and Trade Agreement (CETA) between Canada and the European Union over those of NAFTA.

Within 36 hours of the Trudeau-Trump speeches, France's 20 Minutes reported that the European Parliament had adopted CETA. This finally gives Canada access to a thriving field to recover what it might need to concede within NAFTA. CETA will remove 99% of Canada's customs tariffs in the European Union, increasing the latter's trade by 25%.

Monsieur Trudeau and Mr Trump also agreed on the creation of a Canada-US council to promote businesses owned by women, an issue that feeds the prime minister's feminist self-image. Under the aegis of controlling opioid smuggling, both heads of state also agreed on more efficient border controls, a cherished principle of the president.

As long as efficient border controls ensure that Monsieur Trudeau's immigration policy does not impact the United States by an overspill of migrants, the silence of both leaders will confirm their political maturity.

The meeting between the two leaders has been a reiteration of a long-lasting strategic relationship bound in blood. It can weather tactical conflict, with the short end of the stick regularly changing hands.
Facebook Conversations
COMMENTS (3)
Comments are moderated and generally will be posted if they are on-topic and not abusive.
For more information, please see our Comments FAQ