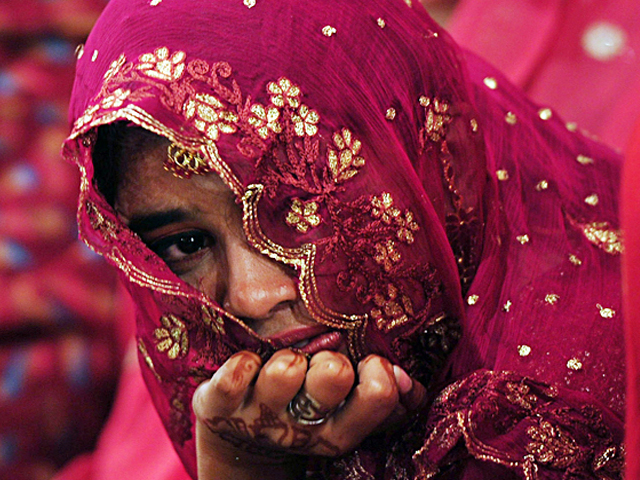 ---
The child marriage legislation is a step in the right direction, but will it be implemented?
An eight-year-old girl died due to internal injuries caused by her 40-something husband on their wedding night.
---
Marriages are big business in Pakistan. It is a time of hope, happiness, faith and love. Such a memorable event can easily turn sour when the parties getting married are underage. To curb this heinous act, legislation has been passed by the National Assembly, aimed to reduce child marriages by ramping up the severity of the punishment. 

Instead of being imprisoned for up to three years, individuals involved in arranging child marriages face a 10-year imprisonment with a one million rupees fine. This new change in the law seems to be a serious effort on part of the government to tackle this insidious practice.

Although on paper the new law sounds great, how effective will it be in application?

Like most laws in Pakistan, enforcement of such progressive social policies is always patchy. No one wants to report such crimes because they may not consider it to be one and usually the victims are far too young to have any idea of its criminality.

Trying to change an ingrained mind-set is difficult, especially when fervent religious conviction is involved. Some religious scholars have supported child marriage and encourage females to be married as soon as they start menstruation. In a conservative, Islamic country like Pakistan, reverence is given to Islamic scholars without question, so bringing about real change can be a momentous challenge.

Religious reasons aside, poverty and financial constraints often play a huge role in the occurrence of child marriages, with young girls often being the target of child nuptials. Growing up in a Pakistani household, I was shocked to learn that older female members of my family got married at the age of 14, 15 and 16. My mother was 19-years-old when she married, and although she is not considered a child under most definitions, her naivety must have been so evident to my father, who was 31 when he married. Young marriages were not considered taboo in affluent, middle-class families less than 100 years ago, so the challenge of changing a culture of early marriages is a profound one.

The dangers of marrying young are profound. Sexual immaturity can mentally scar a young girl, not to mention cause internal injuries. A case had been reported where an eight-year-old Yemeni girl died due to internal injuries caused by her 40-something husband on their wedding night. The thought alone of an eight-year-old getting married to a man five times her age is just vomit-inducing, but her untimely death is further testament for a need to prevent these marriages from happening.

In a case closer to home, in Sukkur, police arrested three men who were trying to marry an 11-year-old girl to a 50-year-old man. A jirga was held where one of the arrested men accused the bride's brother as karo with his fiancé. The father of the bride was ordered to barter her in order to settle the dispute of karo kari, thus, he solemnised her nikkah to the elderly man. After killing the fiancé in question, the elderly man proceeded to marry the young innocent girl as payback. However, just minutes before her rukhsati, the police showed up and arrested the groom, his cousin and the girl's father. Their timely action prevented this marriage from happening, but not every victim of child marriage is this lucky.

How can one go about ensuring the act of child marriages is curbed? First and foremost, education and awareness must be offered to adults and children alike about the dangers of the act. Emphasis should be made on those child marriages where there is a significant age gap between the couple. In such circumstances, pregnancy can be a real threat to the well-being of the young mother as chances of death in labour are five times more likely.

Also, those religious clerics who are advocating child marriages should be actively and immediately banned. In such situations, adequate measures must be put in place to ensure girls receive adequate education, and financial independence and some form of financial aid is given to parents who are below an income threshold.

But what is the point of mentioning all these measures when the government has been woefully inadequate in dealing with these and many other societal ills? For example, under the Pakistani Constitution, children under the age of 16 are guaranteed free education but the enforcement of this constitutionally-protected right has been a disgrace. So how can we expect gumption to deal with child marriages when the children of politicians are born with a silver spoon in their mouths and never have to face this daunting prospect? Until and unless we have fervent activity from the government, this matter will not be resolved.

One in five girls in Pakistan is affected by child marriage. The statistics in other South East countries are woeful. The innocence of young children must be maintained, and in these financially difficult times, it is imperative to try and curb this act. Whilst passing legislation may appease human rights organisations, the government must follow up with appropriate measures.

A separate police unit should be trained and set up to tackle this act. Victims or their family members must be given a phone number to call and report such crimes anonymously, similar to the Forced Marriage Unit in the UK. And of course, educating young girls on how to prevent being involved in a child marriage must also be a top priority. Only then can marriages and its celebrations be truly enjoyed in all their magnificent splendour.
Facebook Conversations
COMMENTS (2)
Comments are moderated and generally will be posted if they are on-topic and not abusive.
For more information, please see our Comments FAQ