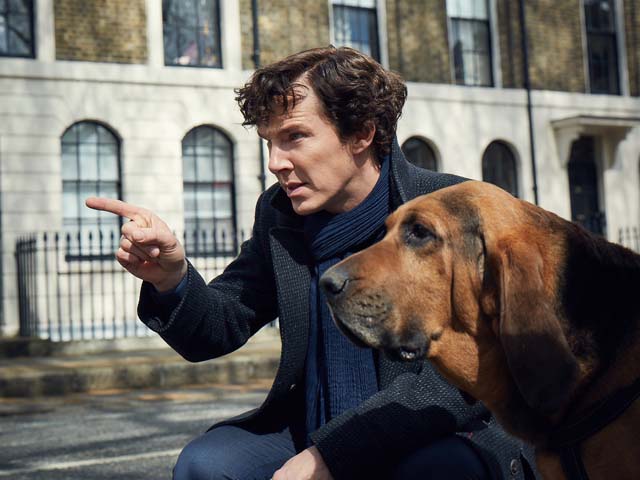 ---
Sherlock S04E01: Back… with a whimper!
Major spoilers and reviews of the much awaited and eventful opener of the Sherlock series fourth season.
---
If you thought with 2016 over, the infamous celebrity death streak would show some signs of abating, then think again. Twenty-seventeen was not even a day old and the celeb version of the Grim Reaper was back with a bang.


Princess Leia's untimely demise was sad but Sherlock becoming the first shock casualty of this new year was totally gut-wrenching.

A whole goddamn year I waited for him. He even arrived; munching on ginger nuts and nonchalantly tweeting about his liberating recall from a certain inevitable fatal assignment, while his murderous excursions were being brushed under the rug by the MI6. I was getting in the groove watching him get into his quirky rhythm. But then he vanished, the uber-eccentric sleuth that we all grew up to love was dead and in his place was an imposter who was anything but Sherlock.




Season three ended with Sherlock taking huge offence to Charles Augustus Magnussen's accusation that he was a hero. An aptly furious retort instantly followed,

"I am not a hero, I am a high functioning sociopath!"

But then season four happened and the likeable 'high functioning sociopath' inexplicably turned into a cringey 'hero'.

The first quarter of the episode was the only time Benedict Cumberbatch was even remotely Sherlock. The childish bickering and verbal jousting between him and Mycroft/Watson/Lestrade at the beginning was fleetingly amusing, and that's about it. The comic banter was always the highlight of previous seasons but this time around, it looked rather forcefully ill-fitted in the grand scheme of the whole affair.




And don't even get me started on the plot. What started as an intriguing wait for Moriarty's next (posthumous) move quickly descended into this mish-mash of different events involving broken busts of Margaret Thatcher, a hostage crisis gone awry and mercenaries on a revenge trail with Mary Watson at the heart of it all . The whole detective business bizarrely takes a backseat and instead we are served a cheap spy thriller.

Sherlock's claim to fame is solving great crime mysteries and that is precisely what he didn't do in this particular episode. Okay okay, I am being a bit harsh towards him. He did crack a few of them for like a whole duration of five minutes. The rest of the time, Sherlock is just trying to act like a C-grade Jason Bourne. Case in point, the absurdly ridiculous 'pool fight scene'. What were they thinking?!




It would not be entirely wrong to say that I wasn't the only one expecting every mystery landing at 221 Baker Street, during the episode, to be a thrilling rebirth of The Antagonist Extraordinaire Moriarty. I just kept on waiting for the broken bust pieces to somehow link to Sherlock's arch-nemesis but sadly, it was a Mary Watson show all the way. Heck, just go ahead and change the name of the show to 'Bloody Mary' for all I care!




Oh and how can we forget all those mid-life relationship issues sprinkled throughout the episode. I mean, if I wanted to watch a story about relationship problems, I would simply switch to one of our mind-numbingly idiotic entertainment channels, am I right?

The ludicrousness of the sub plots is appropriately reflected in John Watson's uncharacteristic infidelity with a random girl on a bus. What was that all about? Speaking of Watson, isn't he the one supposed to be our protagonist's sidekick? The pair was the TV series equivalent of Tom and Jerry, truly iconic! To go on and then have Sherlock share majority of the screen time with his boring blonde, former secret agent of a wife was simply television blasphemy.




But you know what, there still might be a silver lining to all of this. With two more episodes of the current season still to air back to back in the coming weeks, I for one hope that the show, for its own sake, manages to salvage some of the lost pride.

[poll id="720"]