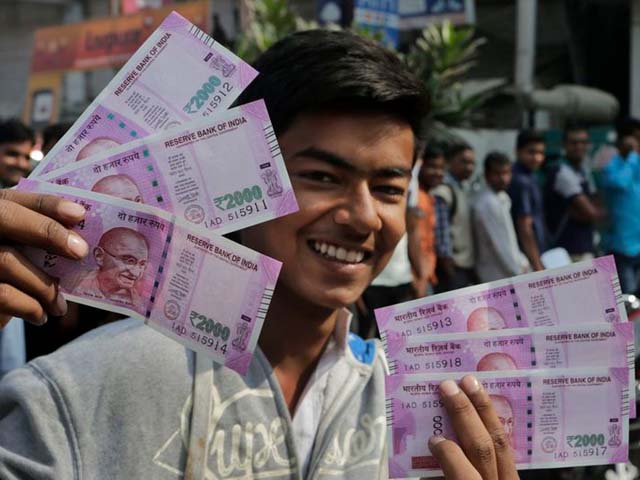 ---
Demonetisation: How Pakistan can avoid making the same mistakes as India
I would recommend going against demonetisation. Pakistan is not ready for such measures.
---
On November 8, 2016, while the rest of the world was watching the American election results, India dropped a bomb shell on its citizens. The wily Mr Modi (dressed in his favourite kurta shalwaar) announced that the Indian government would pull out all Rs500 and Rs1000 from circulation at midnight. This would be akin to 86% of the total economy – some Rs14 trillion in cash would be rendered useless. Mr Modi implored to the nation that even though it seemed as if he had ripped a bandage off here, India would benefit in the long run.

The impetus for this drastic policy was to stem the flow of black money into the economy. This included money being used for criminal activities, counterfeit notes, terrorism, and tax evasion. The people were given 50 days from that day forward (until December 30th ) to exchange their old notes for newly issued notes of Rs2000 and Rs500. While people had roughly 50 days to deposit their money in bank accounts, doing so in large quantities could have exposed them to high taxes. This goes on the assumption that this was legally earned money on which taxation was due but the money was never declared.

As noise around demonetising the Rs5000 note in Pakistan grew, there are some lessons that the Pakistani government must take into account based on the Indian experience:

1. Stemming large denominations of currency may hinder the flow of black money, but the results will be spotty and might take a long time to show. Most entities accused of hoarding illegal currency are smart enough to keep it in various investment instruments, the most prominent being real estate investments. Back in the 80s and 90s, when Amitabh Bachchan reigned supreme in the Indian film industry, movies were the most popular investment vehicle for criminals and money hoarders. The beginning of the 21st century saw the arrival of professionalism and legitimate investment in Indian movies and the difference clearly shows.

2. India demonetised their Rs500 and Rs1000 notes in exchange for new Rs500 and Rs2000 notes. The Rs2000 is proving to be a little too big of a denomination for average Indian citizens who have to rely on loose change for most of their purchases. This goes for the merchants as well where they are refusing to accept large notes for small purchases.

3. When people come into exchange their old notes, they are being asked to present proper ID before being allowed to exchange currency. Most of India's daily wage earners are unbanked and undocumented. If they can't prove their identity, they are stuck with value-less paper.

4. The plan to demonetise such a large chunk of currency has not been matched with an equal availability of fresh notes. This has caused an even bigger cash crunch, where people have been trying to offload their cash through everything that they can, including groceries, petrol stations, loan sharks etc. Unfortunately, many of them are being turned away for this very reason. For example, there have been instances where hospitals have turned away patients because they tried to pay with old notes.

5. The real estate development sector has also been affected heavily given its status as the investment of choice by black money hoarders. With a lack of legitimate cash in the market, for whatever reason, the sector is facing its own liquidity crunch. Weddings are taking a beating given the amount of cash-based business they generate. Farmer's looking to make investment in next year's crops are at odds on how to pay for seeds.

To summarise, Pakistan must keep these points in consideration before any such decision is taken:

1. Do not confuse black money with the informal economy. Pakistan may have a weak formal economy by a gigantic informal economy that is humming on all cylinders. Difficult as it may be, perhaps Pakistan needs to widen its tax net or at the very least, try to measure the informal economy to ensure minimal disruption to the general productivity.

2. Any demonetisation policy must be accompanied with exceptions for public institutions that can continue to accept old currency notes. This is to ensure that the common man has access to state facilities, at the very least.

3. Mr Modi sprung this policy to catch black money hoarders by surprise. Unfortunately, so far it seems that he's created more chaos. If Pakistan has to do something similar, they should take the stakeholders into confidence - the banks, so that they can prepare their staff and ATMs for the coming onslaught.

4. Another one of Mr Modi's agendas is taking India digital by introducing a cashless society. While this looks good on paper, the common Indian is already cashless… or at least starved for cash. Pakistan can push for a more digital economy – take local financial technology players on-board, convert cash payments to digital transfers, increase the reach of something like easypaisa before removing currency from the economy.

5. Set up a solid marketing and communication team in place to battle any negativity about demonetisation. Theoretically, demonetisation is an appreciated policy. It forces people to disclose their wealth and come into the tax bracket. Furthermore, it forces them to use alternate payment channels like digital payments and allows banks to plug liquidity gaps. At the same time, if the policy lacks sound public relations, all hell can break loose.

To sign off, I would recommend going against demonetisation. Pakistan is not ready for such measures. Some of our esteemed denizens may have illegal cash holdings, but I doubt the Pakistani rupee is the currency of choice when it comes to funding terrorism. I sincerely advise the current government to keep chugging away as it is and try to increase the number of people that are documented and banked. Once we reach a critical mass on that front, maybe then can we revisit this topic.

[poll id="719"]
Facebook Conversations
COMMENTS (34)
Comments are moderated and generally will be posted if they are on-topic and not abusive.
For more information, please see our Comments FAQ